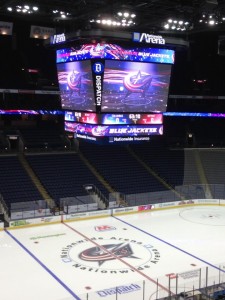 January 19th — the beginning of the 2013 NHL Season finally arrives. The Los Angeles Kings have just hoisted their Stanley Cup Championship banner, prior to engaging the Chicago Blackhawks, and the Blue Jackets are primed to start their 12th season on the ice. The fact that the debut comes in Nashville — on what also happens to be Robert E. Lee's birthday — may not be the best of omens.  But I digress. . .
The collective hockey media have been falling over each other with pre-season predictions, all dusted off after the 103 day lockout finally came to an end. Most have the NY Rangers winning the East, the Kings repeating in the West and a fairly even split exists over which club will prevail in the Stanley Cup Finals. However, virtual unanimity exists as to the Blue Jackets' final resting place — 15th  in the West . . . again. While I'll address the hockey community's attitude toward Columbus in a forthcoming piece at Overtime, it's time to expose the folly of attempting to predict anything for a 48-game mini-season, following a whole week of training camp.  Even greater folly is attempting to prognosticate the fortunes of the Blue Jackets, who will be sporting more new faces than graduates of a spa weekend — both on and off the ice.  Those new faces pre-sage a new style of play and a new approach.   How will those pieces mesh?  Impossible for anyone to say — though it hasn't stopped anyone from trying.
With a compressed season, no training camp and no uniformity in the conditioning and game readiness among the players, this season is structured to obliterate even the most well-reasoned predictions, but few of those can be seen.   Most are knee-jerk impressions presuming that past results guarantee future success. Such assumptions are always risky, but this year are precarious.  While an 82-game schedule provides ample cushion for the normal vagaries of an NHL season — injuries, hot streaks, cold streaks, suspensions, trades and the like — this season offers no such luxuries.   A key injury, an extended losing streak, shoddy goaltending  — any of these can put a team behind the eight ball, with precious little time to recover.  Conversely, the shortened schedule will reward hot streaks, whether by individuals or teams.
Sure, conventional wisdom would say that an established club — one with plenty of veterans who have played together for a long time, will benefit the most from the lockout and the shortened season.  The theory, of course, is that these veterans do not need to establish chemistry, and the reduced number of games operates in favor of the more elderly members of the roster. However, many of those veterans did not play during the break, have had only a week to get ready.  Under those circumstances, the sound you hear may well be groin muscles giving way.
In contrast, a club like the Blue Jackets (who again sport the youngest roster in the league — despite having Vinny Prospal and Adrian Aucoin) has a significant number of players who have been putting in some serious ice time during the lockout.  Atkinson, Johansen, Savard, Calvert and Moore all plied their trade in the AHL, while Tyutin, Anisimov, Prospal and Bobrovsky played overseas.  Dubinsky got some ice time in Alaska before fracturing his finger.  That's half the roster that will occupy the bench for a given game, and how is that not a good thing?   Bobrovsky was stellar in the KHL, while Johansen and Atkinson were among the league leaders in AHL offensive productivity.
Many of the nay-sayers focus on some combination of three factors when predicting another basement finish for Columbus:  1) the loss of Rick Nash; 2) the assertion that the forward ranks are populated by "second and third liners"; and 3) the perception that goaltending will continue to be a profound weakness.    Each point is potentially valid, but has at least equal potential to be viewed from the other end of the telescope.  Nash was a solid player, but he dominated the squad — on and off the ice.  As went Nash, so went the Blue Jackets.   With his looming shadow now in New York, the squad promises to be a more fluid and dynamic congress of equals.  Seven guys are legitimate 20+ goal scoring candidates over a full season, and another half dozen should be in double digits.  With that many potential contributors, the chance that all of them slump simultaneously is virtually nil.   The fact that many of these kids have held down second and third line posts elswhere is inconsequential — few players have burst on the scene as front liners and remained there for their careers.  The majority of top six forwards attained those slots through hard work, time and opportunity.  Oh, and talent.   Funny things can happen when guys are given opportunity and ice time.   See Nikitin, Nikita.
Sure, goaltending has been a sore subject over the past three years — no question about it.  But Sergei Bobrovsky brings quickness, demonstrated ability and focus

to the crease, and Mason reported in much better shape than in past years.  In Springfield, Curtis McElhinney has been named to the AHL All-Star Game.  The odds that the rash of injuries that devastated the netminder corps last year is relatively small, and the Blue Jackets benefit from having Jack Johnson for a complete season, James Wisniewski healthy (and not suspended), the veteran savvy of Aucoin, and another year of experience for Nikitin and Moore.  With a cohesive blue line contingent on the ice, goaltending should benefit.  So, each of the purported vulnerabilities can be viewed as positive elements, without sacrificing plausibility.
So, where will Columbus finish?   Don't know, can't say.   Prediction is a fools exercise this season, and I'm quite capable of looking foolish on my own, without courting additional opportunities.  However, in perusing statistics, I found that only once since the last lockout has a Western Conference club who scored more than 230 goals and surrendered fewer than 230 goals over a full season missed the playoffs. (Minnesota in the 2005-2006 season).  Pro-rating the 230 mark for a 48 game season transforms that to 135 goals.   Three 20-goals scorers and six more 10+ goal guys gets you there, and that is the type of club the Blue Jackets are shaping up to be.  On the flip side, the bar is set just under three goals per game.  Is that possible for the blue line and goaltending contingent?  Sure it is.
Barring injury issues, I wouldn't be surprised to see the Blue Jackets content for the playoffs, nor would I be shocked if they fall just short.  I would be very surprised if they didn't put an exciting, hard hitting and entertaining brand of hockey on the ice.  The time for anticipation is past.  There squad has more guys who know nothing of this "Darth Vader" phenomenon, nor do they suffer from the institutionalized fear of Nashville that has plagued the Jackets in recent years.   Game on.  Drop the puck.
Fan of hockey at all levels, with focus on the Blue Jackets, Miami RedHawks and the business side of the game. I try to bring a rational, even-handed analysis to my writing, wtih just a touch of snark. I use my legal background to bring some more insight on the business side. Love family, travel, hockey, golf and curling.