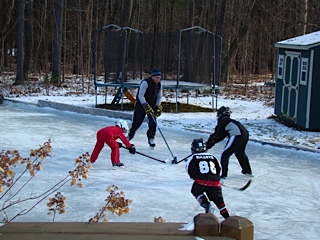 Perhaps the most disappointing part of the NHL lockout is the fact that monetary gain was put before everything else.
There was zero effort to prepare for the Collective Bargaining Agreement to expire. There should have been negotiations long before the NHL and the NHLPA got together to discuss the future of hockey.
Business Executives from Ivy League schools on Bay St. in suits, arguing about contracts and money poisons the beauty of sport. Hockey has a certain pureness to it.
In reality, of course the NHL doesn't operate like an inspirational Nike commercial.
Regardless, watching millionaires and billionaires publicly argue about money while everybody is struggling is beyond spoiled.
In Calgary, Jim Peplinski told the Globe and Mail that people volunteer to help the Calgary Flames club's cleaners prepare for games, "Here were these senior executives putting on rubber gloves and lining up for garbage bags to pitch in," Peplinski says. "You want to tell me that's not Canada?"
In Canada, people get up at 5:00 AM to shove the driveway and scrap ice from the car windows to get to the rink. In Russia, and Europe, players stay in horrible hotels and take long bus rides to travel to the next game.
Now, that culture is gone. The NHL is a the butt of a joke about corporate greed. It's the people with plenty whining the loudest.
This is great! BREAKING: NHL games to air exclusively on #LinkedIn

— chris deluca (@whatsucksblog) January 15, 2013
The truth is, this isn't what hockey is about. The World Juniors "brought to Canada and the world is the pureness of this sport – it's about getting up when you fall down, hard work, character; it's about learning how to win and learning how to lose."
This spirit has always carried over to the NHL. The Stanley cup is shared; it isn't about winning a ring for yourself but a cup for the team.
Now that the lockout is over, the apologies from players and hockey clubs are flooding the media because they want the fans and their money back. Eric Staal took out a full page ad in a North Carolina newspaper.
And, sure the fans will return. Arenas will be full. However,  it doesn't change the fact that money, power and politics have melted the fresh, clean ice.