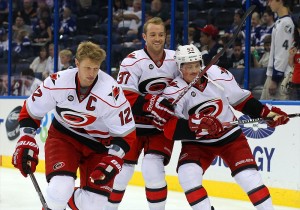 It has been a rocky journey for the Hurricanes since their Stanley Cup win in 2006. But, here are three reasons why this season could be different.
Offensive Acquisitions
The Hurricanes wasted no time in the off-season trying to improve their roster.
By acquiring two big names—Alexander Semin and Jordan Staal—the Hurricanes will have more production on the offensive end.
The team hopes that Semin and Staal will help fix their lack of goal-scoring ability. Scoring a meager 212 goals last year, more-skilled forwards will only help the team compete for a playoff spot.
The Hurricanes' additions will provide a fresh look to a team looking to shakeup the Southeast.
Justin Faulk
Faulk started making a name for himself last season.
The former University of Minnesota-Duluth defensemen played an average of 22:50 per game, the most of any rookie in the NHL last year while racking up 22 points in 66 games.
And he continues to improve.
With the Charlotte Checkers in the AHL, Faulk tallied 24 points in 31 games. He is a rare defensive player that has solid offensive play-making and scoring skills.
The 20-year-old will be the defensive backbone to this team—and could become one of the best defensemen in the NHL.
Shortened Season
In the past five seasons, the Hurricanes have had unfavorable starts. This is a problem in a long season. The 82-game season ends up dragging on, and confidence can never return to full strength.
But, with a 48 game season, the start to the season is even more crucial. This is a playoff run.
With a revamped team and a new desire to play after an extremely long offseason, now is the time for Hurricanes.
Just another THANK YOU to the fans that have stuck by us and the game we all love through this whole thing. Now the fun begins for all of us

— Tim Brent (@Brenter37) January 19, 2013