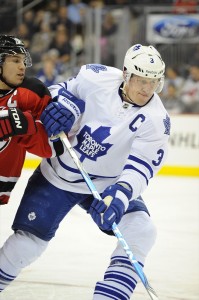 Maple Leafs general manager David Nonis and his staff have narrowed their Maple Leafs opening day roster down to a list of 23 players heading into their game in Montreal on Saturday.  Along with trading Matthew Lombardi for a conditional fourth round pick to Phoenix, the Leafs sent Greg Scott, Ryan Hamilton and Matt Frattin down to the Toronto Marlies.  The first two of which cleared waivers, while Frattin didn't have to.
Frattin has to be disappointed as he was expected to make this team out of camp, but in the end, he was just a little too inconsistent for the coach.  In time, he'll get his chance to come back up.
The Leafs also sent veteran forward Keith Aucoin back down to the AHL, but weren't so lucky as he was claimed off waivers by the New York Islanders.  Aucoin is currently in sixth place in scoring in the AHL with 37 points in 34 games with Toronto.  My sense is that this isn't such a bad thing in that it will give players like Joe Colbourne, Brad Ross and others the chance to get much needed playing time.
As a final couple of moves before the 3pm deadline on Friday, the Leafs put Tim Connolly on waivers to be sent to the Marlies and sent 18 year old defenseman, Morgan Rielly and their fifth overall pick from last year's entry draft back to his junior club; the Moose Jaw Warriors.
As per @DarrenDreger, looks like TOR's Morgan Rielly is headed back to Moose Jaw.

— Bob McKenzie (@TSNBobMcKenzie) January 18, 2013
It can't have been easy to let such a good young player leave camp but with the little hockey that Rielly played last season coupled with his size and age, Randy Carlyle just didn't feel it would be sensible to give him that chance.  Carlyle did say that Rielly had NHL level skills and that if the camp were longer and there were exhibition games to play, that things could have been different.  Either way, with Rielly in the system, you have to think that the future is bright on defense in Toronto.
If you weren't sure what kind of game Rielly plays, here is a spotlight from the Subway Super series.
Nonis is surely exploring other moves to make his club better.  The fact is, although Tyler Bozak is an NHL calibre player, he is definitely not a first liner.  But on this Maple Leafs team with the good synergy he has with Lupul and Kessel, that's the role he plays, at least for now.
So who has made the team?
The Forwards
The Top Scoring Line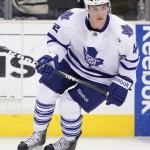 Centre – Tyler Bozak
Tyler has been a bit of an enigma in Toronto as many fans and media believe he is out of place on the top line.  I consider myself in that group, but you can't discount how he meshes with his linemates thus for now making him the top line guy.  Will he end the season in Toronto, that is the question.  Bozak has been rumored to be in the deal that would see the Leafs acquire goaltender Roberto Luongo.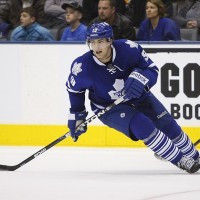 Left Wing – Joffrey Lupul
An unrestricted free agent at the end of the season, this is a make or break year for Lupul.  If he continues on where he was a year ago, look for him to be in the top 20 in scoring.  The combination of Lupul and Kessel was one of the most lethal combinations in the NHL last year.
He had his best year in the NHL with 25 goals and 67 points in 66 games.  Can he pick up where he left off?
If I'm calling the shots, I have a hard time not trading Lupul for assets at the trade deadline.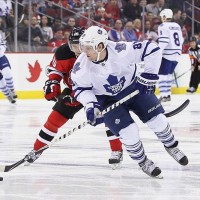 Right Wing – Phil Kessel
His goal and point totals have increased every year since he's arrived in Toronto.  Last year he finished in the top ten in overall scoring and was a point a game player with 82 points in 82 games.  He is known as an offensive player with little to know defensive game, but as he matures and emerges as a leader on this Leafs' team, I think you'll see Kessel grow into more of a two way player.  Leafs' fans can hope.
In a shortened season, I believe that Kessel, who led the league in scoring for a part of last season, could claim the Rocket Richard trophy for most goals in a season.
The Second Line:
Center – Mikhail Grabovksi
Left-Wing – Clarke McCarthur
Right Wing – Nikolai Kulemin
The Variable:  This line has great chemistry but took a step back from where they were in 2010-11.  Nikolai Kulemin in particular was not the offensive force that he showed he can be by only managing seven goals compared to the 30 he had just one year earlier.   On the other hand Kulemin was a defensive beast for the Leafs, but for him to stick on the second line, he'll need to put more points on the board.  In the KHL so far this year, Kulemin has been in the top ten in scoring.
MacArthur joins Lupul as alternate captain, replacing Grabovski. McClement is an alternate alternate.

— Lance Hornby (@sunhornby) January 19, 2013
The Third Line:
Centre – Nazem Kadri
Left-Wing – Leo Komarov
Right-Wing – James van Riemsdyk
The Variable:  This could turn out to be the difference making line if each of these players plays at the high end of their expectations.  Nazem Kadri was one of the best players at training camp, per Randy Carlyle and this is his chance to shine.  He has dominated at the AHL level at times and in the OHL, but now we will see if he can stick with the 'real' Buds.
JVR is a big winger that has the wheels to pass the defender on the outside.  He needs to stay healthy in order to really be effective.  His downfall is that he doesn't play the rough and tumble style that many feel he should.  The good news is that with Komarov as the third forward on this line, he may not have to.  Komarov is a pest who can put points up on the board.  With van Riemsdyk's speed and Komarov's grit, look for Nazem Kadri to get the room to work that has made him so good in the lower levels.
I think Nazem Kadri has top ten hands in the league, see below for a demonstration.  Can he do the rest?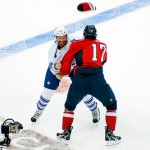 The Energy Line:
Centre – Jay McClement
Left-wing –  Mike Brown
Right-wing – Colton Orr
The Variable:  Colton Orr can be a difference maker but in his tenure with the Maple Leafs he hasn't been.  The addition of Jay McClement should make the club better on the penalty kill which is a part of the game this team has struggled with in recent years.
Odd man out for now: David Steckel
Leafs updated bottom two lines: JVR-KADRi-KOMAROV. BROWN-MCCLEMENT-ORR. STECKEL extra.

— Mike Ulmer (@mulmer) January 18, 2013
The Defense
Top Pairing
Right Defense – Dion Phaneuf
Left Defense – Mike Kostka
The Variable:  Dion Phaneuf is a young captain who is taking hold of this team.  Partnering him with rookie Mike Kostka could be the best thing for the 27 year old from Etobicoke, Ontario.  Kostka has never played an NHL game, but will get his chance to do so on Leafs opening night against the Montreal Canadiens.  Kostka who scored a heartbreaker of a goal in game three AHL finals last year was signed by the Leafs in the off-season and currently sits in second place among defenseman in scoring for the Marlies.  This is a very well earned cup of coffee with the Maple Leafs.  Hopefully for Kostka, it lasts a little bit longer than that.
Kostka could be sent down if he isn't performing when Jake Gardiner returns from injury.  However, it has been rumored by many hockey people that several teams would like to pluck Kostka on the waiver wire if he was ever to be sent down.
Second Pairing
Right Defense – Cody Franson

Left Defense – John Michael Liles
The Variable:  The ink has barely dried on Liles' new contract with the Leafs, but he has to get over the concussion that he suffered part way through last season.  Before the injury, Liles was tremendous for the Leafs both five on five and on the PP.  He didn't have the same stuff when he came back from injury.  Can he get it back?
Third Pairing
Right Defense – Mark Fraser
Left Defense – Carl Gunnarson
The Variable:  There aren't many players in the league as calm and cool as Carl Gunnarson on the ice.  The Leafs need to see him continue to grow into that steady defenseman that can dominate down low in the defensive game.  He has always been reliable, but can he add to that part of his game by pitching in offensively
Fraser meanwhile, I think, should get the jump on Mike Komisarek who has fallen out of favor in Toronto, despite making the team.  If need be, Fraser can drop the gloves and make things difficult for anyone looking to come out of the corner.  Carlyle likes these types of guys.
Seventh D-Man
Mike Komisarek: Will he dress? I would say that he does dress and get the odd minute here and there, until which time Jake Gardiner is ready to come back to action and then I believe Komi will be a healthy scratch and potentially a nominee for the waiver wire or trade later in the season.  Of course, any trade involving Komisarek would see the Leafs keeping a lot of the american's salary.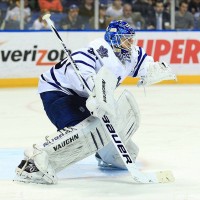 The Goalies (for now)
The Starter – Ben Scrivens
The Backup – James Reimer
The Variable: Ben Scrivens should get the start in Montreal on opening night for a few reasons.
1) Scrivens is in mid season for which 14-7-1 record for his first place Marlies.
2) Reimer has not been playing in any type of game action this year
3) It was against this Montreal Canadien team that James Reimer suffered his neck injury/concussion last season.
If Scrivens wins, let him stay in the net.  Point Blank.
Scrivens was clearly the sharper goalie at camp; he's played 47 games, including 4 in the NHL, since Reimer last played 302 days ago

— Mark Masters (@markhmasters) January 19, 2013
For every Maple Leafs article on THW, follow @THW_MapleLeafs  on Twitter