One day after their season was over, the Columbus Blue Jackets jumped into offseason action. They decided to make a significant change in leadership.
Head coach Brad Larsen was fired by the Blue Jackets after two seasons at the helm and over a decade within the organization. Finishing 31st in the NHL standings they way they did certainly pointed to the possibility. The only question was how much of an impact did their laundry list of injuries have.

According to GM Jarmo Kekalainen, although it was a tough decision, it was decision that was "absolutely necessary" at this time.
Kekalainen Reflects on Coaching Change
"First of all, I want to clarify that I said that the evaluation shouldn't be just about wins and losses," Kekalainen said. "It's obvious what we went through with the injuries and it's an unfortunate situation for all of us. We do our evaluation every day here. We watch every practice. We try to watch closely what's going on in the locker room and we're communicating with the coaches every day. That's how we do our evaluations on what goes on with our team and especially the direction we want to take with our team. We came to the conclusion that this was absolutely a necessary change that we needed to make. That's why we're here today."
---
Latest News & Highlight
---
Kekalainen declined when asked to get into specifics as to what led them to making this decision out of respect for Larsen. However it is clear that the Blue Jackets are nowhere close to where they want to be and a change was needed in their eyes.
"I'm not gonna dissect the strength and weaknesses of our coaches. I gotta let go today out of respect for them. But as I said, it was a lot of things that factored in that made us come to this conclusion and it was absolutely necessary to make these moves."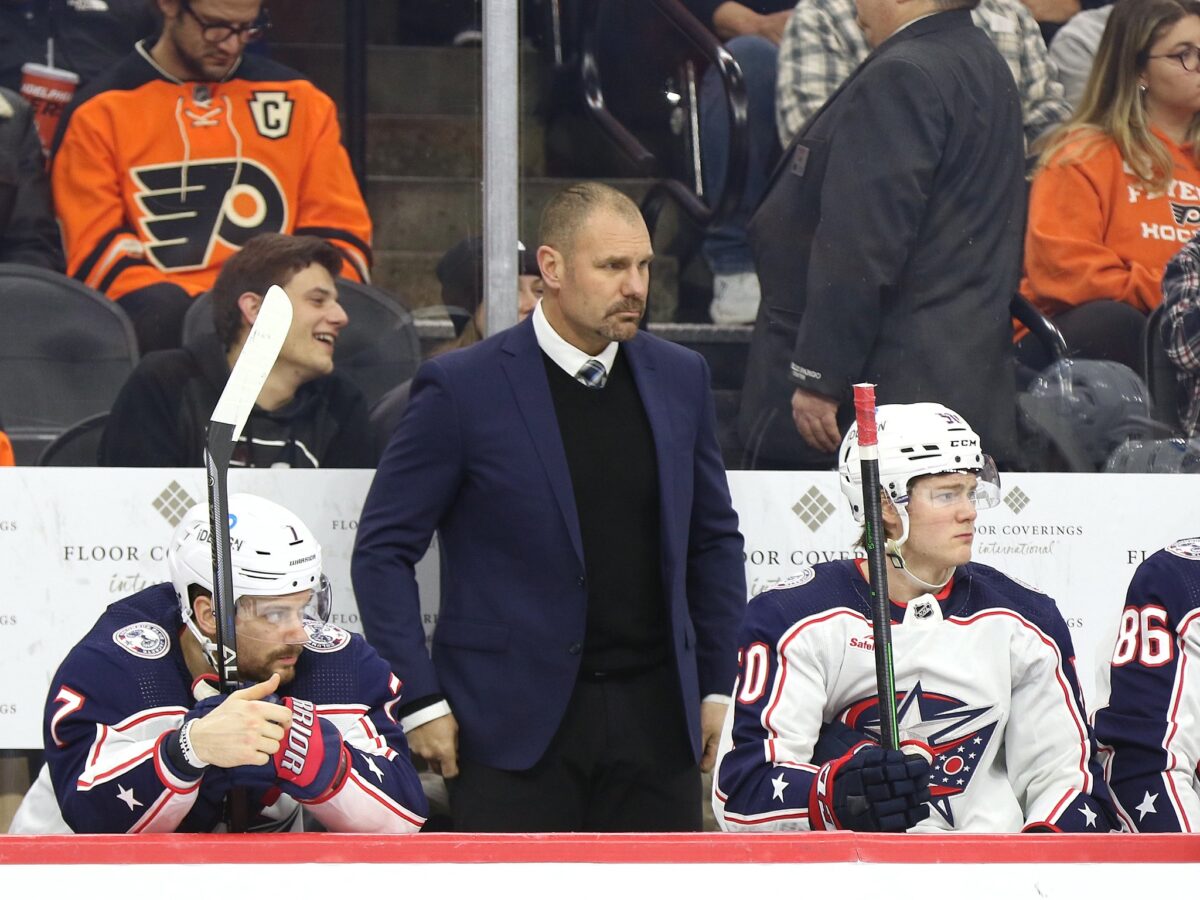 This also includes goaltending coach Manny Legace being relieved of his duties as well. Goaltending was a sore spot all season for the Blue Jackets.
"Well, number one, goaltender is a key to success with any team that wants to be in the playoffs or have success in the playoffs, or let alone win the Stanley Cup. You need a goalie that has the skills, that has the talent, but also a goalie who is consistent and reliable. That means staying healthy, being in top condition, probably the best conditioned guy on the whole team because of the requirements of that job. And that's going to be something that's gonna be addressed."
Other Takeaways
Kekalainen held court for almost 20 minutes talking about the coaching change and some other things around the Blue Jackets. Here are some of the key takeaways and meaningful quotes from that time.
Kekalainen said he thinks the team is evolving. Some of the young guys are getting older. He also admitted that he thought the team got a little bit ahead of themselves with some of the success they had early last season. "We knew this was gonna take time if we want to do it the right way."
Kekalainen said that he met with Larsen on Saturday morning to deliver the news of his fate. Based on the way Larsen came into the postgame presser Friday night, he seemed to have an idea something like this could be coming.
Related: Blue Jackets' Fate Now Rests in Hands of NHL Draft Lottery
The Blue Jackets want to get a new head coach in as soon as possible, but they will not rush the decision. They will work on pulling together a list of candidates. Kekalainen admitted full responsibility for everything that has happened including the decisions on the coaches.
Changes are coming. "I think once we get everybody healthy, even that the guys that are here, we're gonna look like a completely different team. But there's gonna be some changes too. We're gonna look at every position and we're gonna make the necessary changes. We want to get back into the playoffs. We've had enough of being on the outside looking in and watching the playoffs on tv, we were there. We got a taste of it for a few years in a row and not enough taste of success. We want to get back in there. The reason why we did this reset or whatever you want to call it is to do it the right way to get to the next level and to be able to compete for the Stanley Cup. We need to get there soon and we need to improve in all areas to get there."
Kekalainen said they will address the goaltending depth this offseason. Don't be surprised if they bring in a goalie from outside the organization with NHL experience.
Culture on the Team
Kekalainen was asked what a good culture looks like. This is what he said.
"A good culture looks like the standard of work that we do here every day, whether it's on and off the ice with the players, coaching staff, management. The standard's always here. Everybody has a little bit of bad day here and there, but the standard can never drop to under a certain level. And, it stays consistent and it stays firm and there are a strong set of values within the organizations that you never compromise. If you live by those values every day consistently and you're judges in the mirror, then I think you're doing the right things as an individual and as part of the good culture."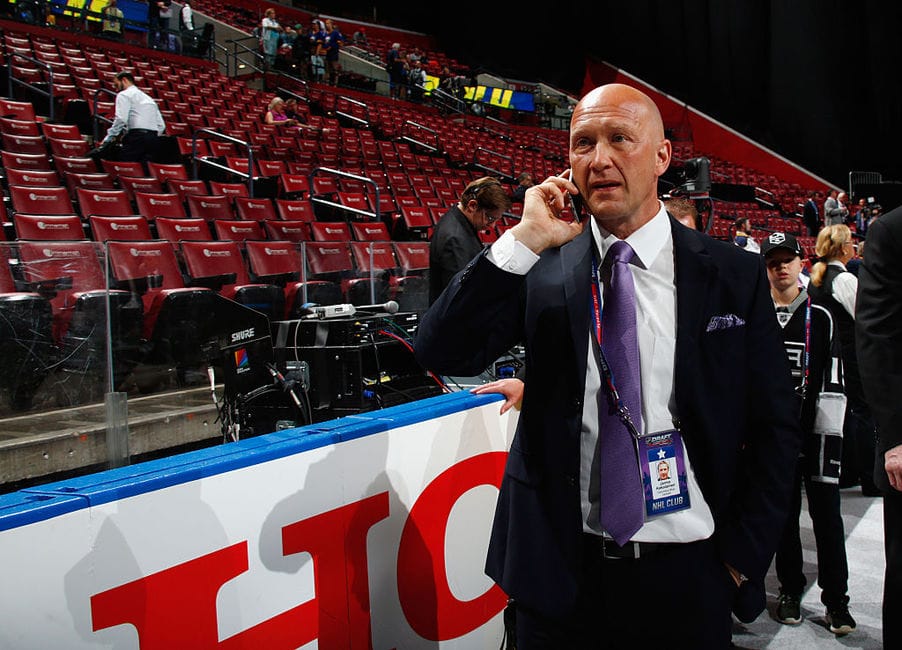 This is clearly a work in progress for this Blue Jackets' team. This will be discussed in more detail on Sunday for our long read, but some of the players admitted that this is area of improvement and opportunity. Perhaps the culture wasn't where it needed to be under Larsen.
What's Next?
For now, other coaches including Pascal Vincent and Steve McCarthy remain on the staff. Kekalainen said the new head coach will have a say in if they remain on the staff eventually.
The Blue Jackets will get ready for the draft lottery on May 8 and hope they get a lucky bounce.
As for Larsen, it was clear the Blue Jackets identified multiple issues that led to his dismissal. While we don't know all of the specifics surrounding it, saying this change was absolutely necessary is quite the contrast from when he was first hired when "the Lars Bar" was established.
You Might Also Like
Larsen was a great person and well respected in the room. But the results spoke for themselves. Even when the team had several of their core, they got off to a 3-9-0 start and were out of it most of the season.
The Blue Jackets are sick of missing the playoffs. It appears their moves this offseason will have that in mind. The only questions are how big are the moves and how many moves?
Expect swift and aggressive action after a 2022-23 season that everyone wants to move on from. As they say, business is about to pick up in a big way at Nationwide Arena.