The Montreal Canadiens held their end of season media availability after finishing the 2022-23 campaign with the fifth-best odds to secure the no. 1 overall pick in this summer's draft. A handful of players as well as executive vice president Jeff Gorton and general manager Kent Hughes reflected on a year of crucial player development and looked ahead to the immediate future for what promises to be a busy offseason. Here's a recap of the main talking points from locker cleanup day.
Handling Injuries
Given the team dealt with an exhaustive list of injuries to key players and finished the season with the most man-games lost by a considerable margin, Hughes and Gorton, who laughed off rumours of his pending departure that surfaced recently, were rightly questioned about how they planned to remedy the situation.    
They were adamant that they would evaluate every area of their player support services to get to the root of the problem and find solutions. While they attributed some of the issues to bad luck, Hughes correctly indicated that they won't be able to build a contending team if they can't improve their medical situation so it's certainly a priority for them.
Monahan Hopes to Return
Speaking of injuries, Sean Monahan, who played his last game in early December before missing the remainder of the season and subsequently undergoing groin surgery, is finally feeling good again and expects to be fully healthy for training camp in September.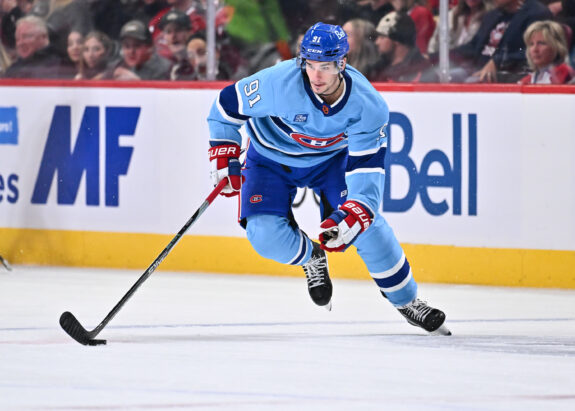 The pending unrestricted free agent will be shopping for a new contract and would love to return to the Habs especially since he feels like he didn't get to enjoy the full Montreal experience or play enough games at the Bell Centre.  He put up 17 points in 25 games and fit nicely into the lineup so it wouldn't be surprising to see a reunion confirmed over the next few weeks if management is confident about his health.
Meanwhile, Paul Byron will make a decision on his playing future in the coming days after missing the entire season. It sounds like he's leaning towards retirement since he hasn't been given any indication from doctors that he will be able to return to the NHL at some point. He's still experiencing a lot of pain in his day-to-day life and would like to transition to another role within the organization and spent much of the year watching games with Hughes and Gorton so they could get to know him. Could he be headed for a position in player development?
Different Expectations Next Season
It was clear from the outset that the Canadiens were destined for the draft lottery, but if Gorton and Hughes have it their way, that won't necessarily be the case in 2023-24.
Related: 3 Takeaways From Canadiens' 2022-23 Season
"We got a lot of young hockey players; we want them to start to take ownership not only for their own but for the collective here – but it is a balance. If we push too far in one direction, we run the risk of compromising development," explained Hughes. "I don't know if we're going to make the playoffs but we're not coming into [next] season saying it's a foregone conclusion. We want to push to try to make the playoffs & if we don't make the playoffs, that's fine, it is what it is just as long as along the way we've seen a great effort, we've seen individuals progress & we see our team moving in that direction – we're not going into [next] season saying we're out of the playoffs."
---
Latest News & Highlight
---
To take that next step, the general manager is going to have to come up with some more offseason magic like he did last summer when he acquired both Kirby Dach and Mike Matheson. He intends to be aggressive on the trade market once again with the many assets at his disposal as he looks to accelerate the rebuild as he looks to find young players with upside who are further along in their development or who fit the way head coach Martin St. Louis wants the Habs to play.
Anderson Shows His Frustration   
Josh Anderson was playing his best hockey of the year when he went down with a high ankle sprain with a handful of games left on the schedule and his emotions boiled over in his last media scrum.
He didn't like all the losing or having to finish the season on injured reserve or the persistent trade rumours surrounding him that were brought up again by reporters as he fielded questions. He reiterated that he loves Montreal and wants to stay as he looked forward to the brighter days ahead for his team. In a way, it was a breath of fresh air to hear a veteran player of his standing express his desire to win because that's how championship cultures get built.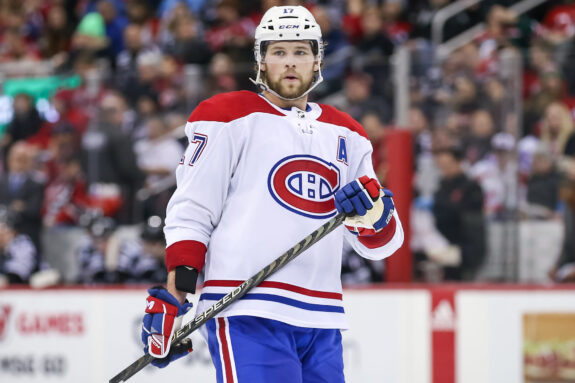 Hughes made a point to highlight Anderson's impressive progress this year as he learned to better use his strengths to become a more consistently dominant power forward who is hard to defend. His 21 goals in 2022-23 are the most he's put up in a season since he scored 27 with the Columbus Blue Jackets in 2018-19.
It was a long, challenging regular season for the Canadiens but now the real fun begins as fans have much to look forward to over the next few months beginning with the much-anticipated draft lottery on May 8.