It was in the year 2000 when the Columbus Blue Jackets started making a reputation for themselves. A reputation of always trying and never giving up. It's admirable, it's inspiring and it's totally unlike their Canadian counterparts in Toronto. That's the biggest difference between the two teams, in case you're wondering.
The Blue Jackets made the playoffs for the second time in franchise history in 2013-14 and that was the first sign of positive, everlasting change. During the 2014-15 season, though, the roster became riddled with injuries, as 12 players (not including goalies) accumulated 15 injuries before not making the playoffs. Management accrued their losses to injuries and their injuries to bad luck, but by the end of the season, their luck changed. Finishing 12-0-1 in the last 13 games, everything was grandeur again and hope was in the air.
The Finnish General Manager, Jarmo Kekäläinen had a lot to be proud of exiting the 2014-15 season, but as time would have it, their cycle of annihilation had not yet completed its 360-degree rotation. Entering the 2015-16 season, Columbus lost 11 of their first 12 games and now rank 26th in the NHL's overall standings, thus marking their annual cycle of annihilation as fully completed.
This is what Columbus Blue Jacket's Head Coach John Tortorella had to say after their last game of the season, which happened to be a victory over the team that won the most recent Stanley Cup, the Chicago Blackhawks:
Torts answered post game questions with some friends last night! #CBJ https://t.co/cDabdFyqYT

— Columbus Blue Jackets (@BlueJacketsNHL) April 10, 2016
Looking to the Blue Jackets Bright Side
For the Columbus Blue Jackets, when things get bad, it's only a matter of time before they get better again and right now we can see this in their ever expanding defensive depth chart. Taking a look at the club's potential top six defenseman over the next few years, Ryan Murray (No. 2), Jack Johnson (No. 3), Jones (No. 4), Zach Werenski (No. 8), Gabriel Carlsson (No. 29) and Cody Goloubef (No. 37), you'll notice that one of these defensemen, in particular, is not as well-known as the others.
Gabriel Carlsson, a 19-year-old first-rounder from the 2015 draft class has been preparing to join a defensive corps filled with other first-round picks. Of what is known about the Swedish prospect is that he plays for Linköping HC of the Swedish Hockey League (SHL) and so he's used to playing with grown men. But what else do we know about him?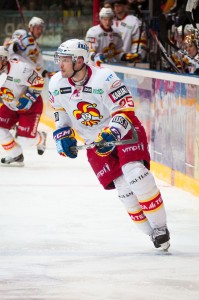 Jarkko Ruutu is a European Development Coach and Pro Scout for the Columbus Blue Jackets and currently resides in Finland. He's played in the NHL for the Vancouver Canucks, Pittsburgh Penguins, Ottawa Senators and the Anaheim Ducks. Today, he also plays a big role in Carlsson's development and talks with The Hockey Writers about his progress. "I've probably seen him 25 times this year," says Ruutu. "He's got a very good hockey sense. He's very calm, even under pressure" and that's something you can't really teach. "You can improve it a bit. You can improve physical, skating, skill, defensive, offensive, but hockey sense is hard to teach."
Carlsson's staggering height, fast feet, and long reach are what he's known for. He's often described as a shutdown defenseman and he even describes his style as a stay-at-home defenseman. "That's his bread and butter," says Ruutu. "He has more offensive upside than people say. Defense is his strength. I don't want to put any limits on him."
Is European Development Limiting?
Ruutu brought up a good point about not putting limits on Carlsson's development. With the NHL's recent changes to three-on-three overtime, players who can play a 200-foot game have increased their stock value overnight. A lot of the guys coming up the ranks these days are placing a bigger focus on developing their 200-foot game for this exact reason. It's in demand. "He's going to get the coaching, even though there's more ice surface in here," says Ruutu. "It's a different game."
That's the thing with European hockey.  It differs from the North American way and these differences don't end on the ice. "In Europe, the teams always provide everything," Ruutu tells The Hockey Writers. "The guys are very well taken care of. They provided him (Carlsson) with an apartment – even for the imports that come to Europe if it's included in the contract. They get him a car, he goes to school…"
Speaking of school, Carlsson's biggest asset is his intelligence. "He's very smart, says Ruutu. In an article published by the Ontario Minor Hockey Association (OMHA) in January of 2014, they highlighted some research that shows cognitive training to be a viable option for reducing injuries:
"The cognitive aspects that make players better – things like spatial awareness, the anticipation of plays and decision making – have also been found to make them safer.

Research suggests that most hockey injuries – especially head injuries – occur due to unanticipated contact. When players are aware of a potential impact, they can avoid it completely, or at least prepare their body accordingly. By increasing spatial awareness, the likelihood of unanticipated contact can significantly decrease."
Improving hockey IQ reduces on-ice injuries and for players like Carlsson who already have an above average hockey IQ and a below average injury rate are ideal for Columbus. Whether or not the Blue Jackets lack defensive depth, or are prone to get injured, it's clear that their future holds a great defensive game. As Carlsson continues to develop his skills in Sweden, he's also gaining weight, strength and leg power in order to fulfill his role as a defensive powerhouse in a top six defenseman position.
I'm a Hockey Journalist based out of Barrie, Ontario, a Contributing Writer for The Hockey Writers covering OHL, and NHL prospects with an insatiable thirst for all things LA Kings, and PR gal for Abel Sports Management.