Elvis Merzlikins was handling his business as usual. Although he left the game after the first period against the Pittsburgh Penguins on Mar 7 due to an illness, he was ready to take on his next challenge, a home date with the St. Louis Blues.
However Merzlikins never got that chance. He received a phone call that changed his priorities. He got the call from his aunt that his grandma Lida was seriously ill.
---
---
At first, Merzlikins wasn't sure what to do.
"In my past two years, things are coming and coming. I'm just asking to my life challenge what's gonna be next? What's next gonna come, you know," Merzlikins said. "I just start feeling great on the ice, in my game. Like I said before, I was controlling the game. Wasn't the game controlling me, so then I had to leave and this was my first time, obviously, but soon as I called Manny, he said, leave, go home. For me it was like, here's my work. I think they're paying me right? I can't just leave like that. And I didn't know what to do actually."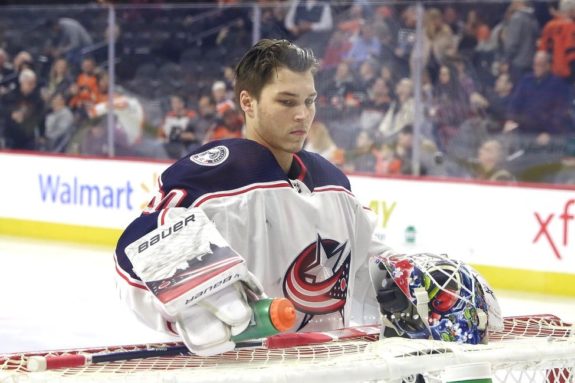 "And when my aunt called me at first, she was just, my grandma was just recovering (at the) hospital and it wasn't (too bad at first). It was bad, but it wasn't that bad how it was the next two days. And in my mind I was thinking, okay, I'm gonna give myself maybe one to two days and then see. I wanted to play a live game (against) St. Louis and then leave. That was my plan. But then the next day when I came here in the practice, I tried as hard as I could. I wasn't here mentally. I couldn't. I wanted to save the puck but I couldn't."
---
Latest News & Highlights
---
Lida was Merzlikins' grandmother on his father's side. He was especially close to her because he never got the chance to get to know his father. His father died when he was three years old. He grew up on the farm with her. The one thing he didn't get the chance to do often was call her. Let him explain why in his own funny way.
"Feel guilty obviously. I didn't call her that much that often because my other grandma is more, much cooler. She has iPhones, so it's easier to call, you know. This grandma, she even couldn't unlock the phone, I think. So it was harder to call her."
You May Also Like
While Merzlikins was able to find some humor in all of this, he made it a point to express his gratitude to the Blue Jackets for allowing him to travel back to Riga, Latvia to be with his family. However he wasn't able to be there to say goodbye to Lida. He was still in transit in Frankfurt when the news came down.
"Overall I'm really thankful and grateful for this organization, Jarmo with JD, everybody who let me go," Merzlikins said. My goal was to make it in time and say goodbye and ask, sorry that I didn't call her, but on my long flight she passed away."
"Then when I landed in Riga, when I saw my brother, my brother is horrible to hide something and he was already in the tears. So, I understood that's like during the fly day even. I was already getting ready mentally that she's gone. And I didn't make it in time, which I felt bad because that was my only one wish and goal, just to give her that last kiss and hold her arm, you know. But yeah didn't make it in time and just, I met my aunt in her apartment and see all those memories."
Turning Negative Into Positive
Think of everything Merzlikins has had to endure in his life. He lost his father at age 3. He lost one of his best friends in Matiss Kivlenieks. Now he's lost an important member of his family who was a reminder of who his dad was. That's a lot for anyone to go through.
Merzlikins is using that experience to help his family go through tragedy. He made himself available in every way he could.
"They're good. My aunt obviously stuff from her. You lose your mom. So it was hard for her. She's married, but she doesn't have much family members left. She has really close daughter who, like that dad was the gang. She, the daughter and my grandma. I was really happy to be close to her. And now about Matiss' experience, I tried to help her, because this was for her first time losing somebody."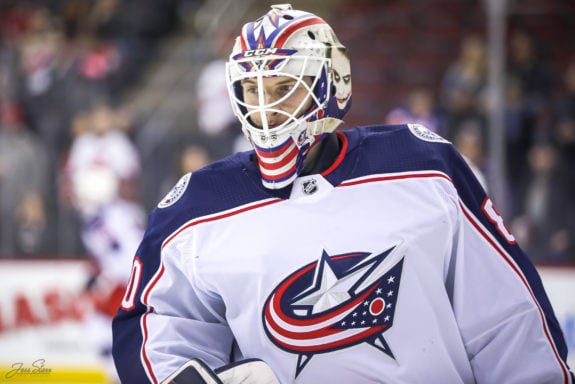 "So obviously, everything what I could help and talk and be close to her, that was like what I could do. I was calling her during the morning and asking her whatever she needs from me. I'm there just for her. So obviously she has as well, a lot of plans running around. We work together, running around from one side of the city to the other, to the one office, to the other office. It's not rich country. So, my thing, what I told her right away was everything's gonna be on me. Just don't worry about it."
Manny Legace's Continued Impact
After practice on Thursday, Merzlikins and his goalie coach Manny Legace shared a hug at center ice. That moment meant a lot to him. Legace continues to have a great impact on Merzlikins both on and off the ice.
"Manny, he's like my father to me. I love him incredibly much," Merzlikins said. "I love his whole family. His daughters like my sister. My first year when I just got here, me and Matiss, Manny just took us inside the house, you know, back in Europe. It's not normal taking people just like that in the house. And all these years we build the relationship. When it's hockey, when you get on the ice, it's business."
"As soon as practice is over he's like your life mentor. I learned it a lot from him (including) how to be a dad. There's all these things. It works in the house as well while I was there in the summertime at the Michigan and his place, there's a lot of stuff that Manny did for me…He was texting me every day as Lars did as well. They were praying for her and for me and that was really nice and obviously I really appreciate that. It was nice to be back and I just hug him and told him that I love him."
In the end, Merzlikins said his grandmother didn't suffer. That was the one thing he said he was happy and pleased about. Now he's back ready to tackle the end of the season and then beyond as the Blue Jackets' number-one goalie. He and the team handled a very difficult situation as well as anyone could ask for given the circumstances.