Perhaps one of the best moves for the Pittsburgh Penguins this season was one they didn't make.
After months of rumors and speculation, the Penguins decided to keep Marc-Andre Fleury. Two games into their series with the Columbus Blue Jackets, that decision to keep Fleury looks better by the day.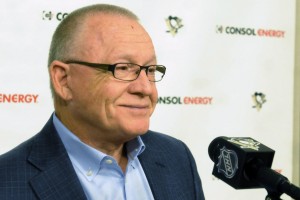 Fleury's Heroics
Projected starter Matt Murray injured himself making a save in warm-ups before Game 1. Fleury became the starter as a result. Many thought that the Blue Jackets would get an early advantage with the perceived downgrade in net. Turns out going to Fleury was no downgrade. No, the Penguins went to someone who's just as capable.
Fleury is just as big a reason as any that the Blue Jackets are down 2-0 in the series. He's given the Penguins the momentum they needed while proving his general manager right.
Fleury has stopped 70 of 72 shots faced in the series. He's allowed a third period goal to Matt Calvert in Game 1 and a second period goal to Brandon Saad in Game 2. That's it. Although most of the shots have come from the outside, Fleury's had to make several key saves. He stoned Saad in Game 2 on a breakaway when the game was still within reach.
We shouldn't look at what Fleury has done as a surprise. In eight career playoff games against the Blue Jackets, he's 6-0-2, with the two overtime losses coming in the 2014 series. Much is made about Fleury's struggles at different points in the playoffs. That is not true when it comes to the Blue Jackets. Despite that gaffe he made in Game 4 of the 2014 series, the Blue Jackets have yet to beat Fleury in regulation.
If the Blue Jackets even hope to get back into this series, they must figure out a way to get pucks past Fleury.
How Do They Do That?
There's your $64,000 question. Given the struggles of the Blue Jackets' offense, how do they generate more offense that leads to goals?
Generating shots hasn't been an issue as shown by 72 shots on goal in two games. The issue has been trying to generate high-danger chances on Fleury. In Game 1, the Blue Jackets generated just three high-danger chances. In Game 2, they increased their output to nine, but still scored only once. The Blue Jackets remain confident in their game despite the outcomes to this point.
#CBJ increase shot count, triple their high-danger attempts in Game 2 defeat.

Reaction from Torts, Werenski & more: https://t.co/FTWprWEyNW

— Columbus Blue Jackets (@BlueJacketsNHL) April 15, 2017
"We played the game we wanted to. We just couldn't bury our chances.", Brandon Dubinsky said.
"It's funny the way those bounces are going, but as soon as they start bouncing our way, watch out.", Nick Foligno said.
"I don't have one bitch about the team. Not one. I'm anxious to get our suits on again and get at it in our building.", John Tortorella said.
They feel like it's just a matter of time before things get better. We'll see. Their offense has dropped off significantly in the last month leading up to the playoffs. What can they do in 48 hours to snap their month-long slump?
In Game 2, three of the four Blue Jackets' lines played well. The Alexander Wennberg line with Saad and Foligno played at the kind of level required to enjoy success in the playoffs. Brandon Dubinsky's line did their job. In limited minutes, Sam Gagner's line continued to produce. Unfortunately for the Blue Jackets, William Karlsson's line didn't have a good night. By good night, I mean in possession.
They Must Make Fleury's Life Miserable
Despite their good efforts, Fleury was able to shut them down. Notice where the shot attempts are coming from in that last link. The Blue Jackets attempted 26 shots from above the circles to just nine for the Penguins. Either Fleury will easily stop those or it won't even reach him.
If the Blue Jackets want to win Game 3, they must make a more concerted effort of getting more attempts closer to the net. In addition, they need to make life miserable for Fleury. By miserable, they need to get traffic in front of him. They need to generate more rebounds. Fleury has seen most everything thrown his way. As a result, he's been able to control his rebounds.
The Blue Jackets' plan of attack has played into the strength of the Penguins to this point. If things don't change, a sweep is a definite possibility. To avoid this outcome, the Blue Jackets must figure Fleury out. Otherwise, a truly special season will come crashing down way before anyone wants it to.