It was a winnable hockey game. The Calgary Flames outplayed the Anaheim Ducks five-on-five and Brian Elliott made 38 of 41 saves in a 3-2 loss. So, what went wrong?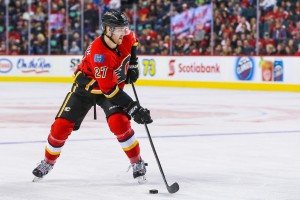 Well, it was a familiar lack of discipline combined with an inability to create enough good scoring chances against John Gibson, the Ducks goaltender who seemed to struggle throughout the game to contain rebounds and handle the puck.
Honestly, the Flames should know better. After all, this is the same team that lost games in the final week of the regular season against the Los Angeles Kings and these same Ducks by focusing more on settling grudges than on scoring goals.
Costly Lack of Discipline
Nobody on the Flames' roster was more undisciplined in Game 1 than Dougie Hamilton, who took three minor penalties. The worst of his infractions can be seen below, when with less than six minutes to play, Hamilton cross-checked Ryan Getzlaf for delivering a clean but targeted hit on Mark Giordano, who has been targeted by the Ducks since he injured defenseman Cam Fowler with an open-ice hit in their last regular season tilt.

Let's face it; the Ducks have won a Stanley Cup and know how to do two things very well. The first is to bait the opposition into getting caught up in established feuds and by sneakily wreaking controlled havoc on the ice so that the opposition will take bad retaliation penalties. The second is that the Ducks play a 200-foot hockey game where everyone fulfills their role by backchecking, blocking shots and sacrificing for the victory. Nobody takes a night off. It's a lesson the young Flames can learn if they want to earn a split on the road before returning home for Game 3.
"We're frustrated and our discipline tonight hurt us, but we're right there," said Giordano to Calgarysun.com. "We can play with these guys, we know we can. Certain moments in the game, I thought we had good looks to go up by two. We didn't score and then they get a break and then they come down and score. We talked about it — they have players who, shift to shift, they can change the game because they're so skilled and they can make plays, make things happen. You saw that tonight."
The Way Forward
As infuriating as Game 1 must have been for the Flames, there are some positives to build on before the next tilt on Saturday night. First, it was a tight game and the Flames were able to prove they can match the Ducks when they play at full strength, especially considering the inspired play of winger Kris Versteeg, who set up both of the Flames' goals with incredible passes to Sean Monahan and Sam Bennett—two young players who the Flames needed to get on the scoresheet early in this series in order for them to be effective.
The Flames also have the edge in goaltending, which means they should be able to hold a lead if they can clean up their game by eliminating bad penalties and mental errors, like this truly awful line change below.
"Two power-play goals and a bad change, it's not like they really earned it that much, we kind of gave it to them," said Brian Elliott to Sportsnet.ca. "We clean things up and we'll take care of business."

As they go into the next match, the Flames have to realize that it was self-inflicted wounds that cost them a victory in the opening match of this series. It wasn't the dreaded 28-game curse at the Honda Centre and it certainly wasn't the incredible play of the Ducks, who at times looked like they were hanging on for dear life, especially when Ryan Kesler sat on the puck and took a delay of game penalty with just seconds left on the clock.
No, the Flames have to accept that they hurt themselves by taking bad penalties and by losing the mental game. If they can take responsibility for those errors and adapt accordingly, then there is no reason why they can't win the next game.
However, if they choose to focus on revenge, complain about the refereeing or get involved in the street fights on the ice that agitators like Kesler, Getzlaf and Corey Perry love to instigate, then the Flames will fall quickly and the Ducks will probably cruise to an easy series win.