The old saying "Don't cut off your nose to spite your face" is one the Calgary Flames might want to remember as they head into the playoffs. It's the time of year when teams win hockey games through controlled emotion and mental toughness more than they do through skill and speed.
On Wednesday night, Drew Doughty, Jarome Iginla and the Los Angeles Kings schooled the Flames with a 4-1 victory even as they aimed to settle a score with Matthew Tkachuk who was suspended for two games for an elbow to Doughty's face in their last match.
"We can't get caught up in all that other …. stuff," said winger Kris Versteeg to NHL.com. "LA's a big, strong, physical team that plays the game hard and likes to get you wrapped in their game. We let them do that to us. We're a really good team and we know that. I don't think there should be any worry or panic. We lost a game. We didn't play the way we needed to and we understand that. Our goal is still to clinch first – hopefully, we do that Friday – and go from there."
[irp]
Winning the Battle or the War?
It's true. The Flames lost focus and got too caught up in the warfare. The loss also kept them from clinching a playoff spot and could have implications on who they play in the playoffs. Still, it was impressive to see Tkachuk – who was under fire all game, continue to take the offensive against Doughty by lining him up for an open ice hit and standing up for himself against anyone who wanted to settle the score.
He was also a force on the ice, creating scoring chances and helping his line to be the most effective unit for the Flames in the game, even as head coach Glen Gulutzan tried to shelter the youngster with just 12 minutes of ice time. That kind of charisma and mettle could make Tkachuk a future superstar in the NHL as long as he learns to channel his emotions and walk the fine line between being an agitator and a goal scorer to help the Flames win without putting them into a hole with undisciplined play
In the end, it was just one game but the Flames have the opportunity to learn from this loss to the Kings. The most important lesson is that they cannot afford to deviate from the style of play that has made them so successful over the last two months. The other night the Flames saw how hard this is when you're playing against the same team in a compressed playoff schedule. Grudges and animosities begin to develop and pretty soon a team can find themselves settling scores instead of putting pucks in the net.
"We just weren't very good," said head coach Glen Gulutzan to NHL.com."There's going to be a lot of emotion, like last night and then moving forward, against Anaheim and San Jose. All emotionally charged games. I think we need to do a better job of having better discipline over emotion. We took five or six minors (Wednesday) night and that just can't happen. It wrecks the flow of the game for us. We like to use our speed and our four lines and that, the lack of flow, took both those things away. We have to manage that better."
Iginla Leaves a Mark
It couldn't have been scripted better if Wednesday night's game turns out to be the last time that Iginla plays an NHL game in Calgary. It's been a tough season for the former Flames icon who was toiling with the Colorado Avalanche before a trade deadline deal reunited him with Daryl Sutter for what will likely be a failed playoff push in Los Angeles. Still, now that he is playing games that matter, Iginla has seven points in 13 games with the Kings, after accumulating 18 points in 61 games with the Avalanche.
[irp]
In Calgary, he did it all on Wednesday night, racking up a goal and an assist while taking on Flames enforcer Deryk Engelland in a fight that left Engelland's left eye looking worse for wear in the press scrum after practice on Thursday.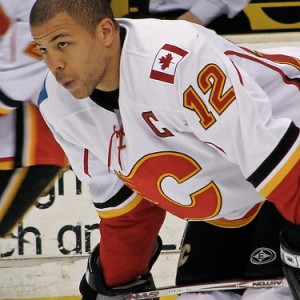 As usual, Iginla left a different statement on the ice than the typically gracious one that he leaves in the media whenever he is interviewed. That's how Iginla plays the game. Tkachuk's style is different and definitely upsetting to veterans like Doughty and Iginla but neither is wrong in today's NHL where sometimes the biggest advantage you can get on the ice is caused by the effect you can have on the mindset of the opposition.
It's unfortunate that a Stanley Cup probably won't be in the cards for Iginla as his NHL career winds down. Still, at least now Iginla can say he has scored on Saddledome ice for a team that wasn't the Calgary Flames. It earned him more admiration (if that's possible) from Flames fans who for the most part didn't mind seeing the Flames mascot, Harvey the Hound, high-five a member of the opposition when he was named the game's third star after the game.
Somehow it seems fitting that instead of watching a touching video tribute to Iginla in Calgary, fans got to see one last Gordie Howe hat-trick of the eleven that he has delivered throughout his tremendous career.
It's just too bad that the sentiment is probably lost on a great warrior like Iginla who will, unfortunately, watch his former team head into the playoffs instead of being there to experience it himself. Let's just hope the Flames learn from the lesson Iginla and the Kings taught them by focusing on winning hockey games instead of shoving matches in the corner.
Jon is a Calgary resident and life-long Flames fan who is a new contributor on TheHockeyWriters.com. You can follow Jon on Twitter @sportfanyyc where you'll probably learn a bit more about sledge hockey as well.