Following Mikael Backlund's lead, the Calgary Flames are creating team success ahead of individual glory by playing a complete style of hockey.
Fans are seeing fewer turnovers, especially from Johnny Gaudreau and Sean Monahan who were trying to break into the zone alone instead of making a short pass to a teammate. They are also seeing a team that is taking responsibility for their play as a group instead of finger pointing at individual players when assignments are lost or mistakes are made on the ice.
It's a new attitude that has the whole team believing they can go deep into the Stanley Cup playoffs this season.

"We've changed a lot since the beginning of the year," said Brian Elliott to Ryan Leslie on his Up Close Podcast on CalgaryFlames.com. "It all started with the Backlund line. They led by example by always coming back, by always being in the right spots and I think every line began to believe because they saw it was working for them and so they knew it could work for their lines too."
Playing Their Role to Perfection
When the 2016-17 season began, the Flames were a young hockey team that had just signed Monahan and Gaudreau to large multi-year contracts. These contracts came with massive expectations that each player would perform as an elite forward and early on it was clear that both players were trying to do too much on the ice. Both Monahan and Gaudreau had high personal expectations and for the first half of the season, many other Flames players also seemed bent on making great individual plays instead of sorting out how to best play as a team.
That's why the "3M" line of Michael Frolik, Matthew Tkachuk and Backlund have been such a model of consistency. Not only have they been able to effectively shadow some of the best lines in the NHL, but they have also brought the offense with all three players ranking in the top-six in scoring on the Flames roster.
All three will set career highs for points this season, while Tkachuk has forced himself into the conversation for the Calder Trophy as the NHL's best rookie. But, their impact of leading the young Flames roster goes beyond their accumulation of points. It is about leading by example.
Okay, maybe it took until the middle of January, but the Flames eventually got the message that just appreciating the play of the 3M line wasn't enough. They actually needed to start playing the same way themselves.
"One of the top lines in the league, for sure, both ends," lauded captain Mark Giordano to NHL.com on a day close to the turning point on Jan. 17, 2017. "But we've been saying that all year. I can't say much more. The goals they've been scoring are huge. 'Backs' has taken that step up to a No.1 centreman and run with it. They get rewarded for defensive play, which is what we want to be all about. They get above pucks, make good plays and good decisions."
Peaking at the Right Time?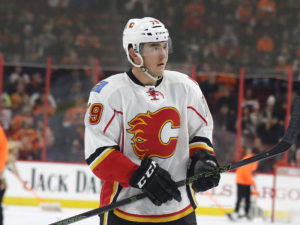 Now, the end of March is nearing and the Flames are in a position where they can clinch a playoff spot with a victory over the Los Angeles Kings on Wednesday night. Would anyone have thought this was possible at the turn of the New Year? Probably not. However, the Flames are rolling with a 14-3-0 record since Feb. 21 when head coach Glen Gulutzan helped to solidify another strong Flames line by adding Micheal Ferland to play with Monahan and Gaudreau.
Ferland has responded with seven goals while Monahan and Gaudreau are among the league's best in points accumulated since that time with Gaudreau netting 23 points (six goals, 17 assists) and Monahan close behind at 21 points (7 goals, 14 assists). Add in three goals in four games from continual doghouse-dweller, Troy Brouwer, and you have a team that has all four lines contributing in different ways at just the right time of the year.
This could make the Flames an ugly team to come up against in the NHL playoffs but with so much jockeying left to be done over the last six games of the season, it's hard to tell if the Flames will play the Sharks, Blackhawks, Ducks or Oilers in the first round.
Of course, many fans would love to see a long-awaited rematch of the Battle of Alberta but the Flames have to feel confident that no matter who they face, the recent outstanding play of Brian Elliott will give them a chance every night – even if it came down to trying to exorcise their demons at the Honda Centre in Anaheim where they haven't won a single game in regulation since Jan. 19, 2004.
Come to think of it, with that kind of bad history in Anaheim, maybe a Battle of Alberta rematch is the best outcome after all?
Jon is a Calgary resident and life-long Flames fan who is a new contributor on TheHockeyWriters.com. You can follow Jon on Twitter @sportfanyyc where you'll probably learn a bit more about sledge hockey as well.