Last week, the Calgary Flames battled through a tough three-game road trip, an untimely suspension and a key injury to prove they won't be playoff pushovers. It started when recently promoted top-line winger Micheal Ferland had to go into quarantine with symptoms of the mumps and it continued with Matthew Tkachuk's two-game suspension for elbowing L.A. Kings defenseman Drew Doughty.
However, it ended very well when both Ferland and Tkachuk returned to the lineup for the road trip finale in St. Louis. The Flames collected a huge 3-2 overtime victory thanks to this goal from Sean Monahan with just 2.5 seconds before the end of extra time. With the goal, Monahan not only established the tone for a team that was coming off two tough losses, but he also set a new franchise record for most OT winners in a single season with seven to date.

Sticking With the System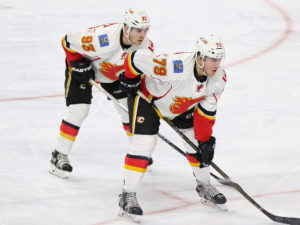 The timing of the Ferland injury and Tkachuk suspension couldn't have been much worse. Still, as the Flames got set to play the league-leading Washington Capitals in the first game of the road trip, they came out and played a very strong game in what turned out to be a 4-2 loss.
In the next game, Calgary played well but dropped a 3-1 decision to a very desperate Nashville Predators team. It was the first time the Flames had dropped back-to-back contests since Jan. 23 and 24 when they lost to the Toronto Maple Leafs and Montreal Canadians.
Even with losses to the Capitals and the Predators, the Flames have proven they are sticking with the same style of play that has made them so successful over the last two months.
They are also starting to get better performances lately from wingers like Troy Brouwer, Alex Chiasson and Sam Bennett who individually haven't had great seasons. Yet, all three have recently gotten more ice time and have started to find the net with Brouwer collecting two goals on the road trip and Bennett looking particularly dangerous against the Blues in their most recent game.
"We played three tough teams and we knew it was going to be tough to come away with points," said goaltender Brian Elliott to the Calgary Herald. "Coming off a long string of wins, it's bound to come back and bite you a little bit. It was good to stop (the losing skid) and hopefully start on the winning track again."
With just seven games remaining in their regular season schedule, it's encouraging to see the depth the Flames have in their forward ranks. This will no doubt help them during the grueling months of the NHL playoffs to complement the players that are already performing well like Micheal Frolik, Mikael Backlund, Tkachuk, Monahan and Johnny Gaudreau.
A Defense on the Rise
A strong defense is usually the key to any kind of playoff success and with just two minor moves the Flames filled the holes that could have kept them from playing in May. Bringing in Michael Stone and Matt Bartkowski in mid-February enhanced the Flames second and third pairings in a spectacular which has no doubt surpassed the expectations of even the biggest hockey optimist in Flames management by now.
Aside from their steady individual performance and Bartkowski's momentum changing goal that tied the game and set up the overtime victory over the Blues, the greatest contribution they have brought is an all-round stability to the Flames defensive core. Players like Mark Giordano and T.J. Brodie are contributing much more offensively since Stone and Bartkowski arrived and generally look far more confident on the ice.
It's also a better situation for Dennis Wideman who could no longer be relied upon every night with his diminished skill level and foot speed starting to show. However, as a depth defenseman, Wideman could still make a positive impact in spot duty with the team by being an experienced addition to the lineup along with newcomer Curtis Lazar if injuries become a factor during the playoffs.
Achievements & Accolades
It's hard to believe that Mikael Backlund could be acknowledged even more than he already has for his contributions to the Flames lineup this season. Not only is he a strong Frank Selke trophy candidate as one of the absolute best two-way centers in the NHL, he also plays on one of the top performing lines in the NHL alongside Tkachuk and Frolik.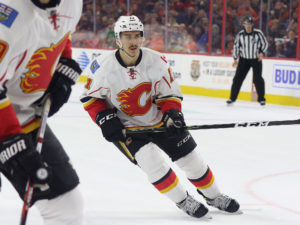 Last week, the local chapter of the Professional Hockey Writers' Association added one more honour to the list when they made Backlund their nominee for the Bill Masterston trophy for his commitment to hockey and for his sportsmanship and community service.
"It's awesome," Backlund said to the Calgary Herald. "It's always cool to get some positive feedback and recognition for the hard work you put in. It's an honour to get nominated for an award like this."
Off the ice, Backlund specifically supports three Calgary charities in addition to all of his public appearances. These include the Special Olympics, the Kids Cancer Care Foundation of Alberta, and the ALS Society of Alberta which supports people as they struggle with debilitating effects of Lou Gehrig's disease. Community service is nothing new to Backlund who has consistently given more and more to the community ever since he was selected as the 2014 recipient of the Ralph T. Scurfield Humanitarian Award presented annually by the Calgary Flames organization.
Late last week, the Flames also made a splash by signing a top NCAA prospect from the Ohio State University Buckeyes.  Josh Healey,  a bruising 22-year-old defenseman from Edmonton, Alberta earned a two-year, entry-level contract with the team and is expected to finish the season with the Flames AHL affiliate in Stockton where he will compete for a roster spot next season.
The hard-hitting defenseman is known for having a bit of a nasty streak and has been suspended two times this past year for hits to the head at the NCAA level. This season he played in 35 games for the Buckeyes and led all defensemen on the team with 21 assists and 25 points. He finishes his career in the NCAA with 133 games played to go along with 60 points (12G, 48A) and 212 PIMs.
Jon is a Calgary resident and life-long Flames fan who is a new contributor on TheHockeyWriters.com. You can follow Jon on Twitter @sportfanyyc where you'll probably learn a bit more about sledge hockey as well.