The Calgary Flames have 10 players with 10 goals or more so far in the 2016-17 season. That kind of scoring depth mixed with an enhanced defense corps has vaulted the Flames to one of the best records in the NHL since the All-Star break. It's an encouraging level of success that has the team surprisingly focused on obtaining home-ice advantage in the first round of the playoffs instead of merely fighting for their playoff lives. However, the players know that continuing to execute going forward is always an ongoing challenge.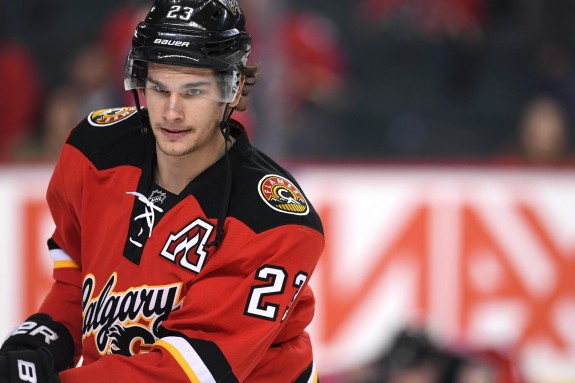 "It's fun. You come to the rink…you play any sport when you're winning the atmosphere is great. Right now we're confident but we're not overconfident. We know we've still got a lot of work to do and we haven't proven anything," said Sean Monahan to NHL.com after scoring a goal and an assist in the Flames' latest 5-2 victory over the New York Islanders, where they stretched their win streak to seven games. "They didn't let up and they're a good team, so I think we might've taken our foot off the gas a little bit and we definitely shouldn't have."
Lighting the Lamp
It was a victory that very easily could have been much more lopsided, especially after the Flames jumped out to a huge 4-0 lead in the first period thanks to goals from Monahan, Michael Frolik, T.J. Brodie and Micheal Ferland. Yet, as the game continued, the Flames looked satisfied with the lead. It's a mindset that is dangerous but understandable as the Flames lately have been scoring by committee. In fact, every Flames player in the last seven games has collected at least one point during the win streak and seven different players have collected game-winning goals.
"If you want to be successful, you need all four lines going," said Frolik to the Calgary Herald. "Obviously, you don't expect all four lines to be in the top of the scoring, but to be successful, you need all four lines rotating and make sure that everybody can score. I think we kind of have that now, that every line can score. That's huge. Hopefully, we can keep it going like that."
Right now it's easy for the Flames to find confidence. However, in every win streak, complacency can creep into the performance on the ice. You could see it in the Flames' most recent victories over the Islanders and the Detroit Red Wings, when they let the opposition gain momentum and then sneak back into the game before they eventually closed the door to claim victory. No doubt, retaining focus and limiting scoring chances will be key areas of focus in practice, especially with the surging Montreal Canadiens and Pittsburgh Penguins visiting Calgary over the next seven days.
"The best teams in the league always have flawless records in terms of holding leads," said Kris Versteeg to CalgaryFlames.com. "That's what we want to become. So, these kinds of games are important to be able to close out. We've come a long ways but we've got to stick with it."
Shutting the Door
When things are going well, getting everyone on the score sheet is a nice feather in the cap. However, it's the team's improved play in its own zone that has by far been the Flames' biggest achievement since the All-Star break. Brodie has been performing like a completel player with new defense partner Michael Stone. Just in the last five games Brodie has a plus-minus rating of plus-6  and has collected five points, including some absolutely beautiful assists on jaw-dropping passes from behind the opposition's net.
This is new territory from a player who looked completely frustrated for most of the year as he accumulated an awful plus-minus rating of minus-27 when paired with Dennis Wideman, but Brodie looks reinvigorated and that's great news for the team. In addition, new signing Matt Bartkowski looks right at home in his new pairing with veteran defenseman Deryk Engelland. He has moved the puck well and resisted the temptation to skate it out of his own zone while playing a simple game to avoid turnovers.
The Flames are learning to rely on each other every shift, which has them performing much more confidently. They are winning puck battles and limiting quality scoring chances, which is helping Brian Elliott to recover from his horrible start to the season. Today he looks like the goalie everyone expected, posting a 12-2-1 record in his last 15 games while rarely giving up more than two goals in a start.
Yes, the Flames have a certain swagger right now. Making small improvements to their defense before the trade deadline was the first step, and soon the restored confidence of players like Brodie and Elliott followed. Later the offense awakened thanks to the superhuman effort that seems to come from the 3M line of Mikael Backlund, Matthew Tkachuk and Michael Frolik every game.
Now as the Flames continue the stretch drive to the playoffs, they look like they could be a very dangerous hockey team. They are coming together as a group at just the right time and all four lines are contributing something different to match up well against other teams from across the NHL.
If they can keep themselves from becoming complacent and not get too caught up in their own recent success, they could be a very difficult opponent for any team they might face in the Stanley Cup playoffs.