'The Nuck Stops Here' is a Vancouver Canucks news, opinion and analysis column that runs every Monday throughout the regular season.
News
Jannik Hansen Traded to San Jose Sharks for Nikolay Goldobin, 4th-Round Pick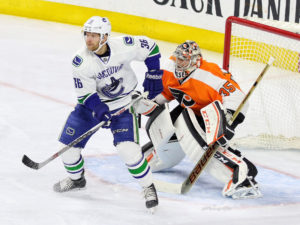 On the eve of the trade deadline, speedy winger Jannik Hansen was flipped to the San Jose Sharks in exchange for prospect Nikolay Goldobin and a conditional fourth-round pick in 2017 (which can change into a first-round pick if the Sharks win the Stanley Cup).
Goldobin, taken 27th overall in 2014, has scored 41 points in 46 games in the American Hockey League this season. Meanwhile, Hansen, 30 years old, scored 13 points in 28 games with the Canucks this season and scored a career-high 22 goals last season. Hansen had spent his entire career with the Canucks organization.
Alex Burrows Traded to Ottawa Senators for Jonathan Dahlen
In the days leading up to the trade deadline, the Canucks swapped veteran forward Alex Burrows to the Ottawa Senators in exchange for prospect Jonathan Dahlen. Dahlen, born in Ostertund, Sweden, was drafted in the second round (42nd overall) of the 2016 NHL Entry Draft.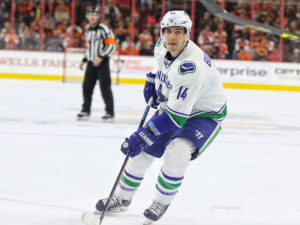 The 19-year-old scored 24 goals and 41 points with Timra of the Sweden-2 league this past season and was a member of Team Sweden at the IIHF World Junior Championship this past year (scoring five goals and six points in seven games). Burrows, 35, scored nine goals and 20 points in 55 games this season and had spent his entire career with the Canucks organization. The Senators currently rank second in the Atlantic Division.
Joseph Cramarossa Claimed off Waivers
The Canuck' under-the-radar deadline move was the claim of forward Joseph Cramarossa off of waivers from the Anaheim Ducks. The 24-year-old has scored four goals and 10 points in 49 games with the Ducks this season while accumulating 51 penalty minutes. The year previous, Cramarossa played 11 AHL playoff games and scored three goals. He was selected in the third round (65th overall) of the 2011 NHL Entry Draft.
Scores of the Week
Vancouver Canucks – 2 : Detroit Red Wings – 3 (OT)
San Jose Sharks – 3 : Vancouver Canucks – 1
Los Angeles Kings – 3 : Vancouver Canucks – 4
Anaheim Ducks – 1 : Vancouver Canucks  2
Current Record: 28-30-7 (63 Points – 6th in Pacific Division, 11th in Western Conference, 24th in NHL)
Analysis
Canucks Finally Boast Depth in Prospect Pool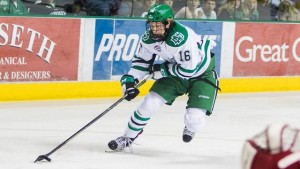 A long-standing criticism of the Canucks has been their distinct lack of depth within their prospect pool. Partially the product of years of success, the club has lacked both strong high-end talent and effective depth pieces. Nowadays, that tale has changed. The Canucks finally boast legitimate blue-chip prospects, as well as a pool that is deep in talent. The high-end picks – Brock Boeser (23rd in 2015) and Olli Juolevi (5th in 2016) – appear to be developing according to plan (or in the case of Boeser, exceeding said plan).
However, what makes this group strong is the late picks that are panning out. Adam Gaudette, a fifth-round pick in 2015, is among the leading scorers in the NCAA and has established himself as an elite goal scorer at that level. Defenceman Carl Neill, also a fifth-round pick, is putting up better than point-per-game numbers in the QMJHL. Meanwhile, defender Tate Olson, a seventh-round pick in 2015, is putting up respectable numbers in junior, as is former third-round pick William Lockwood (a winger from the USHL).
All this development comes without mentioning the additions of high-end talent in Dahlen and Goldobin, deadline acquisitions who come touted as having first-line upside. As the team enters its rebuild stage, the prospect pool appears to be rounding into form. For Canucks fans, it's been a long time coming.
Brendan Gaunce Should Be an Expansion Consideration
The addition of the Vegas Golden Knights into the NHL and the subsequent expansion draft has been an interesting nuance for teams this season. Of course, the Canucks are no exception. For many months, defender Luca Sbisa was the top suspect in terms of joining Vegas, a sentiment which has changed of late. Fans have been discussing the idea that Vegas may choose to go a younger route, and claim centre Brendan Gaunce off the Canucks.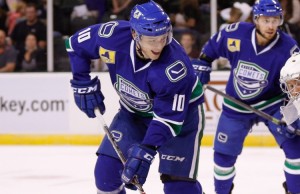 While seemingly insignificant, Gaunce is a piece the Canucks would be better off trying to protect. The former 26th overall pick has developed nicely, putting up strong possession numbers and making things happen with less-than-stellar linemates. Should he continue to play as he has, the team may be better off exposing or trading centre Brandon Sutter, or attempting to have Loui Eriksson waive his no-movement clause.
It's conceivable that Vegas would pass on either of those players due to their hefty pricetags, and if one of the two were selected, it would do no long-term harm to the Canucks. It seems likely that Gaunce will never be a game-breaker at the NHL level. However, if all goes well, he could be an effective third-line centre. Looking forward, he's not an asset the Canucks should be looking to lose for free. It's time for the rebuild to be taken seriously by management, and in doing so, they need to get creative in retaining their young assets.
Around the Blog-O-Sphere
Fun links about the Vancouver Canucks from all around the internet.
Is Willie Desjardins the one to develop the next wave of Canucks? [The Province]
Canucks reduced to auditioning players for next season [National Post]
Jim Benning's trade deadline finally put the Canucks on the right path [Sportsnet]
Canucks added talent, but lost characters at the trade deadline [Vancouver Sun]
The Canucks emerged as winners of the 2017 deadline [TSN]
In his first game as an Ottawa Senator, former Canuck Alex Burrows scored two goals: