Giving up the first goal in five of the last six games isn't a recipe for success but the Calgary Flames have shown they like to do things the hard way. Despite this, they are a playoff ready team. Two weeks ago this would've been hard for anyone to believe but here are a few reasons why the Flames look like they are a team on the rise heading into the last two months of the NHL season.
Stability on Defense
The Calgary Flames addressed their single biggest problem this season by finding a good defense partner for T.J. Brodie and by stabilizing their defense pairings with the additions of Michael Stone and Matt Bartkowski. These two small transactions cost the organization next to nothing but brought far-reaching benefits to the team especially in the goal crease where Brian Elliott and Chad Johnson are now looking much more comfortable. It has also lead to an increased sense of confidence and resiliency among all Flames' players which is really translating well into improved on-ice performance.
Of course, the credit lies mostly with general manager, Brad Treliving. Given the cap issues and other constraints that the Flames are dealing with right now, Treliving made strategic and low-cost additions to the Flames roster at just the right time which helped his team to stockpile points ahead of the NHL trading deadline when he had to know other conference competitors like the Los Angeles Kings would be active. The Kings didn't disappoint either, making the biggest blockbuster trade so far by acquiring goaltender Ben Bishop from the Tampa Bay Lightning to add massive depth between the pipes with the imminent return of Jonathan Quick.
Still, a team can only play one goaltender at a time. So, maybe Treliving will come out on top when all is said and done at this trading deadline? Time will tell but there is little doubt that his acquisitions were really well thought out which I think is more than can be said for the Kings.
Bringing in Stone, a young 26-year old defenseman with incredible upside at half the price of his $4 million dollar contract for the rest of the season was a shrewd move that required only a third round draft pick and a conditional fifth round pick if he re-signs in Calgary.
Sure, Stone had his critics in Arizona and was not having a great season at the time of the move but he is also returning from major knee surgery where both his ACL and MCL had to be repaired. His performance will only improve in a familiar place like the Saddledome, where he played his junior hockey with the Calgary Hitmen, and he's also just the kind of defenseman that can cover for the dynamic and offensively minded T.J. Brodie.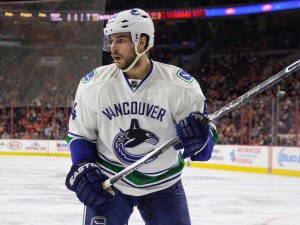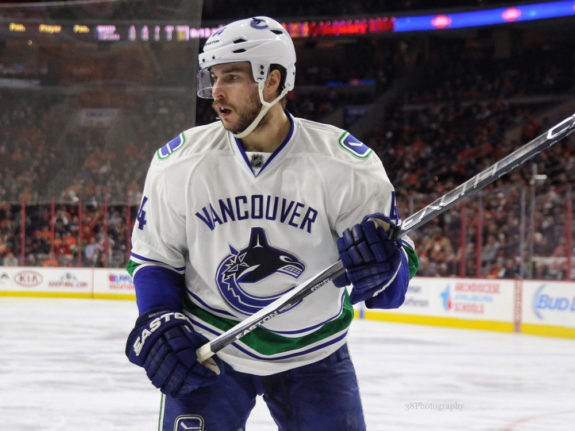 Journeyman defenseman, Matt Bartkowski was also a very interesting addition to the team. Bartkowski had been toiling without an NHL contract as a defenseman with the Providence Bruins of the American Hockey league when Treliving signed him to a league-minimum deal ($612,000 annually) for two seasons.
Bartkowski was a player under the radar of most NHL teams but was someone quite familiar to the Flames organization. Originally, his name came up in the 2013 Jarome Iginla trade rumors but since then he went on to play last season with the Vancouver Canucks where head coach, Glen Gulutzan previously worked as an assistant, so it's clear Treliving had a good idea about what Bartkowski could bring to the team.
In only been a handful of games so far, both players are bringing better skating, winning puck battles and demonstrating more ability to move the puck out of the defensive zone than their predecessors in Dennis Wideman and Jyrki Jokipakka.
Making It Count Away From the 'Dome
One of the most surprising stats about the Calgary Flames is their recent road record. In their last nine games, they have gone on a 7-1-1 tear to bring their total season performance on the road to a very strong 18-12-4 — just four road wins shy of the franchise record.
This is great news because the team only has seven road games left to play this season which means the Flames have twelve home dates to help them solidify their hold on a playoff spot. The biggest concern? Four of their remaining nineteen games are against the Los Angeles Kings, the team sitting six points behind them in the standings with two games in hand. However, the Flames won't have long to wait to see how they stack up against them as the first of the four tilts takes place tonight in Calgary.

For what it's worth though, the Flames are feeling optimistic and believing in themselves these days. They earned nine out of ten possible points on their latest road trip and they have proven their balanced attack as a team with ten players on the roster scoring more than ten goals so far this season.
Only one other NHL team has accomplished that so far this season and with Mark Giordano and Alex Chiasson also very close to double digits it could mark the first time in 25 years that the Flames have had twelve players score more than ten goals in a season. No doubt, the Flames have the talent but what they seem to need most is the ability to execute with consistency
"It's tough to do in this league — to believe — because you have to get the results to believe," said Flames captain Mark Giordano to the Calgary Herald "I think now we're getting rewarded, and it's going a long way for our young guys."
All Hands on Deck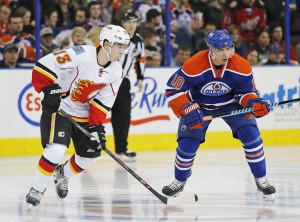 Recently the Flames have seen a dramatic improvement with their defensive play and they have been getting strong goaltending from Brian Elliott and Chad Johnson. These are huge developments on a team that has struggled mightily with consistency in their own zone and in keeping the puck out of their own net.
The Flames have also been very streaky when it comes to goal scoring with Johnny Gaudreau, Sean Monahan, Sam Bennett and Troy Brouwer all going through extended slumps throughout the season.
However, the Flames have weathered these storms by having others on the roster step up when one of their key players isn't performing as well. Probably the biggest example is Johnny Gaudreau who had gone almost a full month without scoring a goal until the Flames wrapped up their road trip on Sunday versus the Carolina Hurricanes.
"It's great to keep the confidence up, keep it growing," he said to the Calgary Herald after scoring twice in Carolina on Sunday afternoon. "Especially with how big of a last 20 games we have here, hopefully, I can keep that confidence going, keep playing the way I've been playing here on this road-trip and go from there.
"It's exciting. I kind of feel like we're in the same spot we were two seasons ago and you get jacked up to play every single game. You see you're so close in the playoff race, you see you're in a playoff spot, and that's what gets me excited to play in these games. It's been great, and hopefully, we'll keep it going."
As the drive to the NHL playoffs continues the challenge for the Flames will be to focus on building their confidence and to find more ways to win at home. They'll also need to win some big divisional match-ups and hold every player on the roster accountable to maintain their excellent play of late. If they can do that the Flames could surprise everyone and find themselves battling for home ice advantage instead of just a wildcard spot in the standings
Jon is a Calgary resident and life-long Flames fan who is a new contributor on TheHockeyWriters.com. You can follow Jon on Twitter @sportfanyyc where you'll probably learn a bit more about sledge hockey as well.