T.J. Brodie is the first Calgary Flames defenseman since 2008 to record four assists in a game. He is a great asset, but he needs a better defense partner. In truth, Brodie has also had a pretty terrible year. He is on pace to drop more than 10 points from his offensive total from last season and he has a plus-minus rating of minus-20.
However, most Flames fans know the rare combination of speed and skill that Brodie brings and there's every reason to believe he will improve next season when he has a better defensive partner than Dennis Wideman. He also has a favourable contract that pays him just shy of $4.7 million a year until the 2020-21 season. So the task for the Flames is simply to find him some help.
The problem is the team has very little cap space available and can only protect three defensemen in the upcoming expansion draft (Giordano, Hamilton and Brodie). This means it's unlikely a top-four defenseman will be acquired this season to help him.
Those facts are both true and disappointing when it comes to the Flames playoff hopes, especially considering the inconsistent play of their goalies.  It's frustrating because the Flames are a pretty good team. They have played well recently – earning big wins in Ottawa, Minnesota and New Jersey before losing a close game against a solid New York Rangers club on Sunday. That was in large part due to their inability to execute defensively.
More often then not, the culprits causing these coverage breakdowns can be found on the Flames bottom two defensive pairings. Unfortunately that's the area where finding a long-term solution this season isn't really possible.
The Biggest Offender

Wideman is eating up more than 20 minutes per game in ice time but every time he's out there it's like he's a disaster waiting to happen. Wideman is far too slow to be a top-four defenseman. He's so offensively minded that he regularly takes bad shots, pinches and finds himself out of position. Thankfully he's an unrestricted free agent at the end of the season so the Flames have a little more than 20 games left to deal with his obvious defensive shortcomings.
The other problems on the Flames defense aren't related so much to poor play as they are to circumstances and fit. Deryk Engelland has had a solid season, but his main skills are playing a strong defensive game with limited minutes while adding a substantial amount of grit to the line-up. Jyrki Jokipakka and Brett Kulak are the other defenders on the Flames roster, but neither have stood out or brought the defensive stability required to keep the puck out of the net.
In the Flames system the options aren't any better – with Tyler Wotherspoon being the only NHL-ready defender available. His audition with the team this season was also underwhelming leaving the Flames between a rock and a hard place when it comes to improving their defense. They'd love to acquire a top-four defenseman, but if they do they'll risk leaving a top player unprotected in the expansion draft. Plus, they can't afford to take on a big salary because they are near the cap ceiling.
What's the Answer?
From the perspective of Flames' management it looks like they can either stand pat for the rest of this season and replace Wideman and Engelland (who are both UFAs as of July 1) or they can make a waiver claim. They could also execute a small trade that will bring in low-cost help. The past week, however, seems to indicate that the Flames are willing to stand pat as they passed on making a waiver claim to acquire Frank Corrado, Paul Barberio or Zach Redmond who all have short term contracts and earn less than $750,000 per season.
[irp]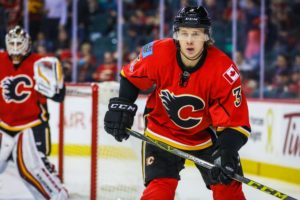 It would seem Brad Treliving believes that none of these players would perform better on the Flames blue line than Wideman, Jokipakka or Kulak. I disagree. I've seen enough of Wideman and Jokipakka this season to know that replacing either one of them, even though they are on one-way contracts, is a good idea.
Sure, it's possible that bringing in a new player would have no real impact in helping the Flames defense. However, the team is clinging to a playoff spot and playing with real effort and intensity since the all-star break. That's why it's disappointing to see Treliving not making an effort to reward the improved play of his team.
It's hard to understand why Treliving hasn't been willing to shake-up his line-up even with just a waiver acquisition. A new defender or two could really help his struggling goalies and bring change to a team that is knocking on the door of playoff contention.
In my opinion, Treliving should be acting now to seek out new low-cost defenders and audition them to boost the morale of the Flames. It would show the club that management is interested in helping the team have something to play for this season and demonstrate to them that they aren't just focused on the Flames supposedly bright future.
Jon is a Calgary resident and life-long Flames fan who is a new contributor on TheHockeyWriters.com. You can follow Jon on Twitter @sportfanyyc where you'll probably learn a bit more about sledge hockey as well.