You have made it to May. Seriously, it's May already? Time is flying by this offseason for the Blue Jackets. That means business is about to pick up for them in a big way.
---
---
But before we look ahead, we take a step back. This week on Blue Jackets News & Rumors, the team made an important signing official. We will discuss the impact of the signing. Then we'll touch on the coaching search and then look ahead to Monday's NHL Draft Lottery.
It's Voronkov Time
This move was widely expected for some time. On Thursday, the Blue Jackets officially announced the signing of Russian center Dmitri Voronkov to a two-year entry-level deal. With this news, the overhaul at center ice has begun.
Voronkov just competed in the Gagarin Cup Final where his team AK Bars Kazan lost to Nikolai Makarov and CSKA Moscow. Although Voronkov had an offer to stay in Russia, he decided to make the jump to North America.
Suddenly, the Blue Jackets forward room is a little crowded. Nothing like some competition, right?
---
Latest News & Highlights
---
Couple Voronkov's arrival with Alexandre Texier returning to the Blue Jackets, they now have a situation where they have more forwards than playing spots available. Something will have to give.
While it's too early to declare anything definitively, one look at the overall situation points to major changes coming and a different look for the Blue Jackets in the fall. That starts at center ice.
Voronkov will have every opportunity to make the Blue Jackets out of training camp. Given his successes in the KHL, he should have no trouble making the roster. Since he's a center, it now calls into question what center ice looks like moving forward.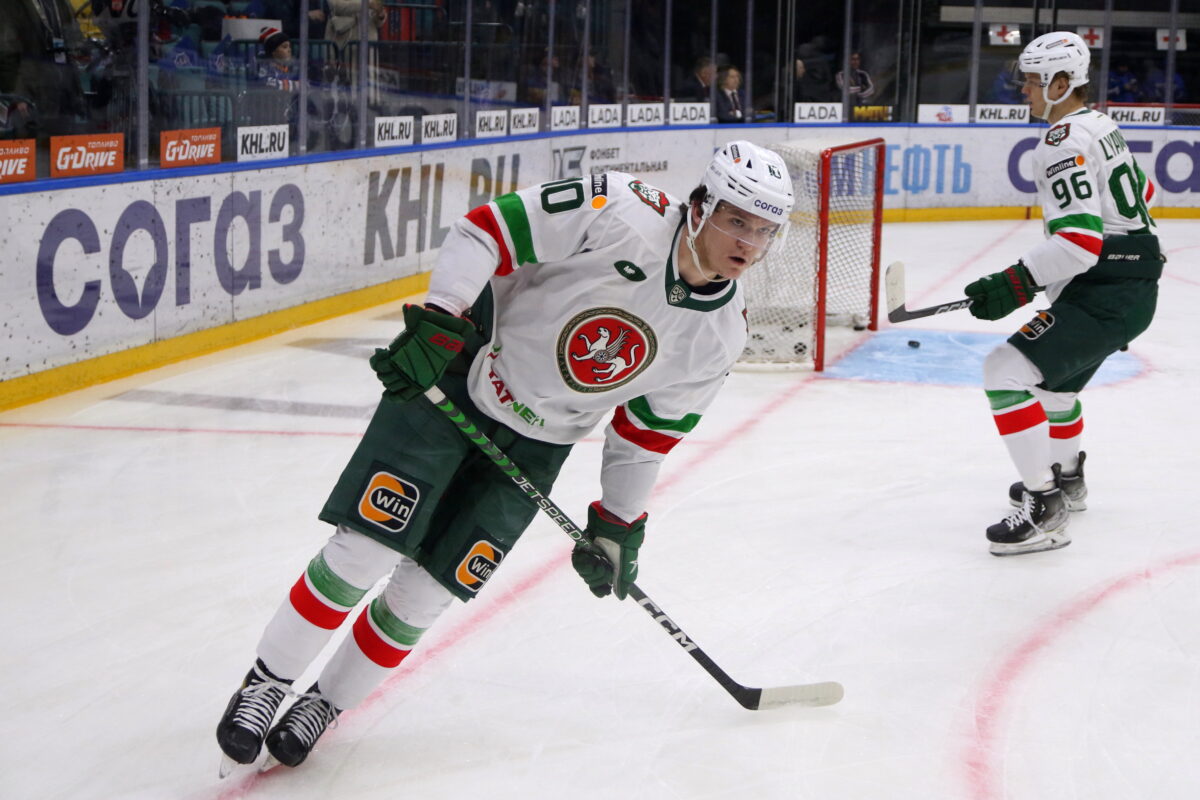 If Voronkov and Sean Kuraly are your two bottom-six centers, that leaves two top-six center spots for everyone else. Boone Jenner, Cole Sillinger, Kent Johnson, Patrik Laine and Jack Roslovic could all try to compete for those spots. Except it might not come down to that.
With reports that the Blue Jackets are looking at options on the trade and free-agent market (such as with Kevin Hayes for instance), there might be just one spot up for grabs. But then what if they win the draft lottery on Monday and add Connor Bedard to the mix? That's why it's too early to tell.
But what isn't too early to tell is that Voronkov's arrival will have an impact on the lineup and in a good way. If he can lock down the 3C position, that will allow the Blue Jackets to address their other needs throughout the roster. Is this the year Jenner goes back to the wing? Was the Laine at center experiment just an end of season fling? Where would Roslovic even fit in the lineup with the new bodies on board?
Here's a way too early theoretical look at the Blue Jackets' lines which will show you why changes will be coming. I'm assuming Bedard in the lineup for the purposes of this exercise.
Gaudreau-Bedard-Johnson
Texier-Jenner-Laine
Chinakhov-Voronkov-Marchenko
Robinson-Kuraly-Olivier
In this first iteration, Roslovic and Sillinger are not in the top-12. There are also other notable absences too such as Emil Bemstrom, Liam Foudy, Justin Danforth and Hunter McKown. With only so many spots available, it points to moves being made. Mix and match your lineup with these players and you come to the same conclusion. Too many players, too few spots. Even if Bedard is not bound for the Blue Jackets, the same problem comes up.
Here's GM Jarmo Kekalainen on Voronkov: "Dmitri is a big, strong forward who can play at center ice or on the wing and is coming off an outstanding season in the KHL. He is a skilled player that has shown an ability to score goals while playing a physical two-way game. We believe he has tremendous upside and are looking forward to his joining our group and continuing his development as a Blue Jacket."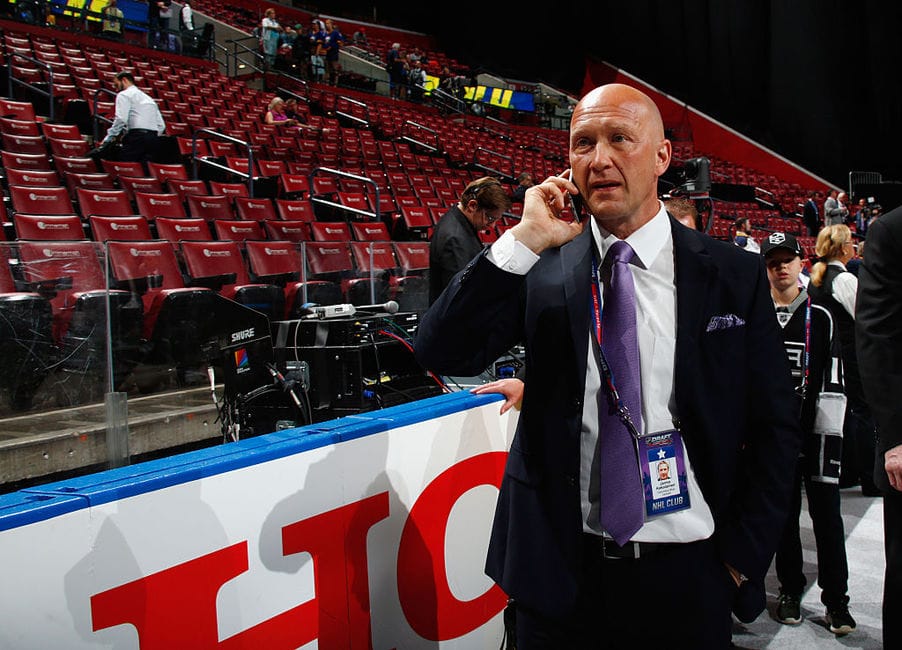 Notice Kekalainen said "or on the wing." Should the Blue Jackets really overhaul center ice with a trade or signing, Voronkov could start and play on the wing. That potentially bumps a winger out of place. Oh the possibilities.
The one thing we know about Voronkov is that his presence will make a crowded forward group even more crowded. What we don't know yet is who will be directly impacted by this development. It's not a matter of if moves happen. It's a matter of how many moves happen.
The overhaul at center has begun with the arrival of Voronkov in Columbus. It's just the first of many expected moves this offseason to get the Blue Jackets back towards the playoffs.
The Coaching Search
It's been pretty quiet around the search for the next coach of the Blue Jackets, hasn't it? I completely agree with you. I believe there's a reason for that.
This management group likes to keep things quiet. That's to be expected. But even with their preference of keeping things quiet, there hasn't been much talk out there about where this could be going. We're not hearing national insiders speculate about this. As of this writing, I have not heard a single name attached to this job yet.
I do have a theory on this. The NHL Draft Lottery is coming up on Monday. We'll have clarity as to how the top of the draft will shake out. I believe we'll start to get clarity once it's known where the Blue Jackets will pick.
Should they get first overall, how many coaches would love to coach Bedard? It would be a dream come true. Even if that doesn't happen, adding Adam Fantilli, Leo Carlsson, Will Smith or another top player makes the Blue Jackets job a desirable one full of upside.
This appears to be a patient approach by the Blue Jackets to see who is available and then determine who to bring in for interviews. If there's one thing we know for sure, it's that Kekalainen and his team must get this one right.
I do believe the pool of candidates will be bigger with Bedard. However the Blue Jackets are being smart by not rushing this. Let the situation come to them and then decide how to proceed.
As for coaches that could make some sense for the Blue Jackets to look at in my sight, Peter Laviolette, Andrew Brunette and Bruce Boudreau certainly fit the bill. If the Rangers decide to move on from Gerard Gallant, I could see that one too. I can't see a scenario where they'd look at Joel Quenneville given the circumstances. I do think they need someone with experience who can help get the culture to a place they want it to go.
Once the lottery passes, we'll slowly start to hear more about where this could be going. Speaking of the lottery…
Draft Lottery
The NHL moved the Draft Lottery to 8 P.M. eastern on Monday. It will be aired on ESPN and ESPN+ in the United States. It was originally supposed to air at 7 P.M.
The reason for the move is because of the way the second-round schedule is set. The Vegas Golden Knights play the Edmonton Oilers at 8:30 P.M. This way, the lottery spills into that game without an hour to kill. Stand down conspiracy theorists.
No matter what happens to the Blue Jackets, they are guaranteed a top-four pick. That means landing one of the four best projected centers in the draft. While landing as high as possible is the most ideal outcome, having the comfort of knowing they're in the top-four this year will make not winning first a little easier to stomach. Bedard, Fantilli, Carlsson and Smith would be first overall in other years. We haven't even discussed Matvei Michkov either.
You Might Also Like
Those few minutes Monday night will be tense. But try to look at it like this if you can. Expect the worst. That's finishing with the fourth pick. The projected fourth pick is Smith, a player who put up numbers that Jack Hughes and Auston Matthews put up at the U.S. Program. If that's the worst outcome, that's not bad. It would only go up from there. This way, the lottery either met or exceeded your expectations.
The silver lining is that the Blue Jackets finished 31st in a year like this one with so many top-flight centers available. That player gets added to an already great prospect pool.
Enjoy Monday night no matter how the ping pong balls fall.