If the first two games of the New Jersey Devils' second-round series felt familiar, it's because they were. Just like in Round 1 against the New York Rangers, they got their lunch fed to them in a Game 2 blowout, losing 6-1 to the Carolina Hurricanes. Devils head coach Lindy Ruff and his staff made the right adjustments to win four of five against the Rangers, but they have a much more daunting task this time around. Here are three takeaways and some quick hits from the loss.
Devils Couldn't Build Off Early Power Plays
The Devils got off to an awful start in Game 1, but that wasn't a surprise. They were a little less than 48 hours removed from an emotional Game 7 win against the Rangers. They recovered as the game went on, so the thought was they would build on that and get off to a sharper start in their second game against the Hurricanes. 
To an extent, the Devils did get off to a better start. They drew two power plays in the first five minutes of the game and rang a shot off the post, thanks to Dougie Hamilton. Unfortunately, it was all downhill from there. The Hurricanes took over after the Devils failed to convert on the man advantages, one of which was a five-on-three for 23 seconds. They got physical, with two hits on Ryan Graves and Nico Hischier that stood out. 
Related: Hurricanes Takeaways From Dominant Game 2 Win Over Devils
---
Latest News & Highlights
---
But more importantly, the Hurricanes dominated at five-on-five, even before they started upping the physicality. They controlled just over 75 percent of the expected goals (xG%) in the first period, a sign of things to come in the following frame. They'd score four goals in the middle 20 minutes, two of which came at five-on-five, where they controlled over 71 percent of the expected goals. 
In all, Game 2 ended up being worse than Game 1, much like it was for the Devils against the Rangers. New Jersey finished well underwater in xG% at 37.87 percent after having a slight edge in Game 1. Ruff has plenty of adjustments to make, and they start with some lineup changes for Game 3 tomorrow afternoon at the Prudential Center. The difference here is the Hurricanes are much more disciplined and structured than the Rangers, so it won't be as easy to adjust. 
Ruff Needs to Stack His Top 6
Throughout the playoffs, and really since the Devils acquired Timo Meier from the San Jose Sharks ahead of the trade deadline, Ruff has placed Meier, Hischier and Jack Hughes on separate lines. While I don't necessarily agree with this, I understand his reasoning. He wants three players who can drive a line on different combos to create matchup problems. And at times, it has worked, but it's been an issue in the playoffs. 
Meier, Hischier, Hughes and Jesper Bratt have just four goals combined over nine playoff games. Hughes has three of those, while Bratt has the other, and it was the empty-netter that made it 4-0 in Game 7 against the Rangers. It's impressive they won a playoff round without their stars finding the scoresheet consistently, but they won't be so lucky against the Hurricanes.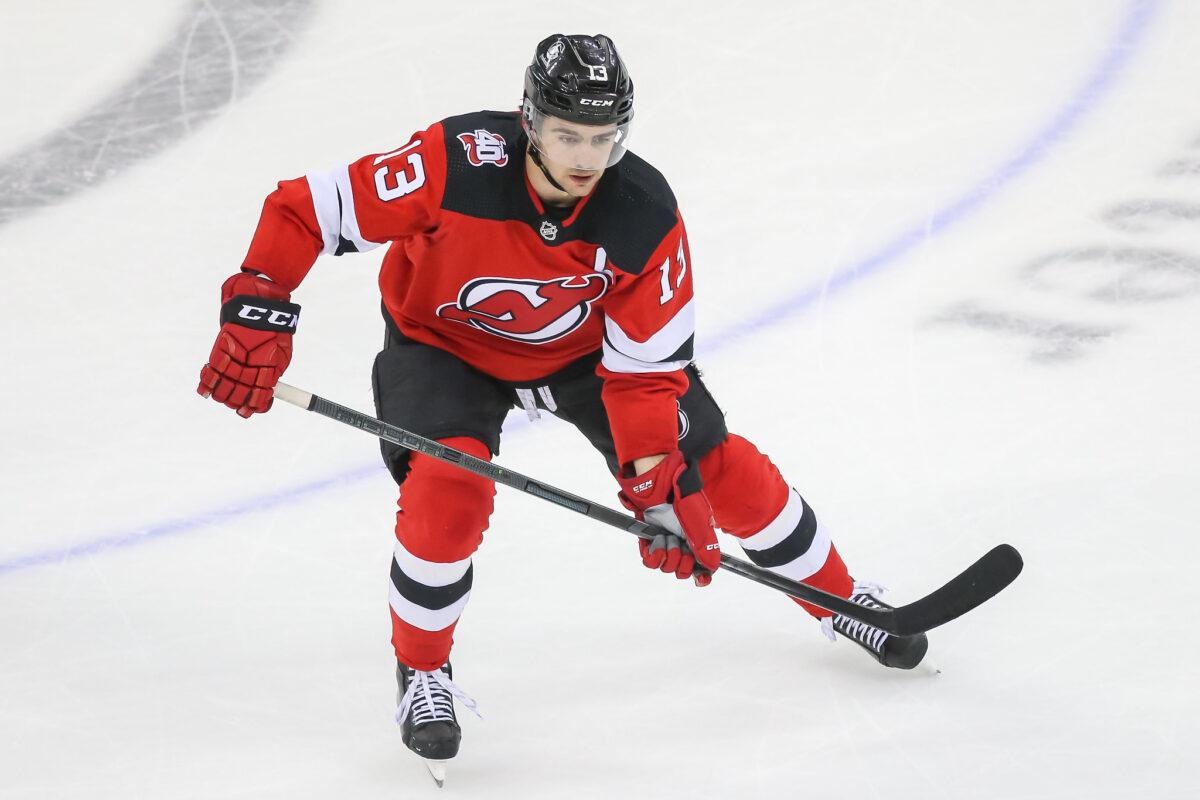 Because of that, Ruff should look to stack his top six. His best line during the regular season was Tomáš Tatar, Hischier and Dawson Mercer, which he used in spurts yesterday. In 267 minutes, they posted a 65.57 xG% while having a plus-8 goal differential (18-10). Since they've struggled with possession against the Hurricanes, putting together their best possession line from the regular season seems like a good idea. 
Ruff has not been keen on using Meier, Hughes and Bratt as a unit this season, but with the team struggling to score at five-on-five all playoffs long, it's time to give it a shot. They only logged 57:15 during the regular season, but the results were positive. The Devils had a 61.12 xG% and controlled 63.08 percent of the scoring chances when they were on the ice, so it probably will work. It certainly has better odds of producing than pairing Meier with Curtis Lazar for Game 2, which was a mistake on Ruff's part. 
The benefit to using those two combos is that it leaves Ruff with a third line with Ondrej Palát and Erik Haula, a pair that worked well before the playoffs; they posted a 62.95 xG% in 167 minutes together. Not only does the top six get stacked with scoring talent, but the Devils' third line would be in solid hands with Palát and Haula. 
Devils Have a Goalie Decision on Their Hands
Akira Schmid got pulled for the second straight game. But for the second straight game, it wasn't his fault. The team played even worse in front of him than in Game 1, so he would've needed to have the game of his life to give the Devils a chance at winning yesterday. He gave up four goals on 3.45 expected goals, meaning he came close to stopping what was expected of him. 
Though the Game 2 loss was not Schmid's fault, Ruff has an interesting decision on his hands. A goalie change made a difference against the Rangers when Schmid took over for Vitek Vanecek in Game 3. Here we are at Game 3 again, and could switching Schmid for Vanecek change the series? The Devils need to play better in front of their netminder, so perhaps starting Vanecek creates a spark.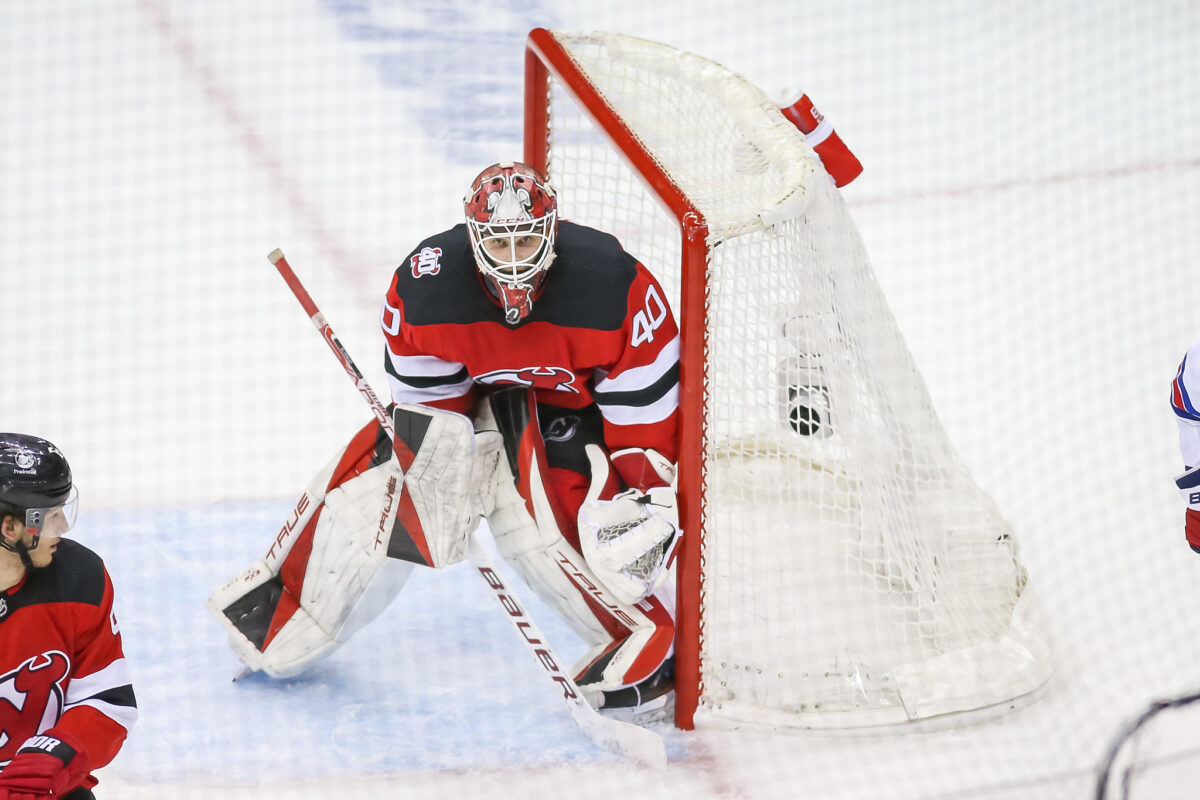 But the counter-argument to that is Vanecek has struggled when he's played during the playoffs this season. He has a save percentage of .838 and has given up 4.43 goals above expected, not stats that inspire much confidence. A goalie change probably won't matter if the team doesn't play better, but this won't be an easy decision either way. 
Devils Quick Hits
The BMW Line of Miles Wood, Michael McLeod and Nathan Bastian scored the team's lone goal, but I thought they had a rough night. They consistently got hemmed in their own zone and finished with a 30.07 xG%. They gave up 0.70 expected goals in 10:40 of ice time at five-on-five, which translates to 4.03 xGs against per 60 minutes. Other than McLeod, Ruff needs to limit the ice time he gives this line in Game 3. The Devils' defense is noticeably worse when Wood plays, and even though he scored, Ruff needs to consider scratching him. 
While Hamilton hit the post on the power play, he left plenty to be desired yesterday. He had some of the worst five-on-five numbers among Devils skaters, finishing with a 31.87 xG%. Needless to say, the Devils need much more from him to get back into the series, and it has to start tomorrow. If history repeats itself, he could have a say in Game 3, much like he did against the Rangers when he scored the game-winner in overtime. 
* * *
Advanced stats from Natural Stat Trick