The Montreal Canadiens are entering their second offseason under general manager (GM) Kent Hughes. With the club in a rebuild, there is some concern about how he will manage the salary cap in this pivotal offseason. Will he be able to improve upon his excellent work so far, and what will he do to solve the salary cap crunch the Habs will face?  
Related: Canadiens Prospects Need More Support in the AHL 
The Canadiens have five unrestricted free agents (UFA), of which Jonathan Drouin is the most recognizable name and is likely to not be offered a new contract. Also, there are three restricted free agents (RFA), including Cole Caufield, who will likely be signing for a significant raise. Complicating matters are the payout of $1.17 million in performance bonus overages from the 2022-23 season and that the salary cap is not expected to rise by more than $1 million to a total of $83.5 million. Montreal enters the offseason with a projected $8.4 million cap space, but with Carey Price's $10.5 million placed onto a long-term injury reserve (LTIR), that could be closer to $19 million. 
Canadiens Trade Candidates 
Dealing with the salary cap could mean that Hughes makes a trade or two to shed salary and open up some roster positions for young prospects to compete for. Even just shedding salary and opening up roster spots and available contract space under the maximum 50 allowable contracts would be helpful, especially when looking to sign prospects such as Adam Engstrom or Vinzenz Rohrer.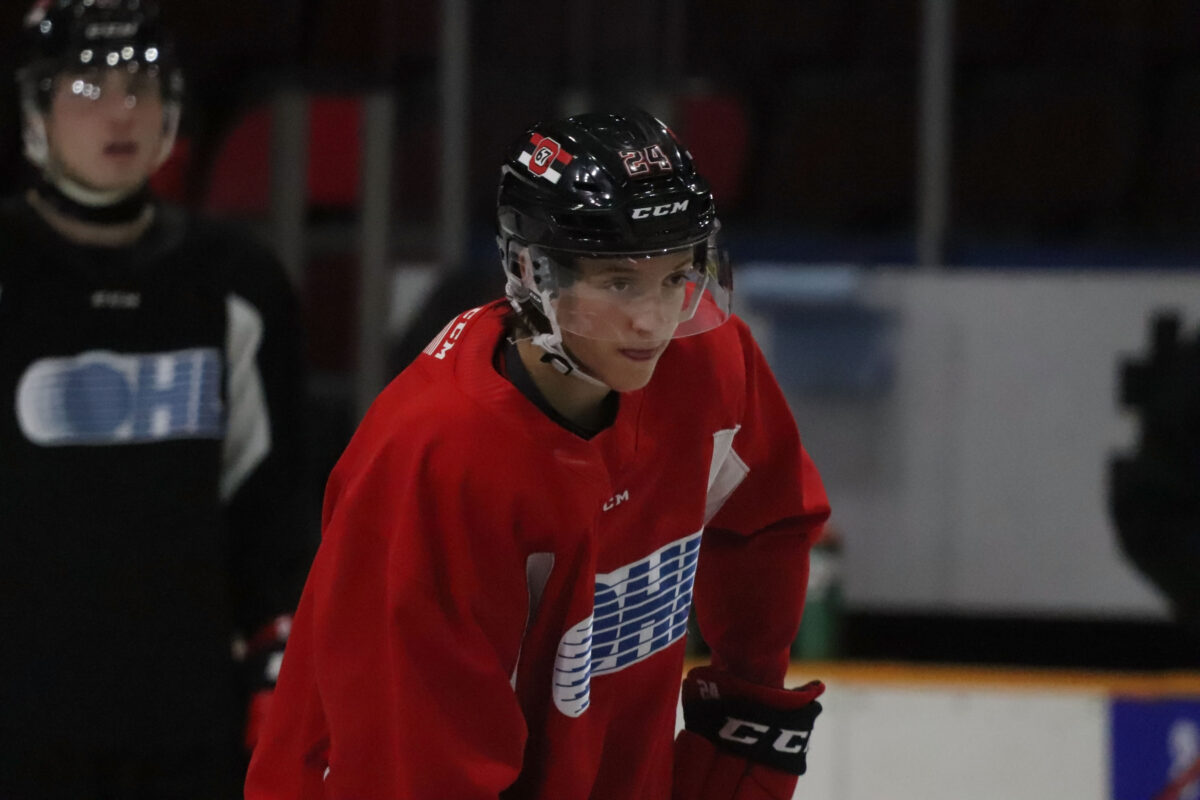 But moving out veterans could help to improve the on-ice product by subtraction. This is why players 25 years of age or older are unlikely to be added, and Hughes even spoke on that in his end-of-season press conference. 
"We're trying to build this thing the right way. If we just take shortcuts, just to be a little better, I don't think that's going about it the right way. Building, developing and letting it happen organically is the way to go. We're going to look into signing a player or making a trade to improve this team, without sacrificing the long-term success of this team, if it's just a move for this season, it's not in the cards." 

– Kent Hughes 
If anything, Hughes will be trying to shed veteran's contracts to open cap space, but also roster spots to give a path to the NHL for some of their prospects who are knocking at the door. There are obvious choices, one that could net the Habs a positive return, and another that will cost assets to move out the door. 
Mike Hoffman 
Mike Hoffman is a player that would cost assets to move out the door. He's the popular choice among the fan base to be traded out, and for a variety of reasons. What Hoffman can provide is depth scoring in a middle-six role, and he can be used as a shooting weapon on a serviceable power play. With that said, he's a luxury depth player that the Canadiens do not need.
---
Latest News & Highlights
---
The 32-year-old winger has one more season remaining on his contract at $4.5 million. His value is fairly low, as his production has been declining, but a team looking for depth may take a gamble on him for one season. Yet it may cost Hughes a third-round draft pick to convince another team to take on his full contract. It would even be worthwhile for Hughes to retain 50 percent of his contract if it meant giving up a lesser pick.
Joel Edmundson 
Joel Edmundson is a desirable trade target for any contending team. The 6-foot-4, 225-pound defender has good mobility, solid transitional play, a large frame, and an ability to play physically — all assets that make him a strong playoff performer. To add to that, he has playoff experience, with an appearance in the Stanley Cup Final with Montreal in 2021 and a Cup championship in 2019 with the St. Louis Blues.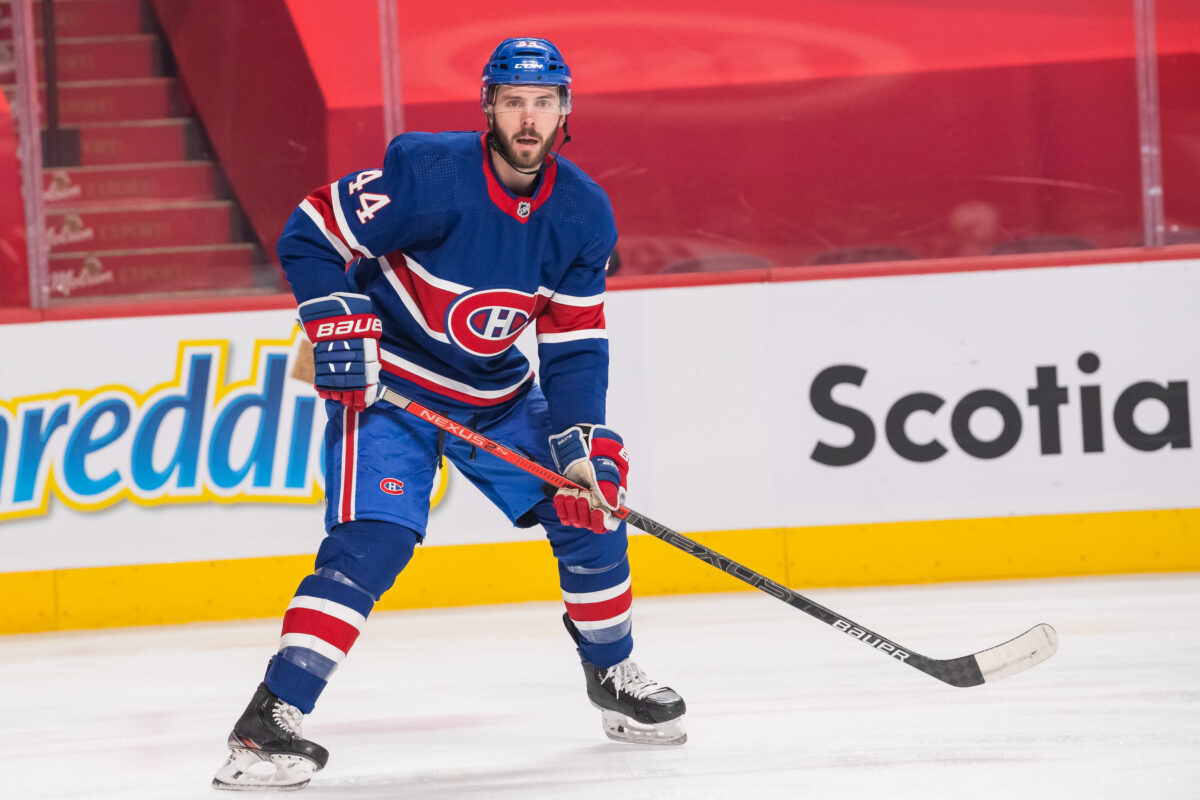 While he wants to stay with and play for the Canadiens, at 29 years old and a veteran defenseman with only one more year on his contract paying him $3.5 million, he is aware that hockey is a business. The way the Canadiens' rookie defensemen have played this season with Edmundson out injured has to be proof that they can thrive without him.   
Canadiens Buyout Candidates 
The first option, and perhaps the one that would cost the least in terms of assets, would be buyouts. Keep in mind that any player above the age of 26 receives a buyout of 2/3 the value of their remaining contract and that the buyout is spread out twice the remaining length of the contract.
There is risk involved when deciding to follow through. First, are the savings now worth the cap hit going beyond the term of the current contract? Second, while the savings over the remaining term can be significant, there is a risk that Hughes will be handcuffed and unable to add one or two depth players to support a team that is supposed to be competitive by that time because of the cap hit added and the risk of the salary cap not rising. 
Mike Hoffman – Again
Mike Hoffman makes his second appearance here, as he is an unnecessary piece in the Canadiens' plans. He is entering the final season of his three-year deal paying him $4.5 million per season, meaning his buyout would save $3.33 million, leaving $1.17 million on the cap for 2023-24. However, it would mean there would be that amount applied to the 2024-25 season salary cap. 
Joel Armia
Perhaps the fan base's most popular choice of a buyout would be right-winger Joel Armia, who has two more seasons under contract paying him $3.4 million per season. Because he is over 27 years old, a buyout of the two remaining seasons means he would get paid out at two-thirds of his contract, and a cap hit would be applied to the Canadiens for four seasons. It would cost Montreal, in order, $33,333, $1.03 million, $1.433 million, and one more season at $1.433 million.  
Hughes will need to weigh his options very carefully to balance the need for cap relief now versus the cap space required a few seasons down the road. He may very well use both paths — trades and buyouts — to shed salary. Regardless of the methods or names moved, Canadiens management will need the latitude to work out deals without being handcuffed by a lack of cap space.  
---
---