After five games on the road, the Columbus Blue Jackets made their way back to Nationwide Arena to play against the New York Islanders. They had just won in exciting fashion against the Washington Capitals, 7-6 in overtime, and Friday's game proved to be just as exciting.
The two teams traded goals through the first half, hitting 30 minutes tied 2-2. Then the Blue Jackets ended the second period with quick goals from Kent Johnson (we'll get to how spectacular it was) and Eric Robinson. The Islanders blew back strong to start the third, only needing eight minutes to tie the game at four through regulation. Then, in the extra frame, Columbus scored on a deflected power-play goal from captain Boone Jenner.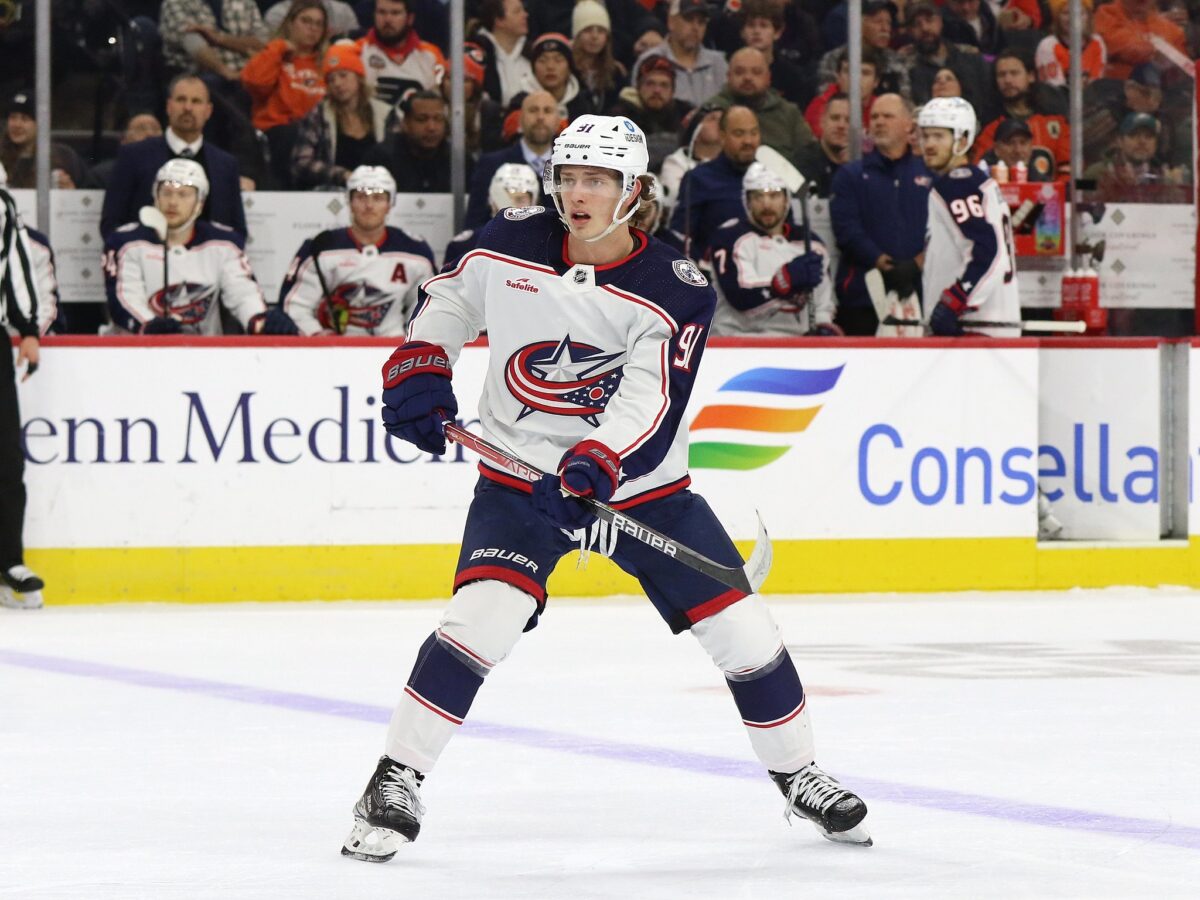 It was a big win for the moral of the team and one that puts the Blue Jackets out of last place on a tiebreaker with the San Jose Sharks. There were a few takeaways from this one, let's have a look at those.
Blue Jackets Win/Lose in Style
Nothing ever comes easy to this Blue Jackets team. Whether they win or lose, it seems to always be in spectacular fashion. As soon as they got up to a two-goal lead heading into the third, it almost seemed inevitable that New York would tie the game.
You have to go back to Dec. 2 to find a game in which the Blue Jackets started the scoring, gained a multi-goal lead, and held on without losing it. That was against the Winnipeg Jets, in Patrik Laine's first game back in his old stomping grounds. Every other win has had some sort of lead change or ended with a one-goal difference.
Related: Columbus Blue Jackets Sending Down Cole Sillinger Long Overdue
---
Latest News & Highlights
---
It's been the run-and-gun, inexperienced style of play that has led to this. Instability in their goaltending sure hasn't helped with a poor season from Elvis Merzlikins and an immature Daniil Tarasov learning how to hold his crease. The addition of goalie Michael Hutchinson at the trade deadline was far from stabilizing. He's been sub .900 in save percentage and only secured his first NHL win since April 4, 2021, on Friday. It is fair to believe that a lot of these issues will work themselves out with more time and experience, but until they do, fans will continue to be the beneficiaries of some exciting hockey games.
Kent Johnson is Unbelievable
The rookie year of Kent Johnson hasn't been all sunshine and roses, but on Friday he showcased why his future is certainly bright. In the second period, he picked up the puck, deked around Alexander Romanov, carried it around the back of the Islanders net and then wow-ed everyone watching. The product of the University of Michigan put that connection to use, scoring a "Michigan" (lacrosse goal) against one of the best goalies in the world.
We've seen flashes of skill from Johnson, but this has to be at the top of the list of his highlight-reel goals. His confidence is growing as he becomes an everyday NHLer. As he gets more comfortable, expect more high skill goals like this from the youngster. He is going to be a huge part of the Blue Jackets' future.
Random fun fact: Johnson has now scored a "Michigan" in the British Columbia Hockey League, the World Junior Championships and now the NHL. However he didn't score one while at the University of Michigan, despite a few attempts.
Hunter McKown is a Point-Per-Game Player
Friday's game was a debut for the Blue Jackets' latest signing and Hunter McKown fared quite well. Fresh faced out of Colorado College, McKown led his team in scoring with 28 points in 38 games as a junior this season. The tantalizing point of his game is his goal scoring as he dented the twine 21 times, which is three times as many assists as he recorded.
McKown was far from a detriment to the team's on ice performance. He played 11:53 of ice time with 1:35 on the power play. He did quite well in the faceoff dot, winning 78 percent of his draws, scoring highest among the four regular centers on the roster. McKown made good hockey decisions, passing and shooting at the right times while not being a liability defensively.
On top of that, he put his initials on the scoresheet with a secondary assist on Eric Robinson's goal, which officially makes him a point-per-game player in the NHL. I say that tongue in cheek, as I would assume he won't maintain that status for too long. Regardless it is promising to see the Blue Jackets' latest signing not looking out of place. Overall, it was a good debut for the 20-year-old.
Lots of things to take away from this one as Columbus heads back out on the road for the next three games. Saturday they play the bottom-dwelling Montreal Canadiens and follow that up with two juggernauts in the New York Rangers and the Boston Bruins next week.
---
---