In today's NHL rumors rundown, there are questions about an extension for New Jersey Devils head coach Lindy Ruff. Will he get an extension? Does he even still want to coach next season? Meanwhile, can the Boston Bruins afford to hang onto both of their goaltenders? The Arizona Coyotes continued plan to rebuild and dump players that have value could lead to players they don't want asking out, and is Jakob Chychrun out again with another injury?
Devils Holding Off On Lindy Ruff Extension
According to Pierre LeBrun of TSN, Lindy Ruff is among three coaches with expiring deals that might be looking for extensions. Unlike Dallas Eakins in Anaheim and Peter Laviolette in Washington, Ruff will have to wait to hear about his coaching future when the playoffs are over as the Devils want to see how things play out first.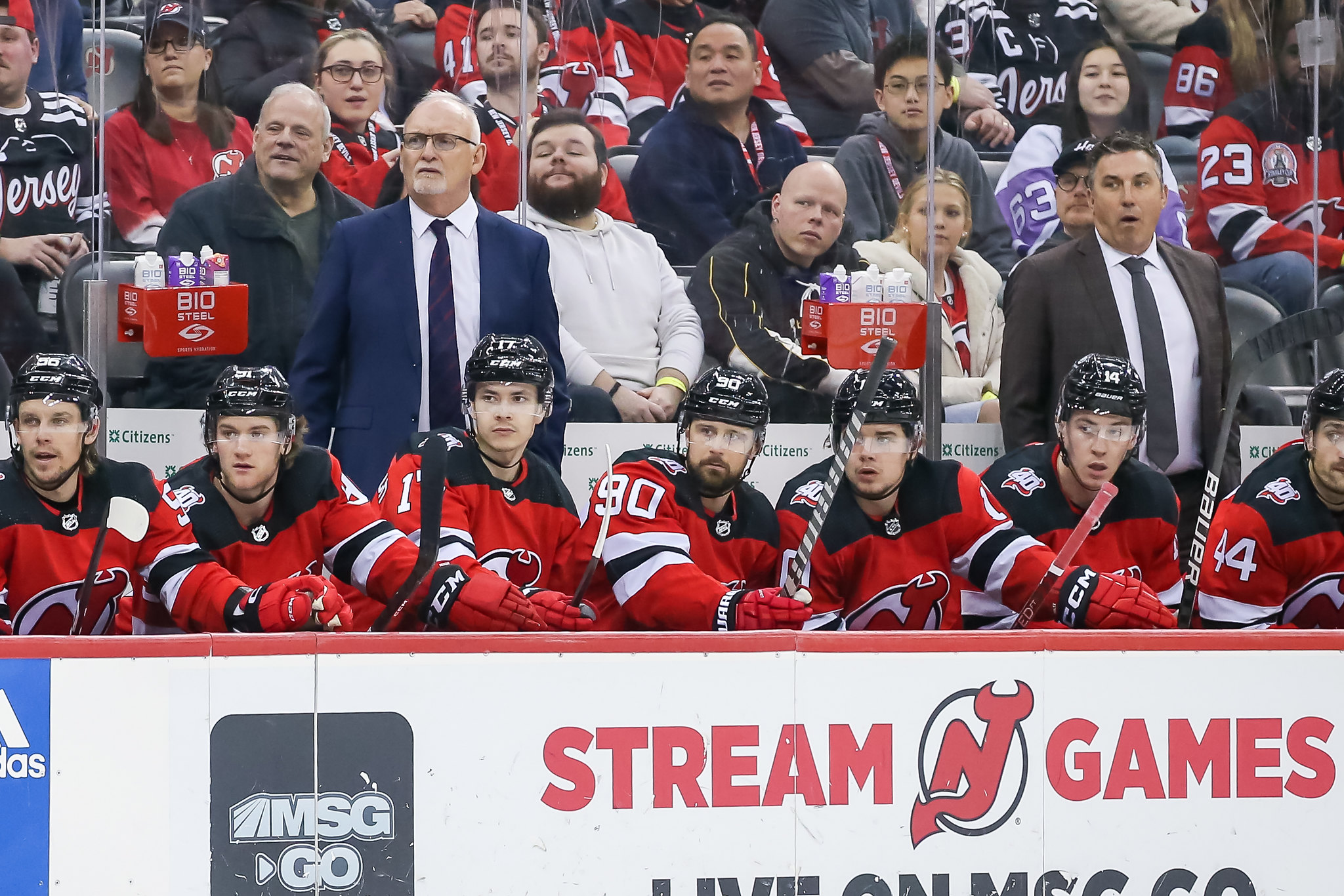 LeBrun notes:
And that's really an interesting situation where Lindy Ruff, who could be a Jack Adams Award finalist when the voting comes in, is up at the end of the year. The [New Jersey] Devils have maintained all along that they're not going to deal with that decision until after the playoffs. They hired Andrew Brunette last year to be an assistant coach, he was nominated for the Jack Adams from last year. And Lindy Ruff told me last November, he still wants to coach past this year at the age of 63, he still very much enjoys it. So we'll see where that goes.
Will Bruins Have to Make Sacrifices to Keep Swayman
If the Boston Bruins elect to re-sign pending RFA goaltender Jeremy Swayman, they may have to make moves in other areas to compensate for having two expensive goaltenders on the roster. Swayman will be due for a significant raise but the Bruins already have Linus Ullmark on the roster making $5 million.
---
Latest News & Highlights
---
Adam Gretz of Bleacher Report writes, "It all comes down to how much the Bruins want to invest in their goalie duo and what sacrifices they want to make elsewhere on the roster."
Will More Coyotes Players Want Out?
While Chycrhun didn't actually go to the Arizona Coyotes and ask to be traded, Craig Morgan of GOPHNX.com writes that the defenseman's frustration with the team came because of what feels like a never-ending rebuild. When they asked him if he'd like to be moved, it's why he said yes. Morgon wonders how many other players will start to feel what he felt and ask out.
Related: Maple Leafs News & Rumors: Murray, Knies, Marner & Kerfoot
Morgan notes:
I don't know if that will happen with other players, but how happy will be Clayton Keller, Lawson Crouse, and others be if the Coyotes follow the lather, rinse, repeat formula for the next two seasons?… And if the Coyotes do plan to follow that formula — which they should — why would they keep a player such as Nick Schmaltz around?

source – '7 wonders of Craig: Pre-NHL Draft Lottery edition' – Craig Morgan – GOPHNX.com – 03/19/2023
Because Schmaltz is 27 years old, he won't be playing his prime years when the Coyotes are any good. So too, his trade value may never be higher and his salary escalates significantly over the next three seasons. Morgan thinks the Coyotes might look at moving Schmaltz and possibly goalie Karel Vejmelka (26) in the offseason. And, if they do, would other players ask what they are sticking around for?
Chychrun to Miss a Couple of Weeks
As per multiple sources, Ottawa Senators head coach DJ Smith said on Saturday morning that Chychrun will be out for a couple of weeks with a lower-body injury. Chychrun exited in the third period of the Senators' 7-2 victory over the Tampa Bay Lightning on Thursday after taking an awkward hit into the boards from forward Mikey Eyssimont. As expected, social media is flowing with comments about Chychrun's ability to stay healthy.
Smith also announced Saturday that forward Ridly Greig will miss the remainder of the regular season with a sternum injury. Greig, 20, put up six points in 16 games this campaign.