The Toronto Maple Leafs played a solid game to defeat the Florida Panthers 6-2 on Thursday night. After a ton of angst by Maple Leafs' fans, the team bounced back nicely from a 7-2 loss to the New York Islanders just two days ago. The Maple Leafs scored the first goal of the night and continued to dominate throughout the game, shutting down any potential comeback from the Panthers in the third period. 
The team's Core Four came to play. Auston Matthews led the way with two goals, and Mitch Marner and William Nylander each contributed a goal and an assist. John Tavares added three assists. Alex Kerfoot ended his 25-game goal drought; and Matt Murray stood tall in the net.
Related: Shea Weber's Best Moments with the Canadiens
This win marks the team's third victory over their last four games and (once again) shows that they are capable of bouncing back after a tough loss.
Item One: Matt Murray Shows Up Big Against the Panthers
In Thursday's win against the Panthers, Matt Murray was on top of his game. Although he wasn't necessarily spectacular, he played solidly and made 35 saves while only allowing two goals. His performance represented a significant improvement from his past few games, where he'd given up four or more goals in each matchup.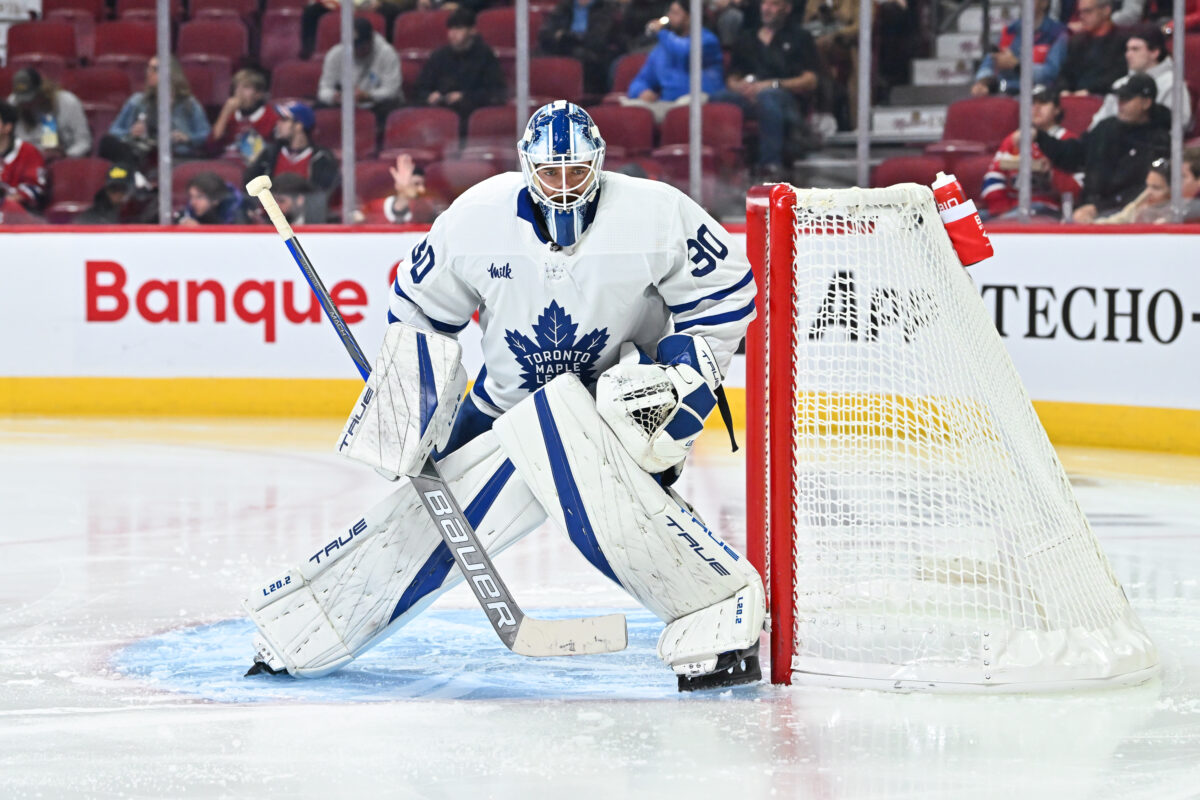 Perhaps Murray's most remarkable save was eventually ruled a goal when his glove passed over the goal line. However, he boosted his save percentage and lowered his goals-against average. Over his last four starts, Murray has won three games. He's played much better on the road than at home.
Related: Ex-Maple Leafs Frederik "Goat" Gauthier: Where Is He Now?
I would guess Murray would get the start against the Carolina Hurricanes on Saturday night, with Joseph Woll drawing the start the next night against the Predators in Nashville.
Item Two: Mitch Marner Shooting for 100-Point Season
Marner has been in top form lately, continuing his impressive point-scoring streak with a goal and an assist in a 6-2 victory over the Panthers. Marner has now scored a goal in each of his last four games and has registered at least one point over his last eight games.
---
Latest News & Highlights
---
During that same eight-game span, Marner has totalled 15 points. That includes six goals. His strong performance pushed his season total to 92 points in 71 games. It looks as if he'll pass the 100-point milestone for the first time in his NHL career.
Item Three: Auston Matthews First Star of the Game
Matthews was solid on Thursday, scoring twice. He was the game's first star, no question. He's posted six points in his four-game point streak. His first-period goal opened the scoring, and his second goal pushed the team's lead to 3-1. It was the eventual game-winner.
Related: Ex-Canadien Alex Galchenyuk: 1st Round Draft to Hockey Pilgram
Matthews has scored 33 goals this season, and has points in 10 of his last 12 games, with eight goals and eight assists during that span of games.
Item Four: Alex Kerfoot Finally Breaks Goal-Scoring Drought
Kerfoot ended a 25-game goal drought when he scored during the Maple Leafs' win on Thursday. He converted on a nice pass from Maple Leafs' captain Tavares, shooting the puck through the pads of Panthers' goaltender Sergei Bobrovsky. The goal was Kerfoot's first since January 17.
Item Five: What's the Story About Matthew Knies?
On Thursday night, the University of Minnesota scored eight unanswered goals to rout Canisius College (in Buffalo) by a score of 9-2. They now advance to the NCAA regional final.
The Golden Gophers will play St. Cloud State on Saturday with a spot in the Frozen Four on the line. The Gophers are looking to win their first NCAA trophy in 20 years, while St. Cloud State has yet to win a championship despite reaching the final game before. 
Related: Longest Stanley Cup Droughts
This game is important to Maple Leafs' fans because prospect Matthew Knies plays for the University of Minnesota. While it isn't confirmed that Knies will sign with the Maple Leafs when the Frozen Four is completed, it's highly expected. If he does, it will be interesting to see how Knies adjusts to the NHL game.
Knies has had time to develop his game at the NCAA level before making a jump to the professional ranks. However, given the Maple Leafs' forward depth, what happens to a promising prospect like him? He might be good, but is there room for him on the roster – especially this season?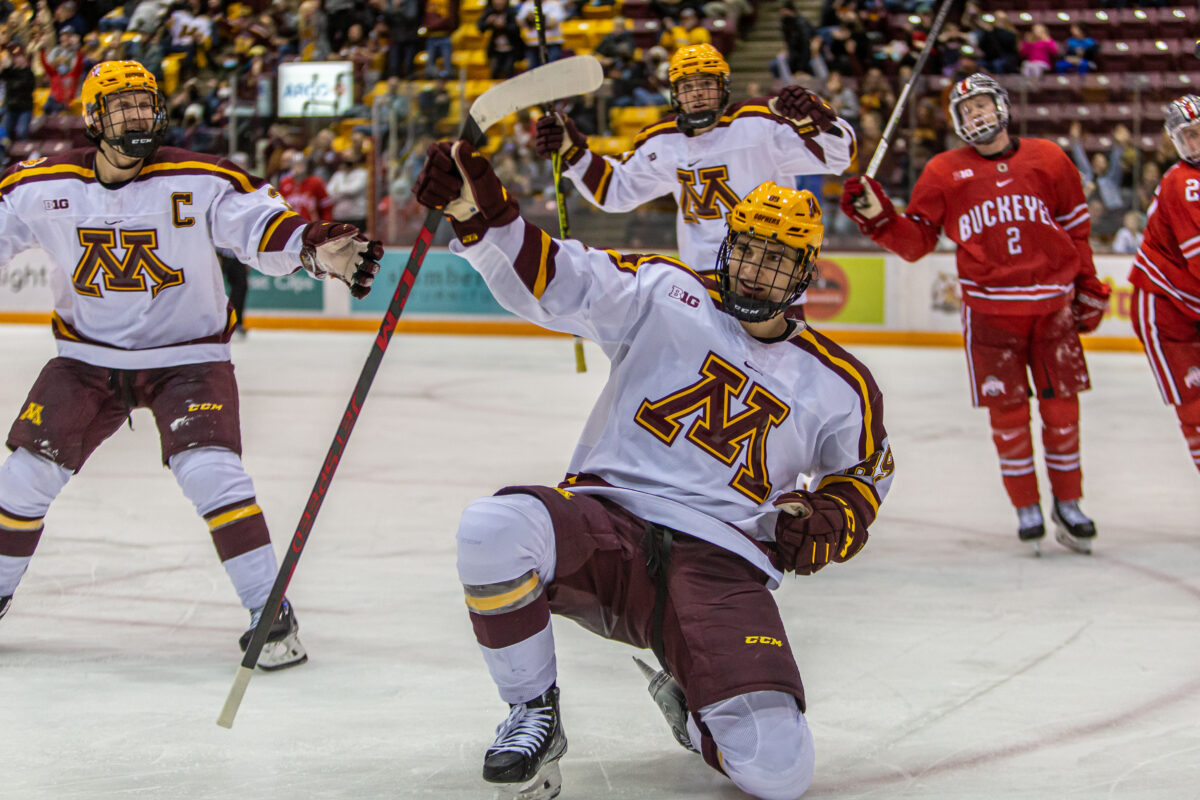 It's premature for the Maple Leafs to share what they might do with him. Knies hasn't yet signed. Should he, Maple Leafs' head coach Sheldon Keefe and the coaching staff must determine the best role for him and, over the long-term, his best path to the NHL.
There's some expectation that he'll hit the ice skating with the big club. That's what the team did with Nick Abruzzese last season after he finished two seasons with the Harvard Crimson. Abruzzese scored a goal in the nine NHL games he played in 2021-22, but he hasn't hit the Maple Leafs' ice during the regular season in 2022-23.
I'm unsure when Knies makes his NHL debut. However, he'll be a player for Maple Leafs' fans to watch
What's Next for the Maple Leafs?
For Maple Leafs' fans who wonder what ever happened to defenseman Carl Dahlstrom, he's recovered from his shoulder injury and was placed on waivers yesterday. He'll likely pass through waivers successfully.
If he does pass through unclaimed, he'll likely be assigned to the American Hockey League's Toronto Marlies. The 28-year-old Dahlstrom recorded two assists in three NHL appearances last season. 
---
---