All season long, Jakub Zboril has gone about his business as a professional. The 26-year-old has found himself on the outside looking in from the lineup since the Boston Bruins got healthy when Matt Grzelcyk and Charlie McAvoy recovered from their offseason surgeries. You never heard a word from the 13th overall pick of the 2015 Entry Draft since he's been scratched.
He fell further back on the depth chart on the roster when the Bruins acquired Dmitry Orlov from the Washington Capitals on Feb. 23. Since acquiring Orlov, coach Jim Montgomery has gone through a rotation of sitting defensemen and Zboril continued to find himself in the pressbox for most games. That all changed when Derek Forbort was injured against the Winnipeg Jets on March 16 when he blocked a shot and will miss the remainder of the regular season according to Montgomery, which opens the door for Zboril.
Zboril Taking Advantage of Recent Opportunity
With a comfortable lead in the standings with three weeks left in the regular season, Montgomery can afford to give some of his top defensemen some time off and not really see a drop-off. Since Forbort's injury, Zboril has found himself in the lineup twice and in each game, he has proven that he is deserving of more time.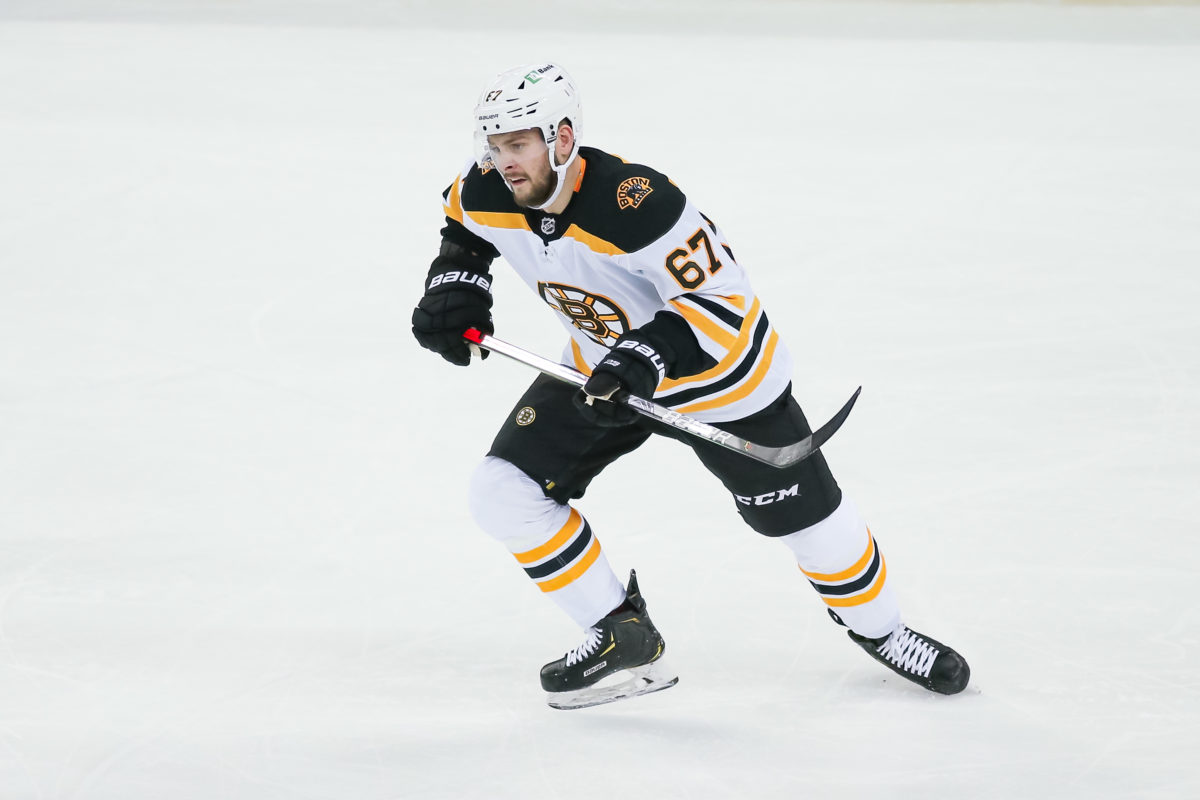 Against the Buffalo Sabres in a 7-0 win on March 19, it was Orlov's turn in the rotation and Montgomery turned to Zboril. He played a season-high 18:34 and finished with an assist with a nice pass to Garnet Hathaway for his second goal as a Bruin. It wasn't just his production, which the Bruins will take whatever they can get, but it was his play in all three zones that stood out and despite playing in just 15 games prior to the Sabres game, he showed no rust.
It didn't take long for the Bruins to get him back in the lineup as he played four nights later in a 4-2 victory over the Montreal Canadiens at the TD Garden. He logged 12:13 in time on ice, but he picked up an assist again on Tyler Bertuzzi's first-period goal and his first as a Bruin. Like the other blueliners have done this season, Zboril has done a nice job of taking advantage of the freedom the defensemen have this season under Montgomery to jump into the offense. 
Zboril Deserves More Time Down the Stretch
With 11 games remaining in the regular season, Zboril will more than likely see more time as he has impressed his first-year coach with his recent play, as compared to the struggles he went through earlier this season.
Related: 3 Bruins Who Deserve the 2022-23 7th Player Award
---
Latest News & Highlights
---
"His attitude's been incredible while he wasn't playing a lot," said Montgomery. "Now it's like, 'We're gonna get you ramped up, we're gonna get you some hockey games. You need to build your game within hockey games.' And then we're reviewing video with him, coach [John] Gruden is doing a really good job of bringing him up to speed and we're trying to make sure he maintains being aggressive and assertive when he gets the opportunity to play. I think he's doing that."
Signed to a two-year contract last May for $2.275 million with a $1.337 million cap hit after suffering a season-ending knee injury in December of 2021, it was expected that he would find a role with the 2022-23 Bruins. That hasn't happened, but he has been working hard behind the scenes and is finally playing to what the Black and Gold hoped he would. What he's doing is he is playing himself into the rotation before the end of the regular season, something that Montgomery will take advantage of to give some of his top defensemen some rest before the Stanley Cup Playoffs.
---
---