The '12 Days of Christmas' is a classic holiday song first published in its current form in 1908. In a nod to the classic carol, join The Hockey Writers as we count down the 12 Days of Hockeymas. Each day, we will provide you with a piece of hockey history as we eagerly await the start of the 2020-21 NHL season.
The St. Louis Blues first brought on Doug Armstrong as their director of player personnel prior to the 2009-10 season, with the understanding that he would transition into the general manager role as longtime general manager Larry Pleau phased into retirement. Therefore, the 2020-21 season will be his 11th at the helm of the franchise.
At the conclusion of his first decade in St. Louis, the team Armstrong built won the franchise's first Stanley Cup. But there were plenty of stops and starts along the way. In this article, we'll look at some of Armstrong's best and worst trades, draft picks, and contracts. There's no denying that he has had an incredibly successful tenure, but a general manager's job is never easy. Let's look at the full picture of 11 years of Doug Armstrong.
Armstrong Overview
In total, Armstrong has overseen 11 highly successful seasons in St. Louis. His team have made the playoffs eight of those 11 seasons. Their total regular-season record in that time stands at 485-283-89, with 1,059 points. Only the Pittsburgh Penguins (466) and Washington Capitals (462) won more games in the 2010s. The Blues have won their division three times since Armstrong took over (2011-12, 2014-15, 2019-20), making the Conference Finals twice (2015-16, 2018-19) and finishing the decade with a Stanley Cup.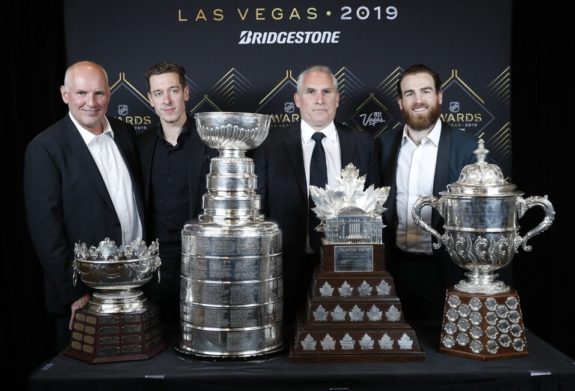 Three team captains (Eric Brewer, David Backes, and Alex Pietrangelo) have served under Armstrong, with a fourth (presumably center Ryan O'Reilly) likely to be named before this season. Five head coaches have manned the bench in that time: Andy Murray, Davis Payne, Ken Hitchcock, Mike Yeo, and current head coach Craig Berube. Armstrong even survived the sale of the Blues to current team owner Tom Stillman in 2012, overseeing the end of the rebuild into a new era for the team.
In those 11 years, Armstrong built a team from a non-contender into a Stanley Cup champion. He has drafted successfully, traded intelligently, and (usually) signed smart contracts. There are fuller treatments of each aspect of his success elsewhere at The Hockey Writers, but let us look briefly at the best and worst of Armstrong's tenure in all three categories.
Best and Worst of the Draft
In the spirit of ending with good news and focusing on the positive, let's start with the worst draft picks. We'll focus on first and second-round picks gone wrong. No general manager can be held too accountable for picks from the third round and beyond that don't see NHL success.
Worst Draft Picks
Jordan Schmaltz (25th overall, 2012): Really the only first-round bust of Armstrong's tenure with the Blues, Jordan Schmaltz only mustered 42 games with St. Louis before Armstrong traded him to the Toronto Maple Leafs for Andreas Borgman. Neither defenseman has played a game for his new NHL team since the trade.
Sebastian Wännström (44th overall, 2010): The second-round pick from Sweden never really left his home country, and never played a game in the NHL.
Ty Rattie (32nd overall, 2011): Ty Rattie had a sensational career in the WHL with the Portland Winterhawks. But he struggled to establish himself and take the next step in the American Hockey League (AHL). He ended up playing 99 games in the NHL, but only 30 of those came with the Blues. He most recently played in the KHL.
Best Draft Picks
Jaden Schwartz and Vladimir Tarasenko (14th and 16th overall, 2010): Armstrong set the foundation for a decade of success with the first round of the 2010 NHL Draft. With his team's pick, he drafted Jaden Schwartz. Then, he traded David Rundblad to the Ottawa Senators for the 16th pick and drafted Vladimir Tarasenko, who fell in the draft due to worries that he might not come over from Russia.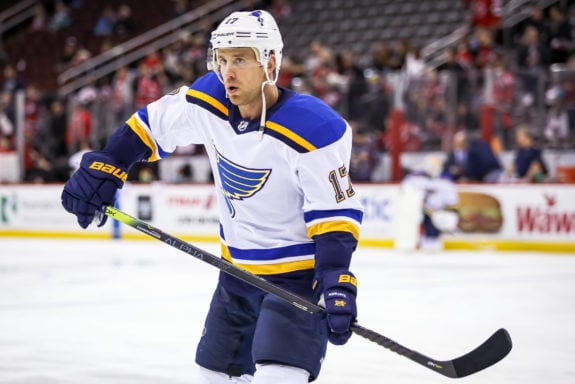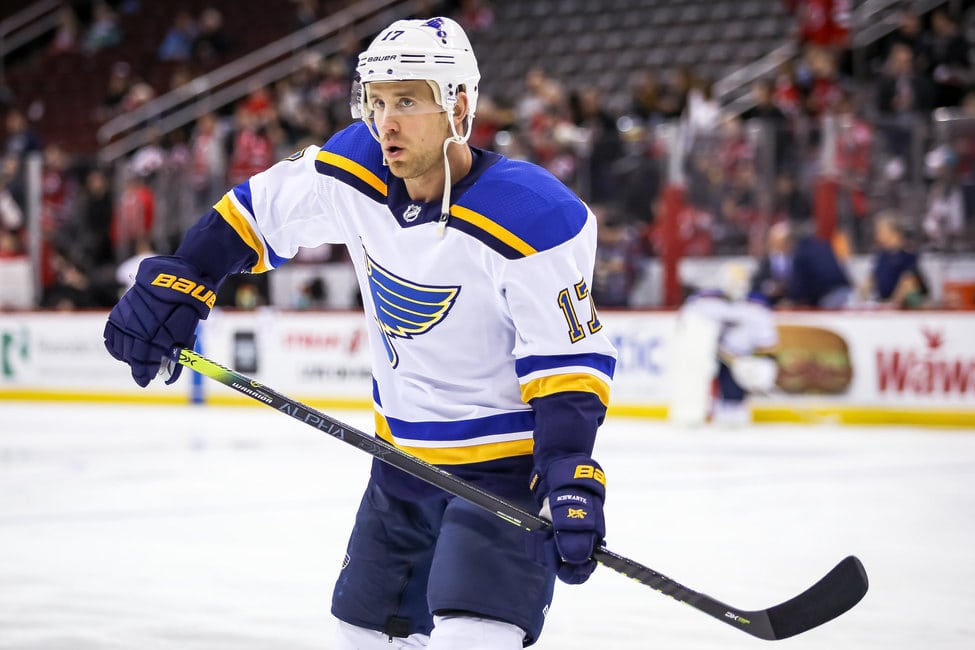 Of course, Tarasenko did eventually come over, and the two have become probably the best forwards of the decade for the team. Tarasenko, when healthy, has been one of the league's elite goal scorers, and Schwartz is looked at as the heart and soul of the offense. Few teams have ever had as good a pair of picks as Armstrong had in 2010.
Robert Thomas (20th overall, 2017): Robert Thomas is the brightest young star the Blues have right now. At just 21, he has already been an integral part of a Stanley Cup Championship team. It may seem a bit premature to label him one of Armstrong's best picks, but he has the skills to be a longterm number one center for the franchise, and it is extremely rare to fill that need in the final third of the first round.
Colton Parayko (86th overall, 2012): For many seasons, Colton Parayko has been among the most underrated defensemen in the NHL. Now, with Pietrangelo's flight to the Vegas Golden Knights, Parayko will have the chance to be a day-in, day-out, number one defenseman. To find a cornerstone right-handed defenseman deep in the third round is an incredible diamond in the rough, perhaps unsurprising considering how the Blues hid him before his draft.
Best and Worst Trades
Armstrong has been an extremely successful trader throughout his career, but there have been a few questionable decisions.
Worst Trades
Sent to Washington: T.J. Oshie
Received: Troy Brouwer, Pheonix Copley, 2016 3rd round pick
This is truly the worst trade of Armstrong's tenure. T.J. Oshie had become a scapegoat for Blues fans unhappy about repeated playoff failure, and Armstrong determined the solution was veteran grit. He got it in Troy Brouwer who did score one of the most significant goals in Blues history, but departed as a free agent one season after the trade. Both other chips in this trade eventually found their way back to Washington. Meanwhile, Oshie became a centerpiece of the Capitals' offense and their Stanley Cup team.
Sent to Buffalo: Jaroslav Halak, Chris Stewart, William Carrier, 2015 1st round pick, 2016 3rd round pick
Received: Ryan Miller, Steve Ott
This deal goes into the bad column for Armstrong not so much because of the success of the players surrendered but because of the outcome of the trade itself. Blues fans were desperate to see a real solution in net, and with longtime stalwart Ryan Miller available before free agency, Armstrong was determined to make the move. He traded Jaroslav Halak, bringing an end to the first trade he'd made as general manager, and several other pieces for Miller and Steve Ott. Unfortunately, Miller's tenure in St. Louis was a disaster.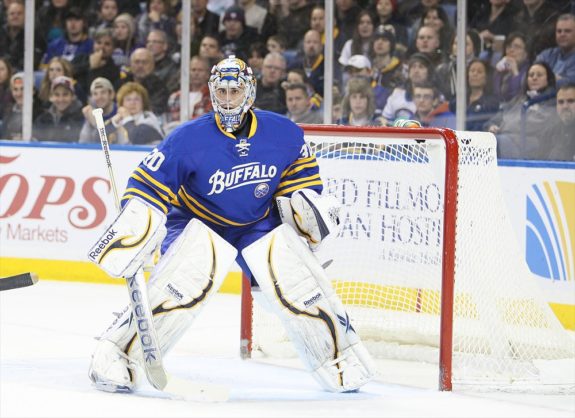 Miller wasn't the only problem, but another first-round exit proved that his arrival meant nothing for the Blues. He departed as a free agent. Halak has gone on to have a very successful career in platoon pairings, even winning the Jennings Trophy this past season. William Carrier has found a home with the Golden Knights, and Stewart found a few more NHL homes. The picks did not turn into much.
Ultimately, the cost of this trade wasn't nearly as disastrous as the disappointment in the outcome. And Steve Ott has spent most of the years since the trade with the Blues organization, first as a player and now as a coach, so at least the trade created one permanent relationship for the franchise.
Best Trades
There are far too many good trades to mention, but we'll limit ourselves to a few.
Sent to Calgary: Mark Cundari, Reto Berra, 2013 first round pick
Received: Jay Bouwmeester
Jay Bouwmeester was the defensive partner the Blues desired for Pietrangelo, and they got him for almost nothing. Mark Cundari and Reto Berra never became anything in the NHL, and the first-round pick became Emile Poirier, who only managed eight NHL games. Bouwmeester became a fixture in St. Louis and formed a shutdown defensive pairing with Parayko during the Stanley Cup run. This trade was a home run for Armstrong.
Sent to Philadelphia: Jori Lehtera, 2017 first round pick, 2018 first round pick
Received: Brayden Schenn
This trade ended up being even for both teams, but it was quintessential to building the Blues' Stanley Cup roster. For the price of two first round picks, Armstrong unloaded an irksome contract in Jori Lehtera and added a top-six center in Brayden Schenn.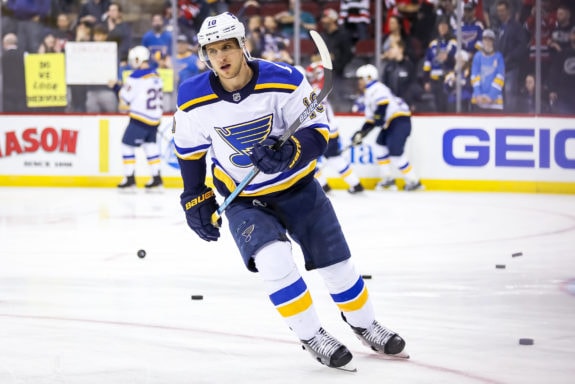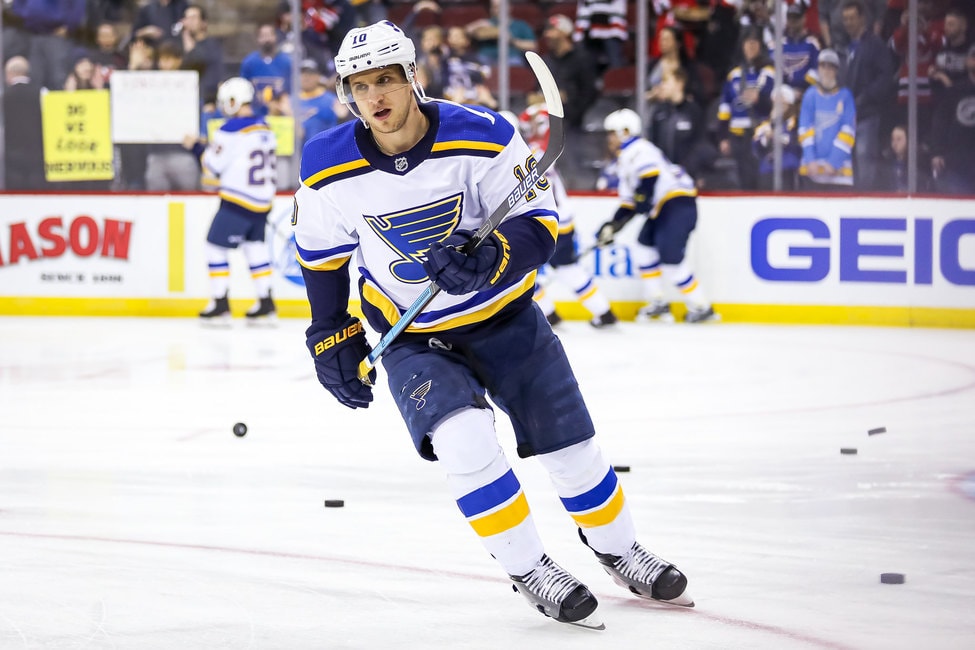 Schenn became the team's leading scorer the season following the trade, and then, with the arrival of O'Reilly, settled in as the franchise's number two center. The Blues committed to him for the future with an eight-year, $52 million contract extension in 2019. The two picks became Morgan Frost and Joel Farabee, and both look to be important building blocks for the Philadelphia Flyers, so both teams did just fine in this exchange. But there's no question this worked out incredibly well for Armstrong and the Blues.
Sent to Buffalo: Patrik Berglund, Vladimir Sobotka, Tage Thompson, 2019 first round pick, 2021 second round pick
Received: Ryan O'Reilly
There's no need to belabor the point with this one. O'Reilly became the Blues star as soon as he arrived, led the team to a Stanley Cup, and won a Conn Smythe and Selke Trophy in the process. Now, he looks to be the franchise's next captain. Patrik Berglund and Vladimir Sobotka were pure salary dumps. Tage Thompson could still developed, but has struggled to make an impact. The Sabres drafted Ryan Johnson with the first round pick. If he becomes a star, that will ease a lot of heartache in Buffalo. But the Blues will never regret this trade.
Best and Worst Contracts
Contracts have been one of the areas where Armstrong has struggled the most, although as noted above, he's managed to work his way out of several bad ones. Still, here are a few that haunt him.
Jori Lehtera (three-year, $14 million, 2015): The Blues finally managed to lure Lehtera out of Europe for the 2014-15 season, when he found immediate chemistry with Tarasenko and managed 44 points in 75 games. To keep him, Armstrong rushed to sign a costly extension. The $4.66 million annual average value (AAV) never fit Lehtera, who struggled in his remaining two seasons with the Blues. Armstrong had to surrender an extra first round pick in the Schenn deal to offload this troublesome extension.
Patrik Berglund (five-year, $19.25 million, 2017): Berglund had a long tenure with the Blues, but this deal never made sense. Armstrong offered the $3.85 million AAV when the center was clearly past his prime, and fans at the time knew it was a mistake.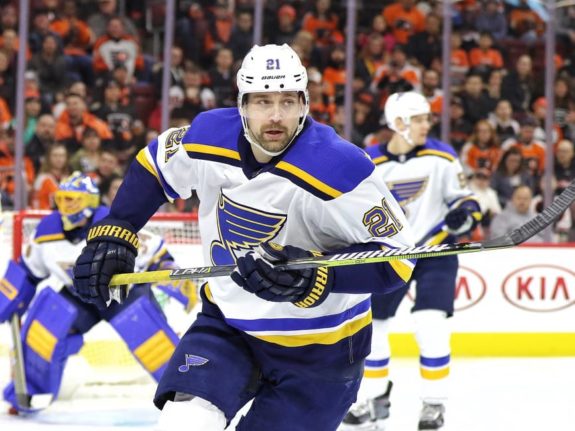 Berglund never performed up to the standard of the new deal, and it seemed like the Blues would be stuck with a problematic contract, since it included a partial no-trade clause. But Armstrong exploited a loophole and a mistake by Berglund's agent to trade the Swedish forward to Buffalo in the O'Reilly deal. The ethics of that decision could be questioned, but it was a fortunate opportunity for Armstrong and he did not hesitate to pounce on it.
Alex Steen (four-year, $23 million, 2016): Another case of rewarding a veteran for years of service, Alexander Steen was already clearly in decline when Armstrong offered him this $5.75 million AAV, and shortly thereafter he fell off a cliff. 2020-21 will be the final season of this deal, and it seems like Steen will spend most or all of the campaign on the long term injured reserve, effectively making it a salary cap non-issue. But that is a disappointing end to a franchise-altering tenure in St. Louis, and the contract plays a big role in that.
Best Contracts
Vladimir Tarasenko (eight-year, $60 million, 2015): Despite recent injuries that have clouded the outlook for Tarasenko, this contract remains an absolute steal if he returns to full health. A one-time 40-goal scorer and regular 30-goal scorer, he is one of the top scorers in the NHL when healthy, and to pay a $7.5 million AAV for that is highway robbery.
David Perron (four-year, $16 million, 2018): David Perron has played for five NHL teams, but he's only ever signed a contract with the Blues. His most recent such deal might be the best. The Blues have paid just a $4 million AAV for 106 points over two seasons. Perron was also a big contributor in the Stanley Cup run. The only question now is whether Armstrong will once again leave him exposed in the upcoming Seattle expansion draft.
Colton Parayko (five-year, $27.5 million, 2017): At a $5.5 million AAV, Parayko's contract was always a steal. Now, if he steps into a true number one role for the final two seasons of the deal, it will be one of the very best contracts in the league.
Many Years to Come?
Over the past decade-plus, Armstrong has proven himself one of the best general managers in the league. Though he has struggled at times with a bad contract extension or two, he has been a consistently successful drafter and trader, and has built a comprehensive team that competed for and ultimately won the Stanley Cup.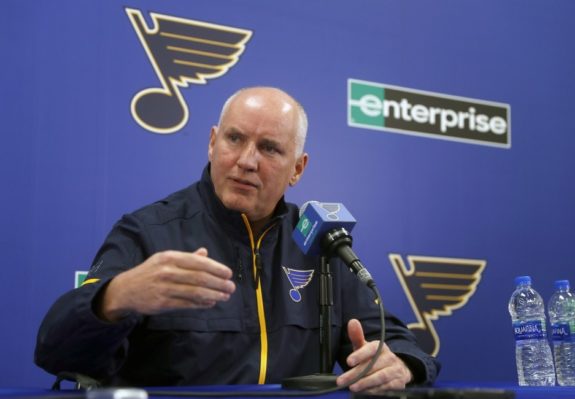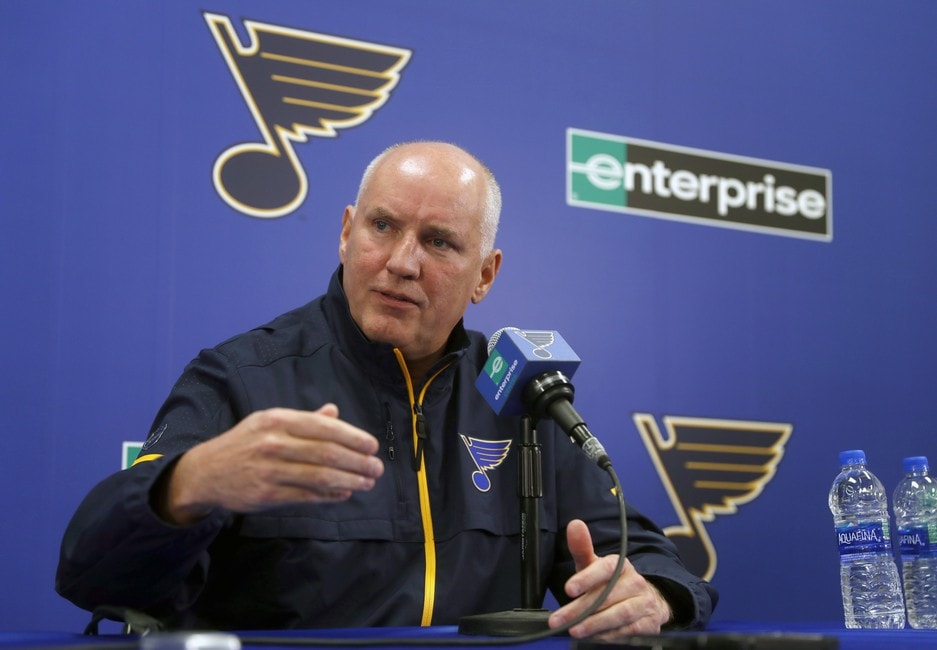 Armstrong now has two new challenges to deal with: his longtime number two, Bill Armstrong (no relation) departed to become the general manager of the Arizona Coyotes. And with the struggles of the coronavirus pandemic, it looks like Doug Armstrong will have to navigate a flat salary cap for seasons to come. If history is any indicator, though, he will navigate those challenges just fine. The Blues have been lucky to have him for many years, and there's no reason not to expect many more years to come.
---
---