While the St. Louis Blues defensive group will look very different when the next season begins, the forward group will look mostly the same. Management only made one real addition to the forward group and, other than that, the only change will be a couple of injuries when the season begins.
For a team that is built on defense, they will need their forward group to produce more than ever if they want to repeat as Cup champions and that will start with their top-six.
First Line
LW Jaden Schwartz-C Brayden Schenn-RW Robert Thomas
It is time for the Blues to give Thomas a full-time look on one of the top two lines now that Vladimir Tarasenko will likely miss at least a month to start 2020-21.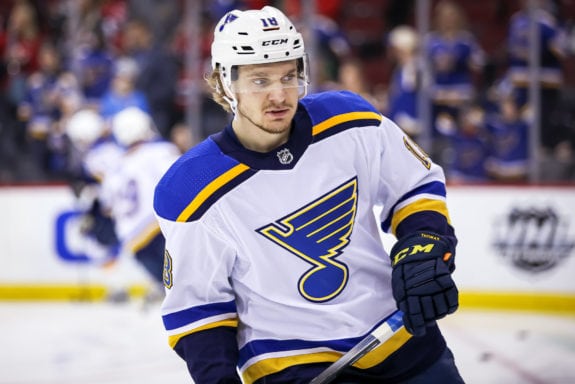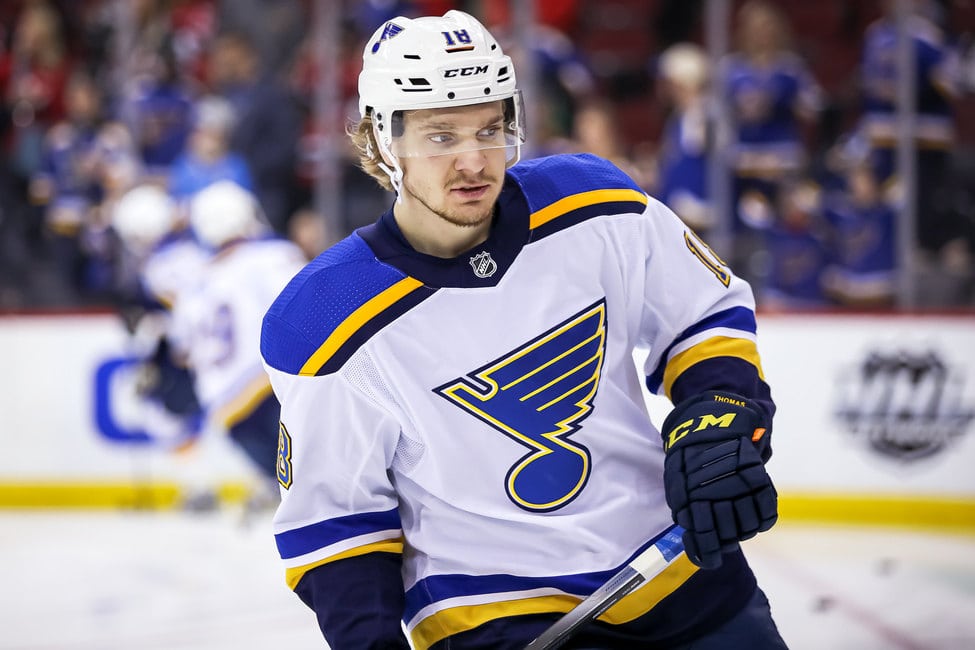 The duo of Schenn and Schwartz has been hard to stop when they are going. They combined for 47 goals last season and looked fantastic for most of it. Adding Thomas to this line for an extended period could make them even better.
With this line, you have hard-working and fairly skilled players like Schenn and Schwartz, with a playmaking youngster like Thomas who can dish the puck like no other on the team.
You could argue that Schwartz was the best defensive forward on the Blues in 2019-20 behind Ryan O'Reilly. He had an expected goals-against (xGA%) percentage of 37.7, which is good for a forward and near the best of his career. It was a huge bounce-back season for him.
As far as Schenn goes, he was consistent offensively with 25 goals and solid enough defensive numbers. He was fantastic on the power play and has great chemistry with a lot of the team's key players. He had a 1.7 wins above replacement (WAR) which is a little below what he had in his first two seasons in St. Louis, but still a good number.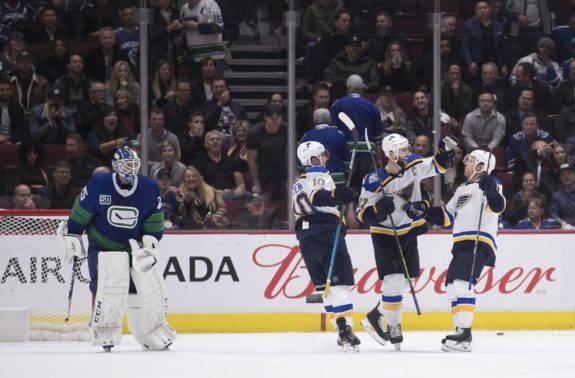 As for Thomas, this would be a huge opportunity for him if he gets it. He's earned it given the plays he's made in his young career and his potential. His defensive stats last season were not as bad as some may think. His passing ability is unbelievably good and I could see him finding more goal-scoring ability if he plays top-line minutes. He carried a 2.4 WAR in 2019-20, which is among the best on the team.
This line would be great in all three zones and could produce a lot of points over a season.
Second Line
LW Zach Sanford-C Ryan O'Reilly-RW David Perron
This is an obvious line for the Blues to go with since they have great chemistry. O'Reilly and Perron have been fantastic together, while Sanford fits right in.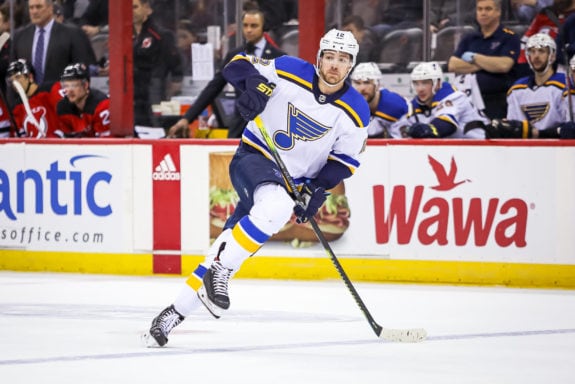 Starting with Sanford, he had a career season in 2019-20 and scored 16 goals in 58 games. He tallied 30 points overall, which is good considering his two-way game was excellent as well. He did only average 13:44 ice time (TOI) and would likely see more if he played on this line full-time next season. In two fewer games in 2019-20, he had 109 hits compared to 48 the season before. He was more physical, controlled the puck more, and played a complete game. This line combination makes a lot of sense.
Everybody knows how good O'Reilly is, he's one of the best two-way forwards in the game. He scored 61 points in 71 games in 2019-20 and was solid defensively. He's such a valuable piece of the Blues and will likely be named captain before the season starts. He plays 20 minutes a night, he can dish the puck, and he can lock down any team's top line. Give him the "C," sooner rather than later.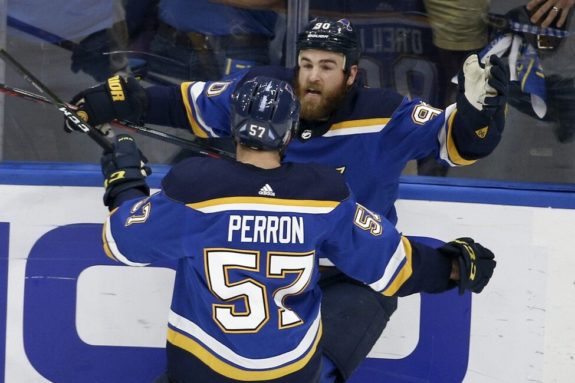 Perron had a big season in 2019-20 with 25 goals and 35 assists in 71 games. He was excellent on the power play with 9 goals. He made it to his first All-Star Game in 2020 as well, in St. Louis. He has great chemistry with O'Reilly, and teams have to watch out every time they are on the ice together.
Perron also had one of his best Fenwick For percentages (FF%) of his career at 53.2%, meaning that the team controlled the puck more often than not with him on the ice. He wasn't great defensively, but when you are on a line with O'Reilly and Sanford, with his good defensive numbers last season, it can work.
Overall, this line makes sense given that head coach Craig Berube has used it many times with success. I'm not sure Sanford will end up here, but it is guaranteed that O'Reilly and Perron will play together.
Third Line
LW Sammy Blais-C Tyler Bozak-RW Jordan Kyrou
This is a unique line, featuring a veteran center in Bozak with two young players, Blais – with a couple of seasons under his belt – and Kyrou who has hardly played in the league to this point.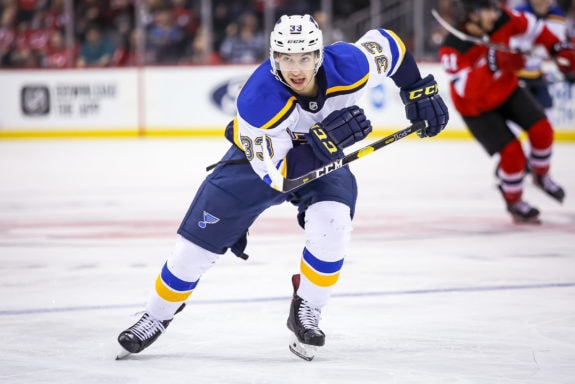 Kyrou has earned a shot at the top-nine since he's seemingly improved with every game he's played under Berube. He was one of the Blues' top prospects going into last season and played in 28 games with 9 points. He also scored 4 points in his last 10 games of the 2019-20 regular season.
He's a fast skater who can make a lot of plays offensively with his skill set, but he needs to continue to buy into the way the Blues play offensively, cycling the puck, playing strong along the boards and taking smart shots. Kyrou will be great at doing that if he continues to work on it, and he can be a huge offensive producer on the third line if he can be consistent.
We've seen Bozak's chemistry with young forwards during his two seasons in St. Louis, especially Thomas when they played a lot of games together last season. He is one of the top five two-way forwards on the Blues. He doesn't tally many points, but does a lot of things well. He's a perfect third-line center for the team and their style. Management could have traded Bozak, but they kept him.
His numbers on the penalty kill have been great, as well as his stats at 5v5. He has one year left on his contract at $5 million, so this is likely his final year with the Blues. This line would give him a good chance at a solid contract in free agency next offseason.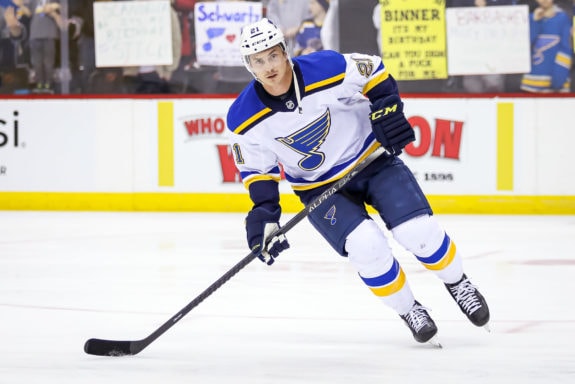 Blais is a fantastic third-line forward. His physicality and skill combined give him a good chance to get decent minutes every night. His biggest problem is staying healthy, and he could up his game and numbers by playing with Bozak and Kyrou who have been pretty good at setting up players for goals.
Health is his biggest issue. If he can stay healthy, this third line will be very good. I expect them to try this line to start the season or at least a form of it; Bozak is a lock, but I am not sure who the other two wingers will be. But these two make sense.
Fourth Line
LW Kyle Clifford-C Oskar Sundqvist-RW Ivan Barbashev
This is the ultimate grind line and it's a perfect fourth line for a team with the Blues' identity. They brought in Clifford in free agency on a two-year, $1 million per season contract.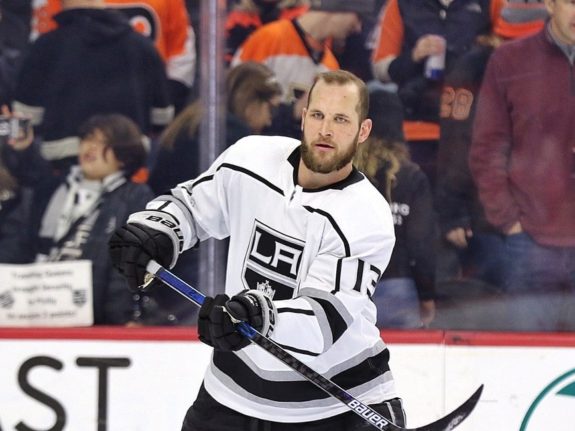 Clifford is a useful, hard-nosed tough fourth-liner who has a lot of experience. He was on both Los Angeles Kings Cup-winning teams in 2012 and 2014. The Blues are basically paying $1 million per season for a player who will score under 20 points, but will hit hard and who isn't afraid to get involved in scraps, just ask Jordan Binnington.
Sundqvist is a physical, big center or winger who can score timely goals and fits perfectly into the Blues' fourth-line. He's a good penalty-killer and can be reliable defensively against other teams' middle-six forwards. He has great chemistry with Barbashev and I expect Clifford will be great with these two and fill the role of Alexander Steen quite well.
Sundqvist has 26 goals and 28 assists in 131 games over the last two seasons. That isn't bad for a player who sees around 14 minutes per night. He's also tallied 161 hits in that time and has 77 takeaways to just 21 giveaways.
As far as Barbashev goes, some of his analyticals have been troubling over the last few seasons. However, he's produced at around the same level as Sundqvist, with 25 goals in the last two seasons.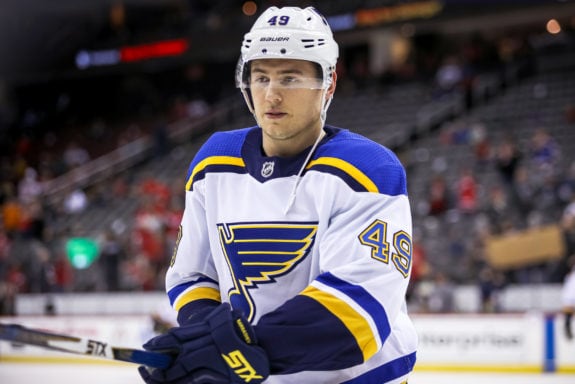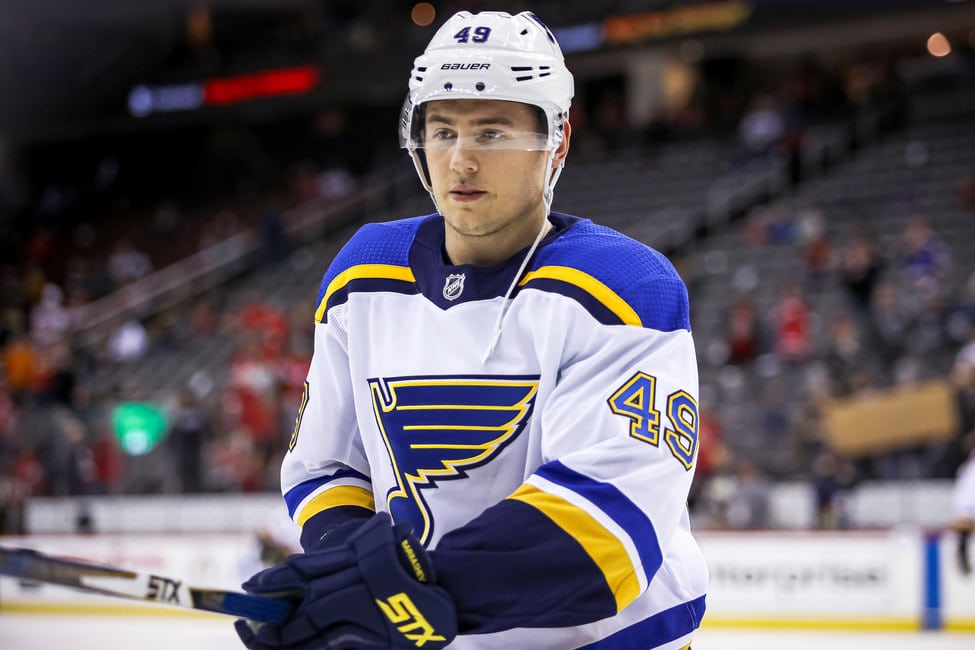 Barbashev's FF% of 46.9 in 2019-20 is not good and is easily the worst of his career. I'm not sure what that comes from, but if he can stay healthy, he should improve in 2020-21.
This is a grind line; don't expect production, expect the Berube style in full form with these players with hard hits and lots of physicality between the three of them. It will be interesting to watch.
Other Forwards Who Could Play
C/LW Jacob de la Rose, LW/RW Mackenzie MacEachern, C Klim Kostin, RW Austin Poganski, LW Nathan Walker, C Sam Anas
Overall, the Blues have lots of organizational depth heading into next season. The other forwards include Kostin who is a big prospect, as well as players like de la Rose and MacEachern who have played significant time under Berube. The Blues' 2020-21 forward group is virtually set for next season, all they need is for players to step up and score more. It's that simple.
---
---