Alexander Steen is recovering ahead of schedule from left shoulder surgery earlier this summer and may be ready to play when the St. Louis Blues open the 2016-17 season, according to Jeremy Rutherford of the St. Louis Post-Dispatch.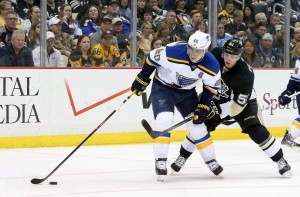 Steen, 32, underwent successful left shoulder surgery on June 3 and was expected to be out four to six months. The injury originally occurred after a hit by Arizona Coyotes' defenseman Kevin Connauton on Feb. 20. Steen missed 15 regular season games but returned late in the regular season and helped the Blues to the team's first Western Conference Final since 2001.
Steen is entering the final season of a three-year, $17.4 million contract, and has reportedly sought a contract extension with the Blues before the start of 2016-17. Steen will turn 33-years old in March, and given that the Blues traded Troy Brouwer this past season and lost David Backes to free agency this offseason, Steen's veteran's presence is likely not one the team wants to jeopardize.
Although Steen said earlier this summer he hoped to sign a contract extension with the Blues before the start of 2016-17, on Tuesday he has reportedly said he is not approaching contract discussions like they must be done before the season begins and believes that signing an extension is possible whenever both sides feel comfortable.
Since arriving in St. Louis during the 2008-09 season, Steen has skated in 493 regular season games and tallied 147 goals and 208 assists, while taking on a veteran leadership role with the club.
Steen was originally drafted by the Toronto Maple Leafs 24th overall in the 2002 NHL Entry Draft.