Thursday was a dark day in St. Louis Blues history… depending on who you ask.
It was announced that last season's trade-deadline acquisition at forward, Steve Ott, signed a two-year, $5.2 million contract extension. Minutes after, this tweet from ESPN's Pierre LeBrun shook the St. Louis hockey market.
Also hearing Vladimir Sobotka has signed with Omsk of the KHL.

— Pierre LeBrun (@Real_ESPNLeBrun) July 10, 2014
Panic ensued. Cars were flipped over. Gangs of Sobotka-ites took to the streets and ransacked the Scottrade Center… okay, that's not entirely true. There were an exorbitant amount of fans claiming the Blues took an enormous step back, though. Just ask Twitter.
"@Real_ESPNLeBrun: Also hearing Vladimir Sobotka has signed with Omsk of the KHL." NO NO NO NO NO WHY GOD WHY — Steph (@myregularface) July 10, 2014
@jprutherford @Real_ESPNLeBrun I feel sick to my stomach

— Brandon Griffin (@bgriffin1234) July 10, 2014
@jponder94 Losing a player of his magnitude is never a good idea. You have to play all in if you want to win. Him and @tara9191 are epic. — Will Peplaw (@BleedingBlue74) July 10, 2014
@jponder94 do you think the Blues lost a lot? They gained a lot 9 days ago… But they just lost the best face off guy in the NHL…

— Tarasenko's Ego (@dishandsnipe) July 10, 2014
Many fans were heartbroken. The light started to be seen by some, though, as news leaked out that Sobotka was asking for more than the Blues were willing to offer and the team reacted by bringing back Ott, a feisty forward who has caused ruckus during his 11-season NHL tenure.
Still, the burning question on everyone's mind seems to be faceoffs. How will the Blues recover from losing the NHL's top draw man from a season ago?
How important are faceoffs?
Faceoffs are important, there's no doubt about that. Winning the draw can either get you out of trouble in your own zone, create a rush in the neutral zone or spark a quick goal in the offensive zone.
Does it ultimately help you win the big games, though? In last postseason's Western Conference semifinal series, the team that defeated the Blues, the Chicago Blackhawks, were on the losing side of the draw up until the series-clinching Game 5 against the Minnesota Wild. The Wild held a 51.5 percent advantage in the draw, but still found themselves facing a 3-1 series deficit. Although the Blackhawks rolled in the faceoff dot in the final game, 38-29, having a supreme draw man was not a factor in the series for the Wild.
Looking on a more global scale, faceoffs were not the deciding factor in this year's playoffs, let alone the past four Stanley Cup winners.

It's important not to discredit the need for important centermen. However, its easy to mistake faceoffs as the winning contribution to a franchise; that high praise goes to timely scoring and stupendous goaltending in the waning moments of tight games.
The Blues without Sobotka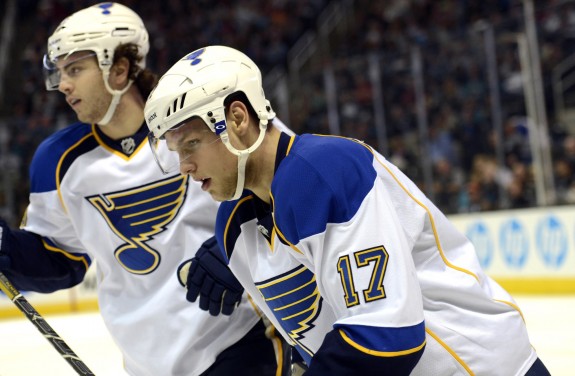 Sobotka's 61.9 percent in the draw was something to be marveled. It seemed like every moment that truly counted in a game, Sobotka was the guy sent out to take the all-important draw. It positively was his bread and butter.
However, that is not to say that the team he left behind will suffer at the dot.
If you look further down the faceoff-percentage leaders, you'll see newly acquired center Paul Stastny sitting at No. 18 (54.1 percent). Appointed at the beginning of the 2013-14 season, Colorado Avalanche head coach Patrick Roy used Stastny in more of a defensive role, allowing up-and-comers Nathan MacKinnon and Matt Duchene to flourish offensively. In a season wrap-up post, Avalanche beat writer Adrian Dater had this to say about Stastny's game:
I really thought Stastny was just more engaged in all facets of the game this year. I thought his defensive play was excellent in particular. Make no mistake, it wouldn't be just the points out of the lineup that would hurt if Stastny should leave. It would also be the opposing points he helped prevent.
This translates to Stastny being effective as an offensive-zone faceoff taker, but someone who can be utilized in his own zone to keep the puck from getting to the net.
Beyond Stastny, the Blues brought back the guy that was regarded as a top-faceoff man; Ott. Splitting time with Buffalo and St. Louis, the 31-year old finished at No. 21 in the league on the draw (53.9 percent). In fact, the rugged forward finished with a 59.0 percent in six playoff games, which was 1.7 percentage points higher than Sobotka's finish.
Blues captain David Backes, who is slated to return to the wing and play on Stastny's line, is still capable to take faceoffs, too. Used as the team's first-line center, Backes has posted two consecutive seasons with a draw percentage above 50 percent (52.3 in 2012-13; 51.7 in 2013-14). He can still be utilized as a spot-faceoff man when the team needs him to rise to the occasion.
Something that has gone as a hidden attraction to newest NHL-talent Jori Lehtera is his ability to win important draws. Last season, the four-year KHLer finished second in the league with 620 faceoff wins (out of a possible 1,008 draws), accumulating to a 61.5 success rate. If those numbers can translate to North American ice, the Blues may have a quick replacement for Sobotka.
As a team, the Blues finished the 2013-14 season with the seventh-best faceoff percentage in the NHL (51.9 percent). I doubt that will number slides without Sobotka in the lineup.
I am a former NHL media member and reporter for the St. Louis Blues, working for various media outlets. Currently, I am an NHL News Writer and Editor for The Hockey Writers. I live in St. Louis and work as a freelance copywriter in numerous industries.