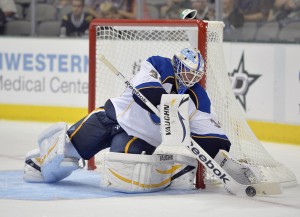 There is no doubt that Brian Elliot has put up largely laudable numbers over his term with the St. Louis Blues.
In 2011-2012, he shared the William Jennings Trophy with Jaroslav Halak for the NHL's lowest goals-against average. Most Blues fans seem to be accepting of an Elliott/Allen tandem, based on his track record and the rescue job Allen did for the team in 2013. The up-and-comer was also awarded the Bas Bastien Award as the AHL's top goalie after the 2013-2014 campaign. However, Elliott has been known to put up stretches where he looked like a forward pressed into netminding duty. Concurrently, Allen's youth and lack of comprehensive NHL experience — despite his promise — only provides tenuous enthusiasm. With each team in the NHL's Central Division loading up on offense, should the Blues' goaltending falter for as little as 10 games they could find themselves struggling for a decent seeding come playoff time.
Although this horror story seems relatively unlikely, there's no doubt Armstrong and company is keeping in mind a few names to provide a safety net should the team discover keeping the puck out of the net a challenge. With prospect Jordan Binnington not quite ready for full-time NHL duty, wading into the talent pool would prove necessary. This mix of veterans and younger promising goalies could all be viable options to acquire either through free agency or trade, allowing the team to march toward Spring without too much of a hiccup.
Plenty of competent goaltenders might not have teams to call home in October
1. Tomas Vokoun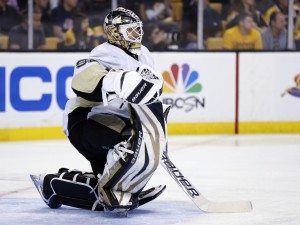 Plenty of teams have kicked Vokoun's tires in the offseason, including the Los Angeles Kings, as insurance after Johnathan Quick's surgery. Vokoun remains confident that his recovery from a blood clot condition is complete, and his advanced age is not an issue. Vokoun would bring stability — as he did in Pittsburgh after Marc-Andre Fleury faltered two playoffs ago — and a high level of talent.
2. Tim Thomas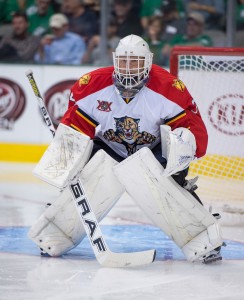 Although some fans might be distracted by Thomas' unusual exit from the Boston Bruins, there's no doubt he remains a competent goaltender that could help a contending Blues squad. Recent stints in Florida and Dallas prove that the 39-year-old netminder might not be able to carry a young and rebuilding team, however this is not what he would be facing in St. Louis. When a team has an opportunity to sign a Vezina and Conn-Smythe-winning goalie for relatively cheap — and for short term — it might be a smart consideration to use him as a playoff rental even if the current tandem seems otherwise ready.
3. John Curry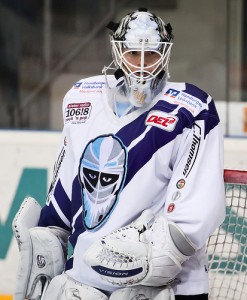 Curry at one point was considered the heir-apparent to Fleury in Pittsburgh, and remains the all-time goaltending stats leader with the Wilkes Barre-Scranton Penguins. Curry played against the Blues once in 2014 as a member of the Minnesota Wild, making 45 saves and allowing only two goals despite his team being roundly outplayed. Curry still feels as though he can grab a spot in the NHL, and would be not only motivated but inexpensive.
4. Ilya Bryzgalov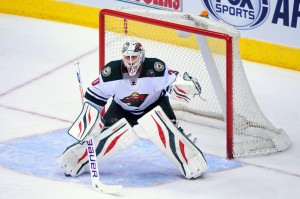 Ah yes, Bryz. Although widely mocked for his interesting use of English and odd sense of humor, there's no question the guy can play. Despite not having the success many expected in Philadelphia after signing a massive contract, he played as well as could be expected in Edmonton, later leading the Wild into the playoffs. Bryzgalov didn't play too much during Minnesota's ousting of Central Division-winning Colorado, and was reasonably good against Chicago despite losing the series. On an elite Blues team where shot counts are low and staying awake is one of the biggest challenges, Bryz could present an interesting stopgap option.
5. Jean-Sebastien Giguere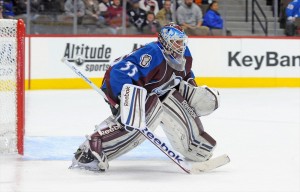 Despite rumors in May 2013 that Giggy planned to retire, that as of now hasn't happened just yet. Giguere is a former Conn Smythe-winner with an impressive 2.08, .925 career postseason record. Best of all, he'd be a cheap hit against the cap, possibly costing the team only around $1M per year. Even if the Blues bring him in, it would only be as insurance as at 37, with long-term contract not in the cards. Fans would like Giggy and is a known locker room motivator if things start to stall out.
The Blues after the additions of Paul Stastny and other offensive threats like Jori Lehtera demonstrate the team is willing to win. Should the Blues' goaltenders show themselves as the weak links in the chain, evidence points to a move being made to plug the leaks. The franchise is in full-on "win now" mode, and fans are losing patience with iffy goaltending shipwrecking promising postseasons.