The St. Louis Blues have had a much tougher time getting wins in the last month than they have all year. The recent roller coaster ride has taken fans to the brink and back, but thanks to the team's rookies stepping up their play it looks like the Blues are beginning right the ship.
Rookies Playing Captain
Since the start of December, the Blues have only been a slightly better than .500 team, going 11-9-4 and only scoring 2.44 goals per game over that span (2.19 GPG in December). However, if it weren't for the emergence of some rookies lately (and the continued great play of others), things could look even more bleak in St. Louis. Between the prominent young guns like Robby Fabbri and Colton Parayko, and the more recent emergence of Joel Edmundson, the Blues have been able to rally against 2 tough Eastern conference opponents to break through their slump and begin to climb the standings once again.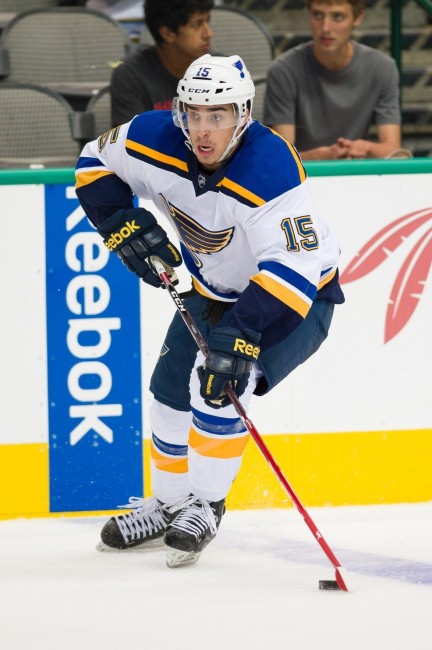 Fabbri has been a great addition all season, and has even stepped up into a larger role with the club lately thanks to his hard work and high hockey IQ. He's got 18 points on the year (11 goals, 7 assists, plus-3), with 12 of those coming since the beginning of December. Fabbri has also moved up to 3rd in rookie scoring for the month of January with 2 goals and 3 assists in 2016. Parayko not only paces the team in terms of plus/minus (plus-17), but he also has 19 points overall (7 since the beginning of December) and has been a solid force at both ends of the rink, making it much more difficult for opposing teams to score while he's on the ice. The last (but not least) of the rookie class, Edmundson, has been the most prominent Blue as of late, partially due to his increased physicality, but also due to his 4 assists over the team's last 6 games.
If the Blues' rooks can keep this high scoring pace up and can continue to play solid defense as 2016 rolls on the Note should be able to solidify a good playoff spot, and have the opportunity to make some waves this post season. Though these newbies should only be counted on for additional depth-scoring it has been great to see the future of the team begin to mold right before fans' eyes.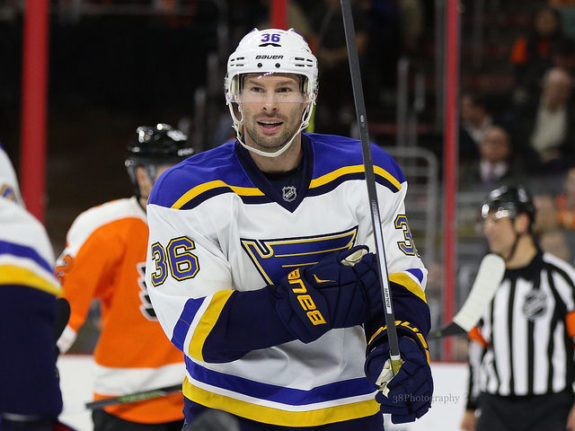 Other Notes
It's not just the rookies that have been stepping up for the Blues, other newcomers and young guns alike have played a pivotal part in the Blues finding consistency as of late. Troy Brouwer cooled off for much of December, but has found his offensive touch again in 2016. He's already gained 5 points (3G, 2A) in the new year, including the game-winner against Pittsburgh on Monday night.
He's been a great addition to the club this season, and has helped manage the team's off ice vision, while contributing in the secondary-scoring role he was known for while with Washington. Brouwer is actually only slightly behind his career point-per-game ratio (.472 on his career, .388 this season), which is impressive given Hitch's line juggling and Brouwer's summer transition to a tough new city in St. Louis. If he keeps heating up he may even eclipse that mark by season's end, something the Blues are hoping for.
Recently the team's success goes beyond the aforementioned rookies and the crafty vet Brouwer, and to a young up-and-comer fans have drooled over for years. Ty Rattie has been a highly touted prospect since the Blues drafted him 32nd overall at the 2011 NHL Entry Draft. Though he had never really showed much in the NHL, his AHL success kept fans hopes alive, and over the past 3 games since his most recent call up he's been a key component to the team's success. His 1st 2 career goals came just a game apart, with his most recent tally forcing overtime against the Canadiens late in the 3rd (the Blues won the game in OT).
If he can keep hustling and can continue to find open ice for his teammates to give him the puck, he should experience more success at the NHL level moving forward. He and Fabbri have captured the coaching staff's attention recently, and have helped refocus and unite their teammates. This is a big reason why the Blues are on a 2-game winning streak, why they have points in 7 of their last 10, and why coach Ken Hitchcock had these nice things to say about Rattie and Fabbri's play as of late:
"To get the boost from Rattie and Fabbri again is really helping us. Those kids are giving us juice when there's a lot of guys not having it right now and they're helping us (get points). They helped us today and hopefully they will continue to help us."

"They're threats, threats to score. They both had big goals and that's exactly what we need right now, we need somebody else coming through for us because there's been a lot of heavy lifting…any little bit of energy we can find we need to put those guys out there to see if they can help us."
That's what it comes down to this season, grinding out wins any way the team can. The star-studded Central Division will swallow teams whole if they're not careful, so it's up to each and every member of the Blues to do their part to make sure they make the playoffs, and can make a statement once they begin. If the Note can manage to battle through the rest of the injuries that have plagued them all year they will have plenty of fight (and momentum) to use going into the postseason.
Like what you've just read? Follow me on Twitter: @pep30