This past weekend, the University of North Dakota Fighting Hawks split their weekend series with the University of Nebraska-Omaha Mavericks. Here are three things that stuck out this past weekend.
Split is a Safe Bet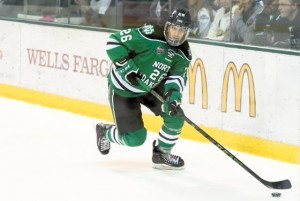 Last week, I was scanning social media and I saw a UND hockey fans and bloggers predicting a Fighting Hawks sweep against the Mavericks. I scoffed at the suggestion.
Why was I cynical? History has proven otherwise. Especially, with former Fighting Sioux head coach Dean Blais standing on the visitor's bench. Coach Blais is a future hall of fame coach and is good for a win when the Mavericks visit Engelstad Arena. This past weekend was no different. UND and UNO split the weekend series (3-4 L O.T., 5-1 W).
As I said last week, this is relatively a new series, and the two teams have only played 18 times. All-time, UND holds the edge in the series 10-7-1, (.600). In the 10 games played between UND and UNO at Engelstad Arena, UND has a 5-4-1 (.550) record.
Again, the safe bet was a split. Historically, there's been only one series sweep between the two teams, UND swept UNO (2-1 W, 5-2 W) on Feb. 8-9, 2013, in Omaha, Nebraska.
Last season, UND was 2-1-1 against the Mavericks. UND took four-of-six points against the Mavericks in Grand Forks, ND. Every other series between the two teams has been a split. Finally, no team has won more than three games in a row. Last weekend's series played out like the previous series.
During Friday's game, the Fighting Hawks chased the Mavericks up and down the ice. For most of the night, the Hawks were a step slow, and couldn't get any momentum when they needed it. On Saturday night, UND righted the ship and skated to a 5-1 victory.
Top Teams Split Series
The NCHC is a meat grinder. Every game is a war, and series sweeps don't happen very often. It  sounds cliche' but any team can win on any given night. There are no off nights.  This was an intended consequence when the NCHC was formed. It would not be a surprise if regular season champion was .500 in league play. When you have a league that this tough and this balanced, it's hard to get separation.
So far this season, that theme has continued. The top teams in the NCHC (St. Cloud State, Nebraska-Omaha and North Dakota) have all split their weekend series which each other.
Back in November, SCSU and UND split (4-3 W, 6-1 L) their series of the season weekend series in St. Cloud, MN. This is the only time these two teams will play this season. A sweep, either way, would've been huge in the standings.
In December, the SCSU split their series with UNO (4-1 W, 7-2 L). In February, the Huskies and Mavericks will play in Omaha, NE. A series split is a safe bet.
This past weekend, UND split (3-4 L O.T., 5-1 W) their weekend series with the Mavericks. The two teams will meet again in February. More than likely, the two teams will split that series, too.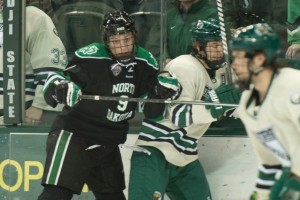 CBS Line Grounded?
This past weekend, UND senior forward Drake Caggiula was hurt early in the second period of Saturday's game when he checked Maverick forward Steven Spinner at center ice. Caggiula's status for next weekend is unknown at this time and he will be evaluated by the UND training staff this week.
"It was the hit there (at center ice)," coach Berry said. "You can't say enough about Drake's compete level. He's a guy that has ultra-skill, but yet, he competes and finishes every check. He's a 200-foot player that plays the game the right way. Unfortunately, he got dinged up there on the hit."
We probably won't know till Wednesday if Caggiula will be able to go this weekend.