The second half of the season is finally here. This week, the University of North Dakota Fighting Hawks take on the University of Nebraska-Omaha Mavericks in a two-game conference series.
The fans are already looking forward to this weekend's series. Both teams are highly talented and play a similar style of hockey. Both teams skate well and can push the puck up ice and transition quickly, while both can play a physical, heavy brand of hockey.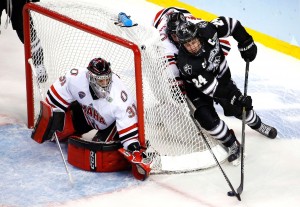 This is relatively a new series, and the two teams have only played 16 times. The first game between the two teams took place on Nov. 19, 2010. UND won the first game, 6-5, on Omaha's home ice. All-time, UND holds the edge in the series 9-6-1, (.594). In the last 10 games, UND has a 6-3-1 (.650) record against the Mavericks.
The safe bet is a series split. Historically, there's been only one series sweep between the two teams, UND swept UNO (2-1 W, 5-2 W) on Feb. 8-9, 2013, in Omaha, Nebraska. Last season, UND took four-of-six points against the Mavericks in Grand Forks, ND. Every other series between the two teams has been a split. Finally, no team has won more than three games in a row.
Expect a War on the Ice
New series or not, the games between the Fighting Hawks and the Mavericks has been a war. Every inch on the ice has been contested. A head coach was thrown out of a game. We've also had players drop the gloves at center ice. Every check is finished. There will be dust ups after the whistle.
In a short period of time, this series has become one that you mark down on your calendar at home. The games are intense, hard-fought and always exciting. Most of the games have been settled by a single goal. The last two games in the series went to overtime, with both teams winning a game.
Some wonder why this series has become so intense, so quickly. Former Fighting Sioux captain Steph Pattyn confirmed the rivalry in February 2014.
"They play a similar game to us," Pattyn said. "They work hard and they come at you real hard. They don't give us much room to play. We're just going to have to turn it on them and do it to them harder and worse."
The Blais Factor
Another reason the series brings so much excitement is the Mavericks head coach. The Mavericks are led by former Fighting Sioux head coach Dean Blais. In 10 seasons at UND, the former head coach racked up an impressive 262-115-33 (.679) record.
Blais also led North Dakota to two National titles (1997 and 2000) and a runner-up finish in 2001. Blais' teams also won four regular season WCHA titles (1997-1999, 2001, 2004) and two Broadmoor Trophies (1997, 2000). With coach Blais on the visitor's bench, his presence brings a little extra excitement to the series.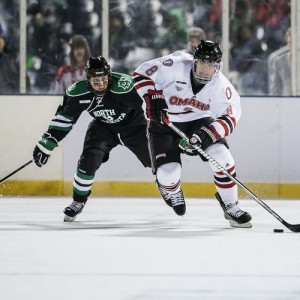 This past weekend, the Mavericks were swept by the Denver Pioneers (0-3 L, 3-4 L). After Saturday's game, UNO head coach Dean Blais wasn't all too pleased.  Coach Blais' comments could be an indication of what this weekend's series is going to look like. I have a feeling it's not going to be all fun and games at practice in Omaha this week.
"We have to have a total team commitment; we had one guy on every line, and maybe one or two defenseman each night that had bad games," coach Blais told the Omaha media. "You saw in the third period switching all the lines around, that's because we eliminated a guy that wasn't going. Next thing you know, we've got three goals. That shouldn't happen at this time of year. That's called we've got too many passengers.
"I'll tell you, I wouldn't want to be on the ice this week."
Based on how last weekend played out, I would imagine that the Mavericks are going to be looking for some redemption this weekend. The Fighting Hawks should be ready and expect to walk into a buzz saw when they take the ice on Friday night.