Remember the game 500? You know, the one where you throw any ball towards your friends and shout a certain value for that throw if one of them catches it, or grabs it first if you add on "dead or alive"? You heave it up in the air and try things whether they work or not. Your friends try to make the throw work, but you're all having fun even if it doesn't. That's how Alex Ovechkin has always played hockey.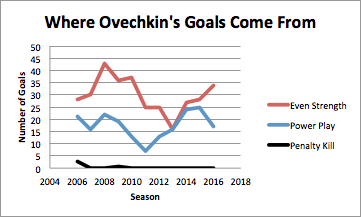 No matter what works and what doesn't work, Ovechkin always tried things. He'll score after falling down and sliding ungracefully towards goal. He'll score from end to end without thinking about whether or not the rest of his teammates can get onside for him, let alone try to be open for a pass. He'll score with his defender being inches in front of him. He'll score while trying to put the puck through his defender's legs and skate passed them with the puck back on his stick. He'll score while trying to handle the most inaccurate of passes or most uncontrollable of pucks on a terrible ice surface.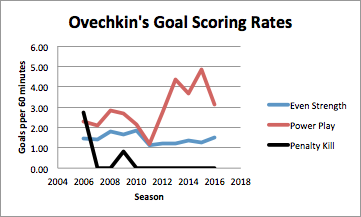 Ovechkin tried everything and did so while weighing in at 240 pounds and standing 6'3″ tall. For some, those dimensions are enough to describe someone as a player that must hit first before he ever tried to score goals. Don't worry, Ovechkin could do that too. Just know too that the man is from another planet and he was brought to planet to score goals and show the biggest smile doing it.
Sunday Night
Through all the torture and turmoil being a Washington DC sports fan has been over the years, there hasn't been one athlete that has brought me more joy than Alex Ovechkin. Last weekend couldn't have been a more fitting way to see the greatest local athlete of my lifetime become the 43rd member of the 500-goal club. First, with two goals, including an end-to-end bulldozing net drive to the net with the visiting New York Rangers before Rangers fans stopped reacting to the ridiculous save Nate Schmidt and Braden Holtby made together the night before to get to number 499. Next, after countless shots that threatened another mortal goaltender's livelihood, Ovechkin, from his should-be-trademarked "Ovi-spot" along the left half wall on the power play made a bullet of a wrist shot to send the Verizon Center faithful into delirium. It was as if they forgot a playoff football game was going on a county and tons of unnecessary traffic away.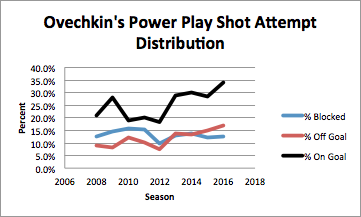 Afterwards, you can't help but turn 10 years old watching the sheer joy and celebration for a 30-year old loving the game he has played since he grew up more than any human being. I can't stress it enough that Alex Ovechkin has made a sport fun in an area that has no business loving it because outsiders believe those living south of the Mason-Dixon line either can't or shouldn't understand hockey. Now with Barry Trotz's tactics and a general manager that will get what he wants, this team is back from the doldrums of the Dale Hunter and Adam Oates era. Washington should have been rebuilt after 2014, with a top five pick hoping to be another unsure franchise savior the year after that. Instead, all it took was a head coach and calm heads all around to make this team fun again. It can't be stated enough how difficult that is to pull off in the salary cap era of the NHL.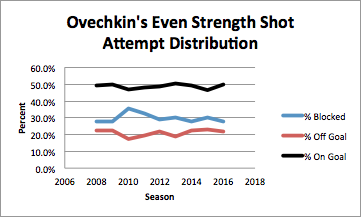 Now, thanks to the calmness of a head coach that let's his players play, the Capitals, led by their fun captain, are playing 500. They're the ones throwing the ball up in the air, just closing their eyes and hoping a catch is made. In this case, they're 18 little children that just so happen to be 20-36 year olds messing around and laughing like crazy when they score goals like they didn't mean to do that, or they discovered a new booger, insect or animal. Maybe they even made the latest dance craze, only to be topped by one of their teammates minutes later. Hey, it's been over 17 years since I have had recess, so I don't know what these whipper snappers do nowadays.
Adjusting Ovechkin's Legacy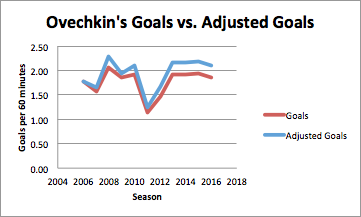 Every hockey analyst you would hear on any form of media these days will tell you how hard it is to score goals in today's National Hockey League. While that is true, the work done by so many in the hockey statistics community and the power of mathematics has helped those from hockey-reference.com curve these historical records by creating "adjusted goals". Until further notice, it is the most accurate way of comparing hockey players from different eras and different playing styles.
Even if Ovechkin has scored 501 actual goals, "the Russian Machine" already sits 19th all-time in adjusted goals with 603. Since adjusted goals are the sum of adjustments on every season and not so much a continuous addition, there's a good chance we'll have to wait next year if Ovechkin can progress from his current position. Until then, he is not far off from Dave Andreychuk's 605 adjusted goals, Mike Gartner's 609 and Marcel Dionne's 610.
In future seasons, Ovechkin should be able to blast through the competition so much so, that he should be able to make the top five in his sleep before it's all said and done. Assuming he stays healthy, 800 adjusted goals and somewhere between 650 and 700 actual goals is a very real possibility. That should be good enough to have him challenge the likes of Teemu Selanne, Brett Hull and Jaromir Jagr as the greatest winger in the history of hockey. Until then, we can only dream.
What is certain is that, already without a shadow of doubt, Alex Ovechkin is, at minimum, one of the greatest athletes among the four major professional sports in Washington DC history. His only two rivals are baseball's Walter Johnson and football's Sammy Baugh. Both of them brought championships to Washington DC and transcended a generation and both of them played before 1952. So you can see how bloodthirsty this city has been to see an athlete like Ovechkin. Baugh changed the way the quarterback position was played in professional football while Johnson only sits behind Cy Young and Roger Clemens (steroid scandals aside) as the greatest pitcher of all-time and among the 15 best baseball players ever. With a championship and/or eight or more years of minimal aging, Ovechkin has a chance to surpass both of them.
So far, he currently sits 47th in hockey-reference.com's point shares amongst all skaters and 66th if you include goaltenders. Add those eight years of good health and he should be able to threaten the top ten of greatest hockey players to ever live. It can't be stated enough the enormity of how incredible Alex Ovechkin is to the sport of hockey and scoring 500 goals isn't just the exclamation point. Before you know it, it will be the start of a sentence.
Ben covers the Washington Capitals at the hockey writers. He has been blogging about the NHL since March 2013. Follow him @DCSportsDork