The St. Louis Blues' search to add reinforcements and a new scoring dynamic to their forward core could be closer than they think. After a disappointing and uncharacteristic end to their 2022-23 season, the club's general manager Doug Armstrong stated his desire to make their rebuild efforts fast and that his intentions to return to the playoffs will be sooner than later. To do this, the club could be looking to add an outside forward to the lineup around the age of 25 that fits within the current forward age range.
Related: St. Louis Blues 2023 Offseason To-Do List
The Blues should look to the southwest and inquire about 25-year-old Clayton Keller to add to their forward core to reinforce and bolster their lineup.
Who is Clayton Keller?
Born just outside of St. Louis in Chesterfield, Missouri, Keller was raised in Swansea, Illinois, just beyond the Missouri border. At a young age, he joined a contingent of other St. Louis-area players around his age, including Luke Opilka, Luke Kunin, and Matthew Tkachuk. In 2010 and 2011, Keller played in the Quebec International Pee-Wee Hockey Tournament with the Blues' minor ice hockey affiliate.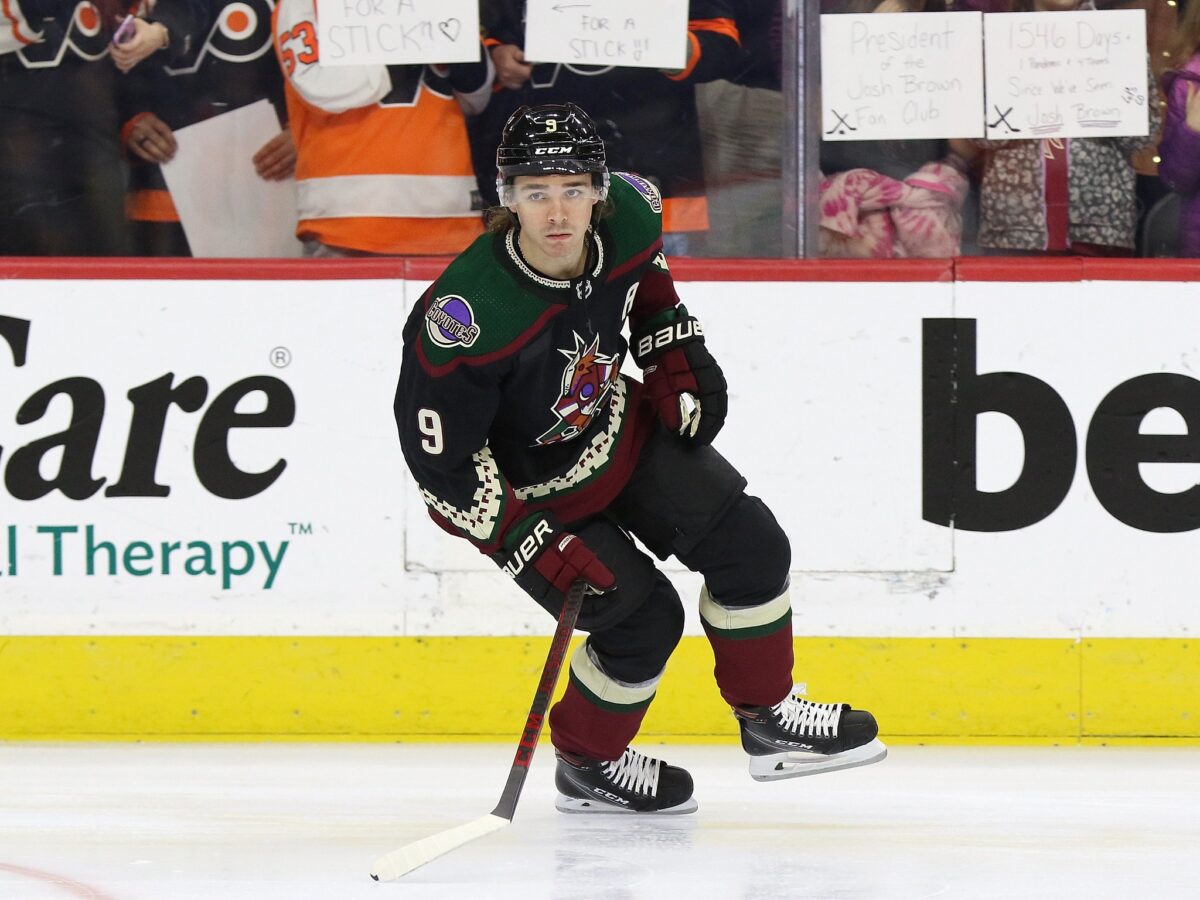 Fast forward to his draft year, he was drafted seventh overall in the 2016 NHL Entry Draft and was one of five players from the St. Louis area to be drafted in the first round that year. After signing his NHL entry-level contract, Keller played his first NHL game against the Blues on March 26, 2017. He is a key member of the Coyotes organization and one of the club's top players. To date, he has scored 133 goals and 342 points in 442 regular season games.
---
Latest News & Highlights
---
Why Should Arizona Trade Keller?
As previously mentioned, Keller is one of the Coyotes' best players. The idea of moving him seems to be short-sighted, especially for a team that is currently rebuilding its draft stock and looking to make a playoff push once again in a few years. The winger is also currently locked up and under contract for another five years and only one year from a full no-trade clause going into effect through the end of his $7.15 million average annual value contract. Despite being under contract, the recent trouble and drama surrounding the state of the Coyotes' franchise have caused issues and troublesome speculation regarding the future of the team's status in Arizona. Keller took to Twitter to also voice his disappointment with the citizens of Arizona turning down the proposed $2.1 billion arena in Tempe. While the arena proposal has been shot down, the team has a standing three-year agreement with Mullet Arena and Arizona State University with an option for a fourth season.
After an announcement from the Coyotes came out regarding the outcome of the public vote, his father Brad also took to Twitter, however, he was more vocal. He replied to the Coyotes' tweet stating that his son would not be there at the beginning of the season and he also expects others to follow and not sign with the team. Trade speculation surrounding one of their top players could not come at a worse time, but also should not be surprising if the young forward does not wish to be a part of the drama-filled club that currently plays in a college arena that seats 4,600 fans on a nightly basis.
Blues Should Welcome a Homecoming
A homecoming of Keller to the Blues would instantly make him one of the top players among the forwards, and should immediately propel him to the top line on a nightly basis. While they have received good performances from their trade deadline acquisitions of players like Jakub Vrana and Kasperi Kapanen, as well as the re-acquisition of Sammy Blais, it is only a small sample size that fans have seen. Adding another forward to the team's core to not only increase depth on the wing but potentially become a top scorer on the team, the Blues have a chance to help the Coyotes add to their prospect pool and rebuild efforts while giving themselves a forward that fits the team's needs perfectly.