After a terrific NHL Winter Classic, Team USA named the players heading to Sochi to capture gold. However, this American squad has some more than questionable calls.
This American team is being built upon youth and, most notably, defense and as a result, Team USA general manager David Poile made some interesting decisions by leaving off some very deserving players. Team USA clearly has a certain play style that they are trying to adhere to, but they are certainly leaving out some players that could help break a game wide open and help usurp the Canadians as Olympic gold medal winners.
Bobby Ryan
This one is perhaps the most puzzling omission on the Team USA roster. The explosive Ottawa Senators winger seemed to be a lock into making the American roster. He can score and has certainly become one of the best American born players in the league today. You'd think he'd be one of the first people placed on the team.
Wrong.
Bobby Ryan was left off the roster completely and he was, at one point, only considered as one of the last two forwards in, along with Brandon Saad and Max Pacioretty.
Ryan's candidacy was met with much debate with the Team USA coaches and front office seriously questioning if Ryan was the type of player the Americans are looking for. Peter Laviolette said that Ryan's power play was among the worst among the players they were considering. They were also concerned about Ryan's skating ability as well, calling it "deceptive".
Dale Tallon made a very valid point that really should have been considered more when deliberating, saying,
"I think you need Ryan to score that goal against the teams to qualify. Those are going to be tight, low-scoring games. You need someone to break one open. That's what he does."
Very great point by Tallon. Defense is great, but you can't win if you can't score and Ryan is perhaps the best American scorer outside of Patrick Kane. Team USA may have made a fatal move by not sending Bobby Ryan to Sochi.
Kyle Okposo
Kyle Okposo might be just a victim of his position, right wing, a position that the Americans are loaded in. However, Okposo's play would have been more than enough to play for the Americans.
Okposo is second only to Patrick Kane, the top American in the NHL today, in scoring with 40 points in 41 games this season with the New York Islanders. Okposo also has plenty of experience playing at the international level, playing in 2007 and 2008 World Junior Championships and playing in three IIHF World Championships, most recently in 2012. Team USA really likes to pick players that have a lot of international experience and Okposo is one of those guys.
On a New York Islander squad that is in the bottom half of scoring, Okposo, and John Tavares, have really been the only scorers for the Islanders. There really hasn't been much to cheer for for the Islanders this season and Kyle Okposo should have been rewarded for his play and such a poor team.
While his international experience and his stats are superb, the Team USA brain trust did not feel confident enough in whether he would be successful enough on the wider European ice like they'll have in Sochi. If Ryan Callahan, who did make the Team USA roster, cannot play due to his knee injury, expect Okposo to be the first player asked to replace him.
Not only does Okposo's play qualify him for an Olympic spot, but his character embodies the Olympic spirit. Recently his coach, Jack Capuano, spoke very highly of him, saying,
"His numbers are real good, but more importantly, this is a guy who's been a leader wherever he's been. He's a high-character guy and those are important ingredients when you're putting a team together like the Olympic team."
You can never have too many guys with the skill set and character that Okposo has and Team USA missed out on having a great Olympian on it's roster.
Keith Yandle
The Phoenix Coyotes' Keith Yandle is type of two-way player that can really change a game, but his style of play, which is perfect for Team USA's defensive style, apparently isn't good enough to make the American roster.
Los Angeles Kings GM Dean Lombardi really made a push for Yandle to make the team and said that he is an underrated player. Team USA did not heed to Lombardi's demands and instead went with Cam Fowler, a player very similar to Yandle.
Yandle was never really a lock to make the team, but he was certainly deserving of a spot. Yandle has been great on the power play this season and tied for third with twelve assists among defensemen. There were a bevy of American defensemen that could have made the squad and that was probably Yandle's undoing. Before the team was announced, Yandle didn't seem to be upset if he was snubbed, saying,
"You're still playing your season. You're still going about trying to win games for your team. That's what I'm here to do … and that's what I'll keep trying to do."
Yandle is a great young player with a great attitude and I'm sure he'll make an Olympic team down the road, perhaps even in 2018, but for now, Yandle is just worried about the Phoenix Coyotes rather than missing out on the Olympics.
Ben Bishop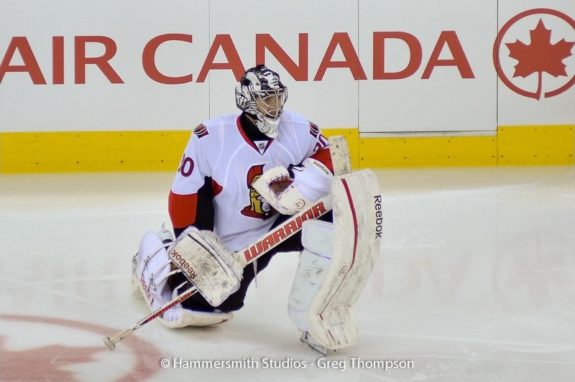 The Tampa Bay Lightning's Ben Bishop leads American goalies  in wins, but Team USA decided to go with experience and Bishop just simply did not have enough international experience.
Bishop is a very talented and young American goalie and he will eventually get his shot, perhaps in 2018 in PyeongChang, but Team USA opted for Jonathan Quick, a no-brainer, the silver medal winning Ryan Miller, and the struggling Jimmy Howard.
While I can't argue about Quick and Miller being on the roster, Jimmy Howard has not been up to snuff this season dealing with a knee injury and being very inconsistent for the Red Wings this season. I would even argue the New Jersey Devils' Cory Schneider over Howard, but Bishop trumps them both. According to a USA Today article about the inside of the roster selection, Bishop wasn't even considered an option, the final spot was between Howard and Schenider, considered 3A and 3B.
If it's based upon merit alone, then Bishop deserves the spot over Howard. If all goes according to plan, the number three goaltender won't see playing time in Russia, but if for some reason they have to, I feel much more comfortable with Ben Bishop on the ice than I do with Jimmy Howard.
So many teams have yet to release their rosters, so, it's very unknown how well this roster shapes up compared to the rest of the tournament. It's a very different roster than we've seen, but I'll leave the decision making to the front office guys.
In the words of John Cleese, "And now for something completely different", check out my colleague, Shawn Reznik, and his views regarding the Team USA selection.