Sometimes, it's difficult to score. While the Tampa Bay Lightning have no trouble putting pucks in the net game after game, last night's matchup against the Columbus Blue Jackets seemed a little puzzling. The Bolts fell to the Jackets by two goals – the final score being 3-1 – but it was a loss that can't be blamed on either poor offense or weak defense. Tampa Bay just couldn't seem to put the puck past Columbus goaltender Sergei Bobrovsky.
https://www.youtube.com/watch?v=3fq22CTUWa4
Bobrovsky really doesn't get enough credit when it comes to his skill. Last night, he made some truly spectacular saves. Some shots he batted down with a calm ease when he should have been rattled to his core. But, then again, when it comes to goaltenders, the most important characteristic to have is a neutralized poise in demeanor.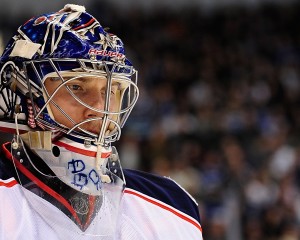 The fact that Columbus sits at the bottom in the standings shouldn't really make one fret. However, with this win, they have managed to pull themselves out from the pit. When it comes to the Tampa Bay Lightning, and coach Jon Cooper, this was just another loss which can be shrugged off rather than any sort of symptom to some larger disease.
"These are all National Hockey League players," said Cooper in response to Saturday's loss. "You think you are just going to walk in and say, 'We are in first place, so we are going to win this game,' there is no way. And I don't think we did that. I thought we played well, we played hard, we just couldn't put the puck in the net. They got a couple of breaks and a couple of goals."
The Bolts outshot the Jackets 34 to 20 while generating plenty of scoring chances. While defense was perhaps a little bit lax compared to most games, this particular loss can't really be attributed to any major faults by Tampa Bay. Sometimes, the other team just plays better. And, that's exactly what happened.
I've always been impressed with the speed and skill of the Columbus Blue Jackets. So, to me, the fact that they're currently at the bottom of the standings seems like a slight mishap that will be corrected sooner or later. The Lightning came out of Saturday's game in the neutral zone, enlightened of additional defensive faults within their game, but still confident enough to keep on winning.
I, William Gilbert, am from Bradenton, Florida and currently attend Florida State University. My major is Creative Writing but I spend most my time watching hockey and obsessing over Ben Bishop.