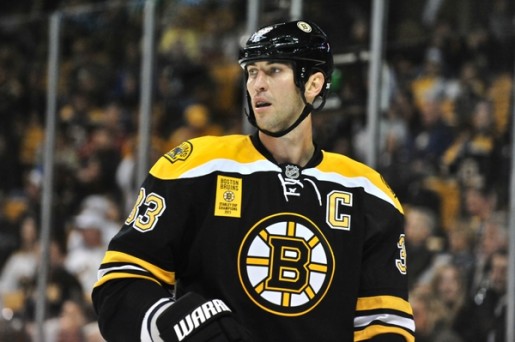 By Bob Mand, Contributing Editor
There are really only two Boston Bruins with a decent shot at walking away with some major regular-season hardware come June: Patrice Bergeron and Zdeno Chara. Tim Thomas will not defend his 2011 Vezina Trophy win thanks to inconsistency, modest numbers and an unfortunate run of bad press.
Bergeron has been one of (if not the) front-runners for the Selke Trophy as the best defensive forward in the League and Chara's outstanding March production (fourteen points in sixteen games) has him heavily in the conversation for the Norris.
Bergeron has earned consideration for this honor for several years now. Many argued in both 2010 (when he finished fifth in voting) and 2011 (fourth) that he was being overlooked because of his middling production (compared to the offensive luminaries who've won in recent seasons) despite his outstanding defensive skill.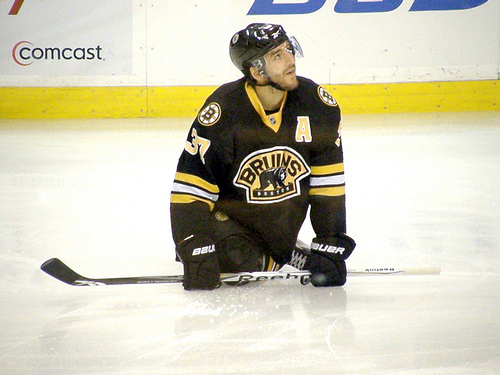 However, thanks to an impressive performance in the 2011 Stanley Cup Playoffs and the Bruins' eventual victory, he's no longer overlooked (though the 2012 CBC/HNIC player's poll still called him the game's most underrated player) by the national press. When you combine the sudden recognition of his all-around game with his outstanding numbers (the League's top plus/minus at +34, the NHL's top-ranked faceoff percentage of 59.4%, twenty-two goals and sixty-one points) it's easy to see why he's favored.
Of course, he won't take the Selke without a fight. The Rangers' Ryan Callahan has garnered consideration, as has St. Louis' David Backes. Past winners Pavel Datsyuk and Ryan Kesler have also earned more than cursory attention from national hockey pundits.
Even with the competition, Bergeron's position as pace-setter since the fall gives him a decent advantage. While he's by no means guaranteed to walk away from the Strip with the Selke in tow, he's certainly worthy and should be the odds-on favorite.
Chara's outstanding production to end the season has earned him two personal-bests already (40 assists and 52 points) and is sitting fourth in the NHL among defenseman in that category (though a healthy 26 behind Erik Karlsson). Additionally, his plus-33 leads all blueliners.
Chara is all but assured of earning a trip to Vegas as a finalist but after that, things are murky. Karlsson's offensive dominance is enough to punch his ticket to Sin City but there is debate among voters whether his one-way (at least by comparison) talents deserve the honor as the NHL's best defenseman. However, a similarly solid two-way defenseman as the consensus third candidate (Nashville's Shea Weber or Ryan Suter, perhaps) could split votes with Chara enough to derail either's chance to walk away with hardware.
Erik Karlsson's amazing season is unquestionably laudable, but even with his solid performance in takeaways, he's not on the same planet as Chara (or many of the other top candidates for that matter) defensively. On a team that struggles to negate shots, he's an outstanding shot- preventer. His zone-starts are weighted towards his own zone (while Karlsson's are heavily weighted towards the offensive zone) and he still manages to produce the most shots directed towards the enemy net at even strength (per minute) than any 1000 minute defenseman in the League. Yes, Karlsson is second, but couple that big zone-start advantage with Karlsson's only modest ability to negate shots and you may find the B's Slovak captain's season that much more impressive.
In the end, Chara's outstanding 2011-12 makes him a very deserving candidate. He's a unique and immense talent in the B's zone, so frequently and effectively shutting down the opposition's top forwards. Need more convincing? The 2012 CBC/HNIC players' poll (which around half of the NHL responded to) had him as the overwhelming toughest defenseman to play against: Over sixty percent chose Z compared to Shea Weber's second-ranked twelve percent.
Karlsson's point totals are so far beyond the mere 'mortals' that surround him in the world of the NHL defenseman that many commentators have been quick to hand him the honor prematurely. Recall that Mike Green, who had perhaps an even more impressive 2008-09 season (31 goals and 73 points in 68 games!!) fell short of his Norris aspirations to – you guessed it – Zdeno Chara.