Sean Couturier won't get any votes for this year's Calder Trophy given to the NHL's best rookie. The more defensive role of the Flyers' 19 year-old center is often lost in the depths of Philadelphia's offensively potent roster. But, ask Evgeni Malkin who his most frustrating cross-state foe is, and he'll likely say Sean Couturier.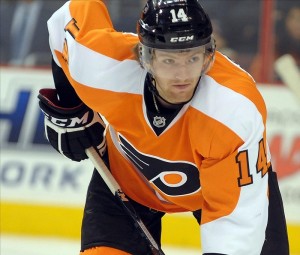 Unlike teammate, and Calder Trophy candidate Matt Read, Couturier's offensive numbers don't exactly jump off the stat sheet. His 13 goals and 14 assists are tenth among rookies, but it's Couturier's defensive competency that separates him from other rookies.
Offensive statistics are easy to track in the form of goals, assists, and points. Defensive statistics however, are much more complex and aren't as obvious. So, to prove Couturier's defensive worth, we must look at advanced Corsi statistics.
Created by former Buffalo Sabres goaltending coach, Jim Corsi, the basic Corsi stat functions just like the plus-minus stat, but with shots instead of goals. The number of shots directed at the opponent's net (+) versus the number of shots directed at the player's own net (-) while that player is on the ice, is the formula at the core of all Corsi stats.
In Sean Couturier's case, we will look at a more specific Corsi statistic known as "Corsi QoC." This measures the quality of a certain player's competition, by taking the average Corsi of all his opponents. According to behindthenet.ca, Couturier's .088 quality of competition rating is best among all Flyer forwards who have played in at least 50 games this season. Used as a fourth line center, Couturier, often played alongside veteran two-way forward Max Talbot, and grinder Zac Rinaldo, has redefined the role of the fourth line. Philadelphia's fourth line is not comprised of a few goons who play minimal ice time. Instead, they face the opposition's top line, as the Flyers' premier shut-down trio.
Coach Peter Laviolette has made this clear in many crucial situations this season. Take the March 18th matchup against the Penguins for example. According to timeonice.com, Sean Couturier was out against Evgeni Malkin for 23 of the Pittsburgh superstar's 28 total shifts. Shutting down Evgeni Malkin, the NHL's most dominant scorer is an incredibly difficult task for any player, let alone a 19 year-old who made the team out of training camp. But, Couturier flourished under pressure. Malkin managed a goal and an assist, but neither of them were scored while Couturier was on the ice.
Frustration set in for number 71 in Black and Gold. Malkin was caught spearing Couturier early in the third period of the March 18th game. Just minutes later, Malkin took a penalty, elbowing Jake Voracek as he skated through the neutral zone. For once, "Geno" looked human.
Couturier received similar playing time in the Flyers 6-4 victory against Pittsburgh this Sunday. Of Evgeni Malkin's 23 total shifts, Couturier was out against him for 18 of them. Malkin managed two assists in the contest. Again, both of them came in the rare time when Couturier was not out covering him. In the five games Malkin has played against the Orange and Black this season, he has a minus-3 rating.
As a center, Couturier's faceoff statistics also demonstrate his defensive prowess.
Of Couturier's 17 faceoffs against the Penguins Sunday, just two were in the offensive zone. This means that a large majority of Couturier's shifts started in the defensive zone (or neutral zone), a clear sign that Coach Peter Laviolette has faith in his young center.
While Couturier is just a 47% faceoff man overall this season, the location of his faceoffs are perhaps a more telling metric than his success therein. 133 of Couturier's 370 total faceoff wins this season have come in the defensive zone.
With just one game remaining in the 2011-2012 campaign, the statistics show that Sean Couturier has been as versatile as any Flyer this year. His lanky 6-foot-4 frame and 19 year-old baby-face seemed nice enough playing knee hockey in Danny Briere's basement in HBO's 24/7. But, on the ice, Couturier's toothless grin and gritty tenacity isn't so genial.
The Flyers begin their quest for the cup in Pittsburgh next week. It's new territory for Sean Couturier. But, that hasn't stopped him before.