It's been said time and time again: Patrice Bergeron, Brad Marchand and David Pastrnak make up the best line in hockey.
There's been debate about the topic, naturally so given the amount of talent in the NHL. No matter which line is brought up as the potential "best line in hockey" though, the Bruins' top trio is always brought up in comparison. It's a testament to how good the three players perform not only as individuals but as a unit as well.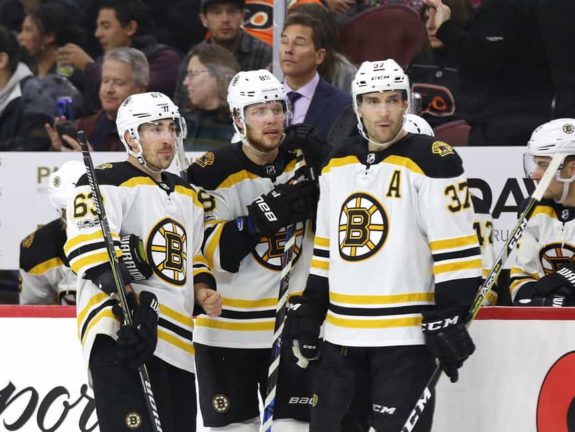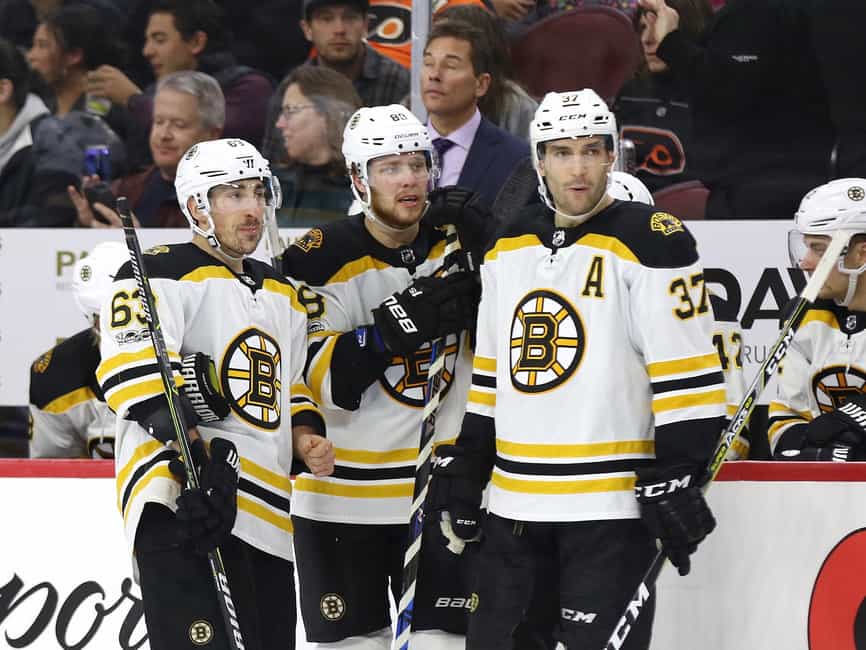 Just how good has that top line been? Well, the trio has combined for an incredible 34 points in only six games to start the year. Why is that a problem, you may ask? To put it in perspective, the rest of the Bruins roster has combined to produce only 27 points. Of those 27 points, only nine were goals. Additionally, four players on the Bruins' have yet to record a single point – David Backes, Noel Acciari, John Moore, all playing in six games, and Danton Heinen who has played in four games this season.
While the Bergeron line has combined for a 57.45 Corsi For% (CF%) and a Relative CF% of 8.24, the team has also only combined for seven goals-for and six goals-against at even strength. Much of the line's production has come on the power play and given that they've been on the ice for six goals against already just six games into the season.
Normally that wouldn't be something to even bat an eye at but considering the fact that the trio wasn't on the ice for an even-strength goal until Jan. 2 last season, it's clear that things aren't going quite as well.
The Eberle goal is the first even strength goal allowed by the Marchand-Bergeron-Pastrnak line during this entire season. Not that it was their fault…cough, cough Carlo

— Joe Haggerty (@HackswithHaggs) January 3, 2018
To clarify the point here – the line is the best in hockey and should be respected as such knowing they possess the ability to break a game open at any point. That doesn't mean they are infallible and should be kept together despite the rest of the team's woes though.
For that reason, the Bruins absolutely need to spread the wealth and break up their top unit to see if it sparks a positive reaction down the lineup.
Play Pastrnak With Krejci
The chemistry between Pastrnak and David Krejci is undeniable. The two Czech forwards have proven as much at the international level and have been close friends since the Bruins drafted Pastrnak in the first round in 2014.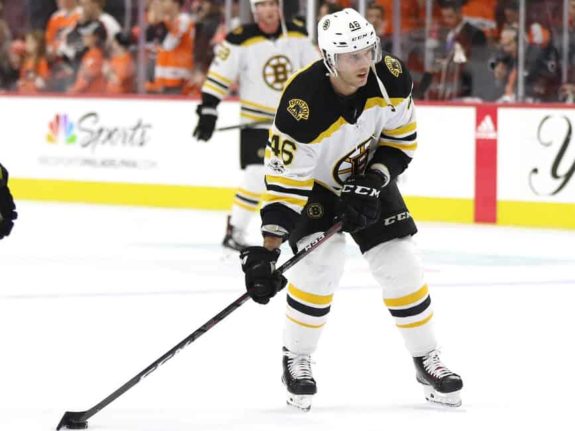 That chemistry hasn't necessarily translated to the NHL level and the Bruins have seemed hesitant to throw the pairing together. Given the chemistry between Pastrnak has with Bergeron and Marchand, it isn't hard to understand why head coach Bruce Cassidy would be inclined to keep that line together rather than trying to make the Krejci and Pastrnak duo work.
Therein lies the problem. While Pastrnak has been playing with all-world talent in Bergeron and Marchand, his time with Krejci has come with some not-so-impressive left-wings.
Since the 2015-16 season, Krejci and Pastrnak have played together alongside Matt Beleskey, Drew Stafford, Tim Schaller, Peter Cehlarik, Brad Marchand and Loui Eriksson.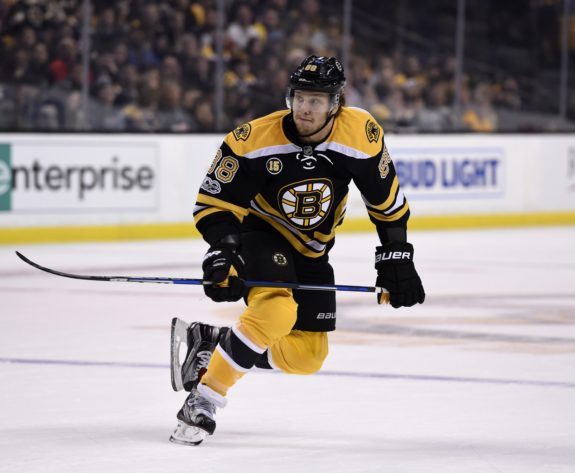 Of that list, the only players who really stand out as bonafide star talent are Marchand and Eriksson. With Marchand on the left side, Krejci and Pastrnak scored seven goals, were on the ice for five against and has a Rel. CF% of 1.17. With Eriksson on the left side, the line was able to score 12 goals while being on for five against with a Rel. CF% of 1.8.
The opportunities between Krejci and Pastrnak have been few and far between and when they have gotten a chance to play together, the usual third member of the line was a non-factor.
That shouldn't be a problem anymore with Jake DeBrusk making his way onto the scene last season. Arguably the Bruins' best winger not-named Pastrnak or Marchand, DeBrusk has been excellent since the tail-end of the 2017-18 season and has more than earned his way into a consistent top-six role. His chemistry with Krejci is also noticeable despite the absence of a consistent right wing on that line (stop me if you've heard that one before).
It's become such a revolving door that the Bruins have even resorted to using DeBrusk as a right-winger on the line with Joakim Nordstrom slotting in as the team's second-line left wing for the time being.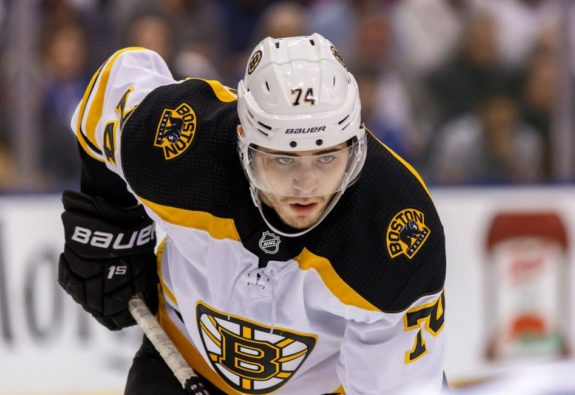 It's at least worth looking at the prospect of putting Pastrnak alongside DeBrusk and Krejci, giving the team a more balanced attack than they've had through the team's first six games of the season.
With Pastrnak on the team's second-line, however, a glaring hole naturally would open up alongside Bergeron and Marchand.
Promote Bjork to the Top Line
The 2018-19 season has been a weird one for Anders Bjork. While he's looked confident and comfortable since returning from injury, scoring a goal and two points in five games with four shots on net, his possession metrics have been awful. Much of that goes with the players he's been alongside though as the Bruins' third line has been up in the air with so many question marks focused on every facet of that line.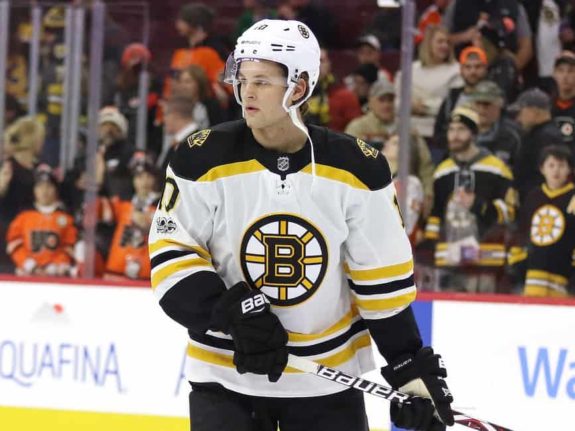 Leaving out the third-line center issue for a second, it's clear that Bjork is better than a third-line player and should be given an opportunity to play in a high-impact role at five-on-five. The best place for him to play, then, is alongside Bergeron and Marchand as he did to start his career last season.
Prior to Bjork's injury which noticeably changed his approach to the game when he returned last season, Bjork skated alongside Bergeron and Marchand. In that time, the trio combined for four goals-for and one goal-against while posting a CF% of 60.38 and a Rel. CF% of 8.12. With Bjork's ability to open up the ice by himself, he was the perfect fit alongside Bergeron and Marchand given their tendency to draw defenders in their direction.
Bjork was a dominant player at the college level and now that he's healthy, he's shown those same tendencies early this season when given a shot. He already has a role on the team's top power-play unit and has shown that he has a dynamic skill set that can give the opposition fits.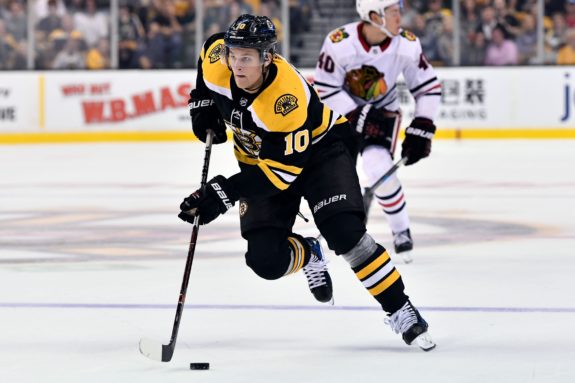 Giving him a chance to play alongside top talent like Bergeron and Marchand is something the Bruins should at least consider doing. It would also have a trickle-down effect as the Bruins could then try and use Heinen with Donato and Backes on the third line while keeping Wagner with Kuraly and Acciari.
Naturally, Nordstrom would also get a chance to play on the team's fourth-line in this scenario as well, but that would come down to a matchup-based gameplan as well as a decision based on who plays well and who needs to sit.
An important thing to remember is as well is that the Bruins could easily move Pastrnak up a line to play with Bergeron and Marchand if the team finds themselves at a deficit late in a game. Lines are fluid and there's nothing that says they can't adjust in game and shorten their bench to try and create something if things aren't working for them.
Brandon Share-Cohen has covered the NHL and various professional sports for seven years. Working with The Hockey Writers, Brandon works extensively on covering the Boston Bruins in addition to his role as the News Team Lead.