When the Boston Bruins announced that young star defenseman Charlie McAvoy would be undergoing surgery to correct an abnormal heart rhythm, many were shocked. It's something that would cause concern if it was happening to any player, let alone a 20-year-old who is right in the thick of the Calder Trophy race. It's for that reason that seeing McAvoy participating in a light skating session just one week after surgery was such a relieving sight for Bruins' fans and fans of the NHL at large.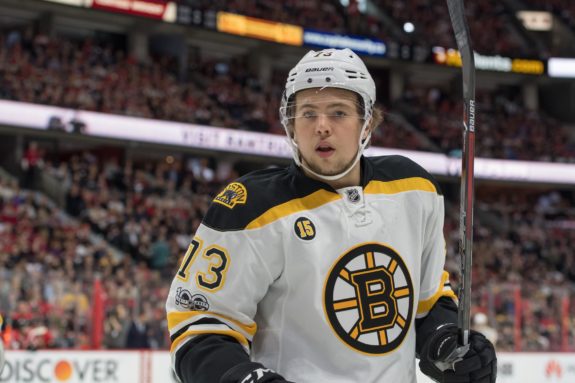 McAvoy was on the ice alone with his stick and a puck and simply kept his legs fresh after missing a week of practice due to the surgery. While it wasn't anything too exerting, it was a good step in the right direction for McAvoy who, by all accounts, is right on track in terms of his estimated two-week recovery time. One week in to that recovery time, McAvoy seemed to be in good spirits when speaking to the media Monday as well.
Good Spirits for McAvoy
"I think it was relief first off, to find out that it was not life-threatening and not dangerous to my overall health," McAvoy said to the media." That was my best takeaway from that to realize that, obviously because I'm in there I'm kind of nervous that this is going to be something that's really bad. That I might not be able to play again or anything like that. To find out that it was something that was not dangerous, not life-threatening, something I can still continue to play with, that was a good takeaway right away from the overall situation."
When asked about what his recovery has been like thus far, McAvoy's answer was in line with what would be expected from someone who just has surgery to repair an ailment of the heart.
"I had basically a week of nothing. Was told to sit around and make sure that I'm not exerting myself in any way that's going to disrupt my first week of recovery. So, not much. Today I'm here back at the rink and we'll be able to start doing some stuff."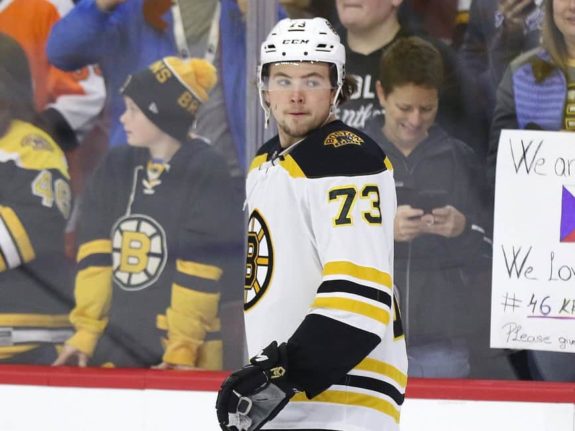 To say it's encouraging to see McAvoy feeling so confident just one week after surgery would be an understatement. The expectation was never that this issue would be anything concerning for his longterm health, but naturally, a heart issue is something that garnered a lot of attention from fans and media alike. Especially when McAvoy has been such a crucial part of the Bruins season.
With superb depth, the Bruins have had Brandon Carlo, Kevan Miller and Adam McQuaid manning the team's right side on defense in McAvoy's absence. The team is still on a tear, collecting points in 18 consecutive games, and will look to continue that excellence this week despite the absence of their best young defender.
McAvoy's Production Eerily Similar to His College Production
It isn't easy for young players to make an impact in the NHL. Even just treading water and doing enough to keep a spot in the lineup can be challenging for even the best young talents in the NHL. For McAvoy, however, there never seemed to be a concern for his ability and its potential to translate to the NHL level.
While it was clear that he could be a legitimate game-changing, blue-chip defenseman at only 19 years old when making his debut in six playoff games against the Ottawa Senators last season, nobody could have anticipated this level of consistency and production from McAvoy so quickly when he was selected 14th overall in the 2016 NHL Entry Draft.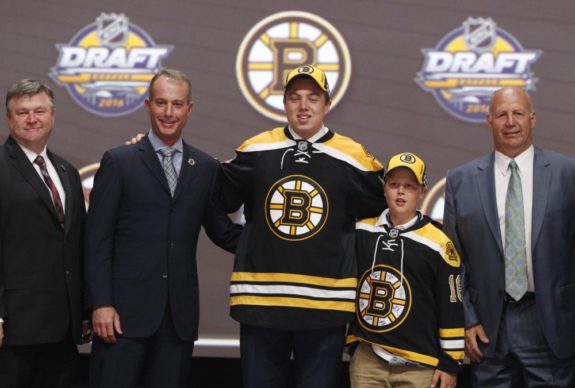 What's been interesting about McAvoy's rookie season is the fact that his point production has been in line with what he produced at Boston University.
In his rookie season with the Terriers, McAvoy scored three goals and 25 points in 37 games (0.67 points per game), giving the Bruins' scouting team a front-row seat to see what was to come, resulting in them taking him in the first-round. In his second season, McAvoy scored five goals and 26 points in 38 games (0.68 points per game) and continued to show that he could play in all situations.
No Rookie Wall Yet
Making the jump to the NHL level is never easy, especially for young defensemen. Still, McAvoy's production has been right about where it was in college, decreasing only slightly with five goals and 25 points in 45 games (0.55 points per game). Combining that with the fact that McAvoy can play top-pairing minutes, power play minutes and short-handed minutes and it becomes clear that McAvoy will have a very successful career in the NHL.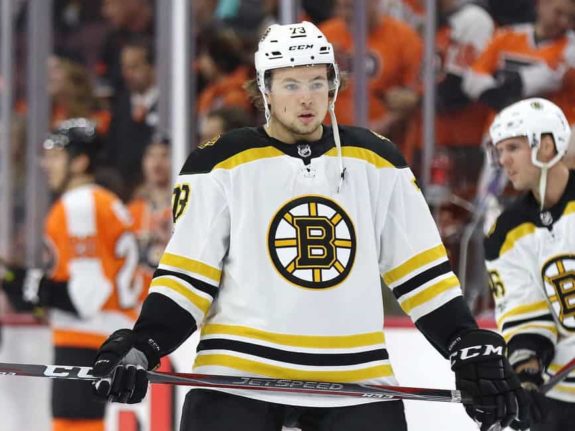 Averaging 22:49 minutes of ice time per game with the Bruins, McAvoy's ability speaks for itself. Any time a player can give his head coach the confidence to play him at any point in any game, they're doing something right. When that player only turned 20 years old in late December, his coaching staff is probably walking on cloud nine because they hit the jackpot.
The sky is the limit for McAvoy, and with one week already passing since his surgery, there's potential for McAvoy to only miss three more games and make his return on Feb. 6 against the Detroit Red Wings. Only time will tell, but for now, McAvoy's recovery process seems to be going off without a hitch.
Brandon Share-Cohen has covered the NHL and various professional sports for seven years. Working with The Hockey Writers, Brandon works extensively on covering the Boston Bruins in addition to his role as the News Team Lead.