The Boston Bruins are dealing with a number of injuries early this season.
Unfortunately, this isn't referring to the 2017-18 season that saw the Bruins ravaged by injuries throughout the entire year. Instead, it's referring to the 2018-19 season that has already seen the Bruins dealing with a few key injuries with an emphasis on the defensive side of the puck.
Related: Carlo and Moore Are Holding Down the Fort
Heading into Thursday's tilt with the Philadelphia Flyers, the Bruins are dealing with injuries to forward David Backes as well as defenders Charlie McAvoy, Kevan Miller and Urho Vaakanainen. It's less than ideal but it's also a fact of life that teams are forced to deal with. For that reason, the Bruins have opted to give 2015 second-round pick Jeremy Lauzon a look on defense.
A Snapshot of Lauzon's Career
The 21-year-old was selected 52nd overall out of Rouyn-Noranda in the QMJHL where he proved to be an elite two-way defender who has size, speed, vision and the offensive instincts necessary to thrive in an NHL offense. In 200 games in the QMJHL, Lauzon scored 35 goals and 130 points and had an impressive 10 goals and 50 points in 46 games in 2015-16.
Unfortunately, injuries have plagued Lauzon early in his career and he's dealt with injuries in his last season in Rouyn-Noranda as well as his first season in the AHL with the Providence Bruins. Those injuries limited him to only one goal and seven points in his first 52 pro games in 2017-18 and quieted some of the preseason hype that surrounded him last season.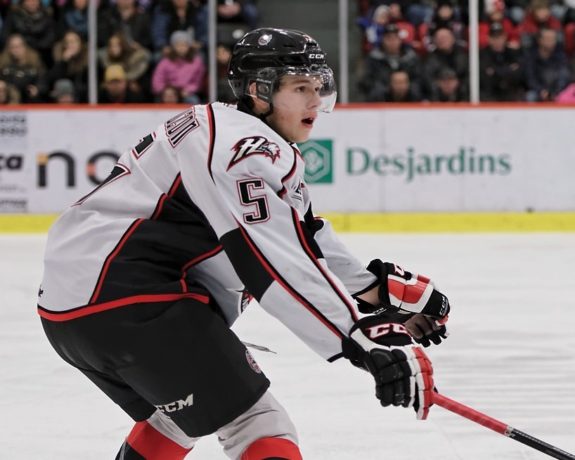 This season, a healthy Lauzon has done everything he's needed to do early on to prove that he's more than just some hype. He's already scored as many goals in six games this season as he did in 52 goals last season (admittedly, it's only one goal) as well as adding three assists in the process. Scoring one goal and four points through six games is as good a start as any for a hockey player, especially a defender.
Related: Bruins 2018-19 Prospect Pyramid
The offensive instincts appear to be improving at the pro-level but that doesn't mean that Lauzon is a shoe-in to dominate at the NHL level despite being one of the team's best prospects. Getting a call-up with the Bruins is a good indication of where the team currently views him on the depth chart, but it doesn't mean he can't move up or slide down with some key performances in the absence of his teammates.
Lauzon Stepping Into Vaakanainen's Role
Fortunately for Lauzon, the expectations aren't that he'll come in and set the world on fire offensively. The expectation is that he can come in, play a solid role on the team's bottom pairing and prove that he can limit opportunities against while creating chances for his team.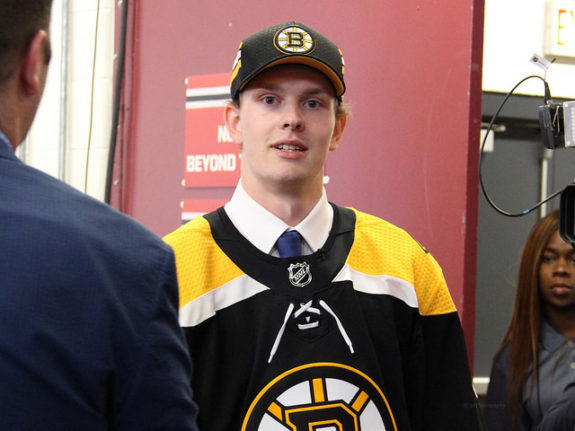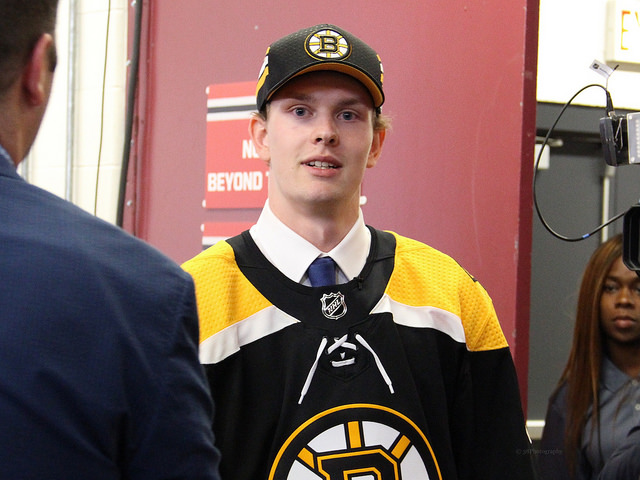 He can expect a similar workload to what Vaakanainen got before he was taken out of action with a concussion courtesy of Senators' defender Mark Borowiecki.
Related: Mark Borowiecki Suspended One Game
While it's hard to evaluate Vaakanainen's second game due to the injury, the 2017 first-round draft picks first game saw him skate for 12:26 of ice time across 17 shifts in an overtime loss to the Vancouver Canucks. If Lauzon can prove that he's reliable enough to play in 10-15 minutes of ice time in his first game with the team, it could go a long way for him in the long-run.
Taking Advantage of this NHL Opportunity
To do this, Lauzon will need to prove that he's capable of limiting turnovers, something that's been a bit of an issue for him at the NHL level in the preseason specifically. He'll also need to show the team that he's aware of his positioning on the ice, keeping his legs moving and his stick active when backchecking and taking space away from the opposition.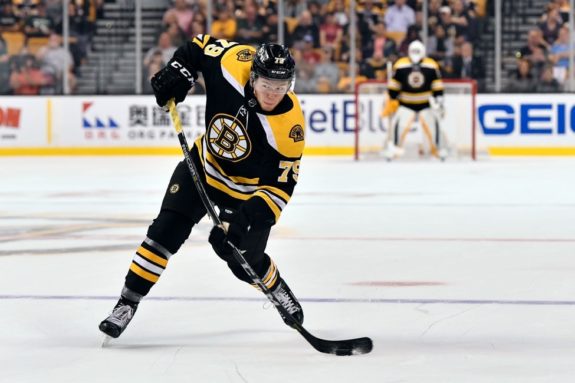 Something that can trip up even the best young defenders in the NHL is the temptation to do too much. If the 6-foot-3, 202-pound blueliner can keep it simple and not over-complicate zone exits and zone entries, he'll find that the rest of his job will become that much easier. Being quick is good; being careless is not.
In that same vein, Lauzon will need to be willing to take calculated risks offensively. He shouldn't pinch or join the rush every single time but if he sees an opportunity that makes sense, he'll need to take it. The same goes for passing; not every lane will be wide open but he'll need to trust his ability and his vision when it makes sense for him to do so.
Lauzon has all the tools to be an effective top-four defender at the NHL level. If he can make the most of this emergency call-up, he'll boost his stock within the organization moving forward.
The Bruins know what they think they have in Lauzon; now it's time for the young rearguard to prove them right.
Brandon Share-Cohen has covered the NHL and various professional sports for seven years. Working with The Hockey Writers, Brandon works extensively on covering the Boston Bruins in addition to his role as the News Team Lead.