It's Mailbag time!
The Boston Bruins are sitting near the top of the NHL's standings and are coming off of a very successful weekend that saw them outscore the Toronto Maple Leafs and Vegas Golden Knights 9-2 in back-to-back games over the weekend.
Despite this success, there are still many question marks surrounding this Bruins team that need to be answered.
Related: BSC's Bruins  Mailbag: DeBrusk, Trades, Prospects & More
With that said, let's get this mailbag underway:
"What's to Become of David Backes After This Season? Would He Continue to Be an Asset or a Cap Disruption?" (BlackAndGold277 via Twitter)
David Backes is such a polarizing figure right now. While he's legitimately one of the best people in the NHL and has contributed in spades to the Boston community, his work off the ice can't outshine his performances on the ice. If it could, players like Matt Beleskey, Shawn Thornton and Andrew Ference would have finished their careers in a Bruins' uniform.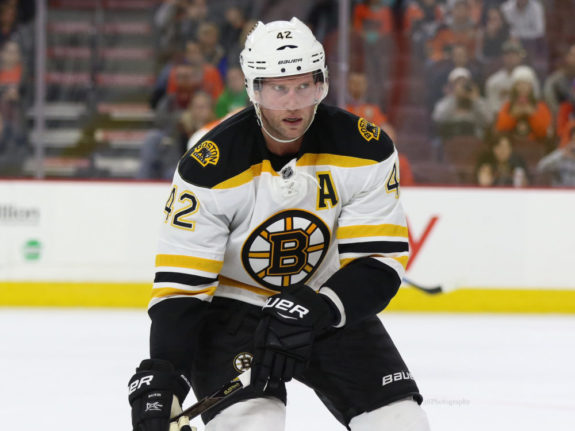 In his defense, he 34 years old and is no longer the 20-30 goal scorer, the 40-60 point producer or the tough defensive forward he once was in St. Louis. Signing Backes to a five-year contract at a $6 million price annual cap hit was a mistake from the second the ink touched the paper. Still, the Bruins have to make do with what they have for now and unfortunately, that includes Backes in their tentative plans each and every game.
To answer the question about being an asset or a cap disruption, the latter seems far more likely as it's already leaning heavily in that direction.
Finding a Way to Move Backes
Prior to the season, there were reports that the Bruins were looking to move on from Backes and that he was even garnering some interest around the league as a trade option. While those reports always seemed far-fetched given his contract, it was still something that peaked the attention of the entire Bruins' fanbase.
While he was never moved in the offseason, his future in Boston is far from a certainty. This is especially true when considering his no-movement clause expires after this season and his modified no-trade clause kicks in for the final two seasons of his deal.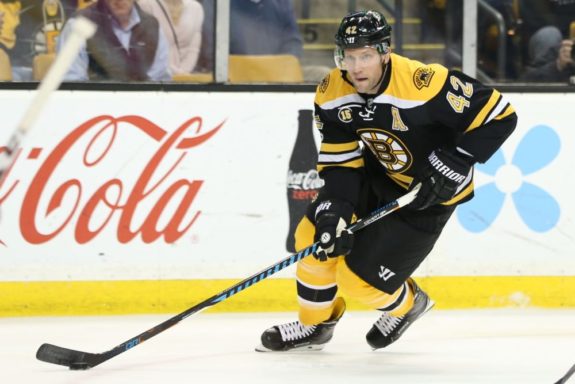 Per CapFriendly, Backes will have an eight-team trade list for the 2019-20 season and a 15-team trade list for the 2020-21 season.
If the Bruins want to move on from Backes and there still happens to be a taker at that point,  his salary will also be more appealing as he's set to receive only $4 million in base salary over the next two seasons (2019-20 & 2020-21) combined. He'll also have $4 million in signing bonuses due over the next two seasons, including $3 million next year. If the Bruins are willing to eat that $3 million signing bonus, there could be a move to be made.
Another option for the team could be exploring a buyout of Backes.
Backes Buyout Cap Hit and Savings
If the Bruins were to buyout Backes at some point in the remainder of his contract, according to CapFriendly the details would look something like this:
2019-20 – Final Cap Hit: $5.66 Million – Savings – $333,333
2020-21 – Final Cap Hit: $3.66 Million – Savings – $2.333,333
2021-22 – Final Cap Hit: $666,667 – Savings – $-666,667
2022-23 – Final Cap Hit: $666,667 – Savings – $-666,667
2020-21 – Final Cap Hit: $4 Million – Savings – $2 Million
2021-22 – Final Cap Hit: $1 Million – Savings – $-1 Million
Naturally, the Bruins would be best suited to find a suitor for Backes who would be willing to take on his contract and cap hit for the remainder of the deal. If that isn't a realistic possibility, retaining half of his salary and adding a prospect to entice a potential suitor is another way they can go.
Related: Backes Trade Worth the Investment
If all else fails, the Bruins would then have to decide if they want some salary cap relief in 2019-20 and 2020-21 while eating essentially a minimum salary in 2021-22 and 2022-23. Beyond that, an extra $1 million cap hit in 2021-22 wouldn't be the worst but it would still mean that the Bruins would have Backes' $6 million on the books for the 2019-20 season.
Another option would be burying Backes' contract in the AHL next season and beyond which would give the team just over $1 million in cap relief each season according to CapFriendly. That doesn't seem like the best option for the team, however, and probably wouldn't make a difference one way or another.
"Why Is JFK Not Getting a Serious Look [Right Now]" (JakeBroer via Twitter)
I would argue that Jakob Forsbacka Karlsson has gotten a pretty serious look over the last two games after starting the season in Providence.
Despite not having the best season yet in the AHL courtesy of inconsistent efforts from game to game, the Bruins opted to recall Forsbacka Karlsson in an attempt to jump-start their dormant third line. While the entire Bruins team got off to a slow start against the Maple Leafs on Saturday, the third line looked decidedly better in the second and third periods of that game than it did at any point in the Bruins previous 15 games.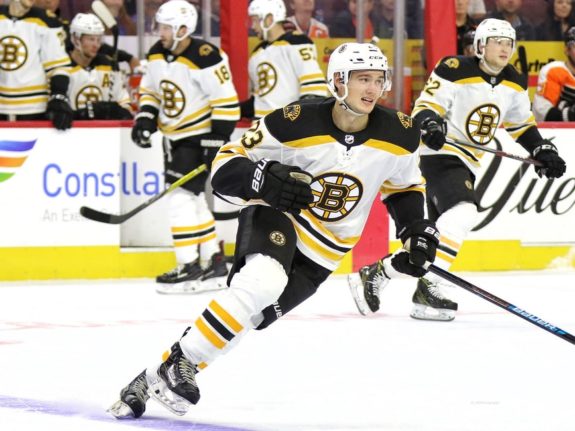 Forsbacka Karlsson may still be chasing his first point and is still yet to record a shot on goal – something he'll need to improve upon, but his effort level has been noticeable in his first two games.
Logging a hair over 11 minutes of ice time in each of his first two contests, Forsbacka Karlsson's line featuring Anders Bjork and Danton Heinen provided some much-needed pressure outside of the Bruins' top line.
In terms of faceoffs, the 22-year-old has taken 16 on the season and has won seven. It's a small sample size but if he would have won one more than he lost, he would be at a solid 50% at the dot. If he can win roughly half of his draws and continue to provide pressure as he's done, the Bruins will be in good shape on their third line. That is, of course, if they haven't already sent him back down to the AHL.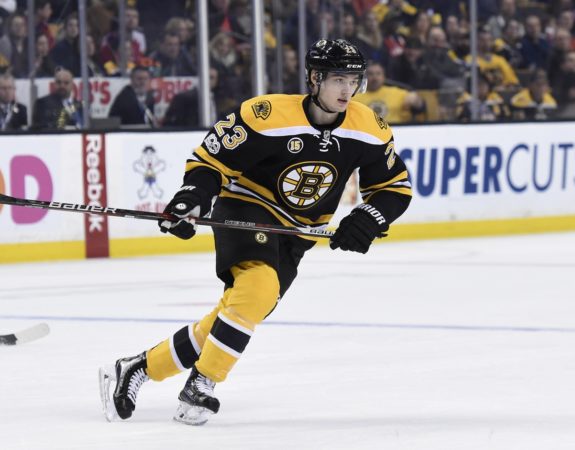 According to the AHL Transactions page, the Bruins have returned Forsbacka Karlsson, Jeremy Lauzon and Dan Vladar to Providence. The Bruins last game came on Sunday, however, and two off days in between before Wednesday's contest could have led to the Bruins assigning Forsbacka Karlsson as a paper transaction for salary cap purposes.
There's no reason why he shouldn't be getting another look Wednesday against the Colorado Avalanche, but time will tell. For the record, he is still practicing with the Bruins main roster.
For now, though, I think it's safe to say that he's gotten a good look and he's made the best of the opportunity so far. The team seems keen on using his line in rapid succession after their first line when building pressure in the offensive zone and as long as the team's youngest line (built of entirely of players with college hockey roots, no less) can continue to succeed, they should continue to get looks.
"Why Hasn't [Anders] Bjork Gotten a Shot at the Top Six Yet?" (CourtLalonde via Twitter)
This question keeps me up at night. Well, that, and my decade-long bout with insomnia.
Bjork has proven to be a tremendous offensive talent who uses his speed and stickwork to create space for himself and those around him. Unfortunately, a lack of talent around him has led to some ineffective contests and a minuscule two points in 13 games prior to the Bruins putting together their current new-look third line.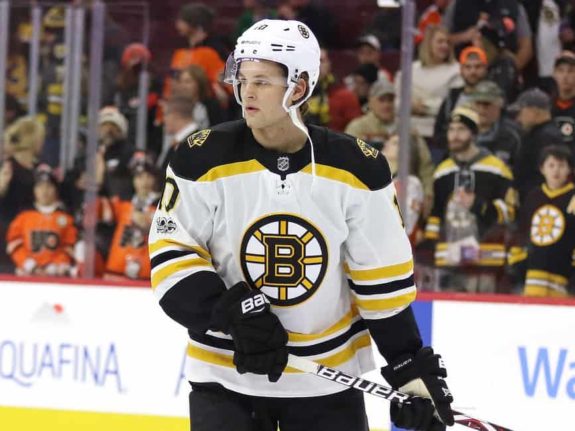 Since giving Bjork better linemates and more room to work with, however, he's had far more opportunities and even tallied his first point in 11 games with an assist against the Golden Knights. For now, the Bruins third line is as good as it's been all season and it would be tough to break up the unit until there's a suitable replacement for the third line.
Ideally, the Bruins will eventually call-up Ryan Donato and use him an opportunity on the third line alongside Heinen and Forsbacka Karlsson. That would give the Bruins a top-nine that looks something like this:
Brad Marchand – Patrice Bergeron – Anders Bjork
Jake DeBrusk – David Krejci – David Pastrnak
Danton Heinen – Jakob Forsbacka Karlsson – Ryan Donato
The wingers on the third line could be swapped and Bjork and Pastrnak could also be swapped if head coach Bruce Cassidy is truly heart-set on keeping the NHL's top line together. Regardless, the Bruins would have a top-nine that could actually strike fear in the opposition if this all comes to fruition. For it to work, however, Forsbacka Karlsson will need to continue to prove he has a heartbeat every single night and Donato will need to prove he's ready for the NHL.
Related: Assigning Donato to AHL is the Right Move
Donato may have already scored three goals and four points in five games but this is still just the start for him. He'll need to work on the weak parts of his game and build confidence before the Bruins elect to recall him. When he's ready, he'll get a look. For now, the Bruins should continue rolling with what they have. If Bjork really does impress to the point where he forces Cassidy's hand and needs a look in the top-six, the Bruins would be better suited to move Nordstrom down a line than re-inserting Backes onto line three.
For the first time this season, the Bruins appear to have some options. That's a good starting point.
Rapid Fire Questions
"When Miller and McAvoy Get Back, Who Besides Kampfer Is a Healthy Scratch?" (JRSTR6 via Twitter)
When the Bruins are fully healthy on the back-end, there are a lot of possibilities for pairings.
The obvious names involved would be Zdeno Chara, Torey Krug, Charlie McAvoy and Brandon Carlo who are all locks to play. Outside of those four, both Matt Grzelcyk and John Moore have played very well and deserve ice time on a regular basis.
That would leave Kevan Miller as the odd-man out which is a rough prospect to consider as he's one of the team's most consistent penalty killers.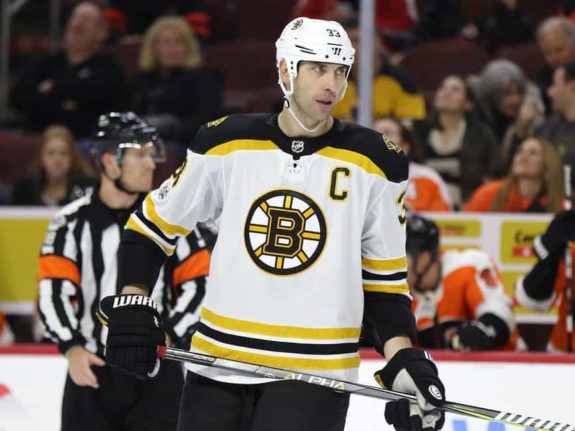 It'll likely come down to performances on a game-by-game basis as well as gameplan specific lineups. My gut reaction is that Miller should sit before Moore or Grzelcyk right now.
"If Patrice Bergeron Has Another Good or Even Decent Week, Is He the Leader in the Hart Trophy Race a Quarter of the Way Through the Season?" (BeerLeagueESQ via Twitter)
He has to be, right?
He's currently second in the NHL in points with nine goals and 25 points in 17 games, only one behind Mikko Rantanen of the Avalanche. He's also taken 401 faceoffs already this season, winning 228 of them already. A 56.9% faceoff percentage and being at the top of the league in points has to make Bergeron the quarter-season favorite.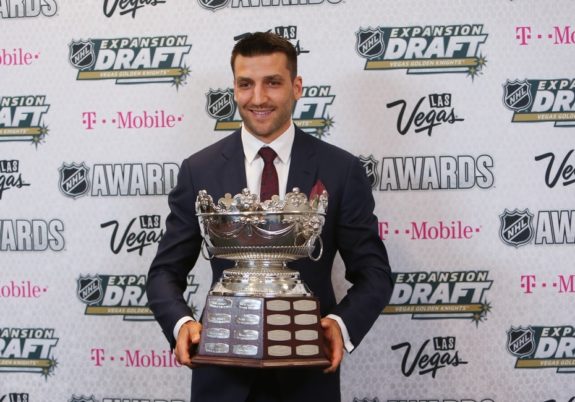 Whether or not that holds up is another story entirely and Bergeron will probably never win the trophy in his career due to the way voters weigh their votes. Still, he's been the most important player on the Bruins roster for the better part of a decade and is the definition of a Hart Trophy winner regardless of the final ballots.
"Will the Bruins Successfully Trade Some of Their Prospects to Improve the Team This Season?" (Sun2Skis via Twitter)
My gut feeling on this question is that the Bruins will make a trade or two this season. They were in on both John Tavares and Ilya Kovalchuk during the offseason and could have just as easily been in on Jeff Skinner too.
The team wants to upgrade their top-six with a proven commodity and they don't seem ready to use Bjork in that situation for one reason or another. If they ultimately decide to make a trade, they have to weigh the options of what they'd like to pay.
Related: Bruins Round Table: Potential Panarin Trade
For a star, say Artemi Panarin, the cost could be astronomical. Still, they'd be getting one of the best wingers in the league to play behind both Brad Marchand and David Pastrnak. For a player who isn't quite as good as Panarin but who could still help the top-six, the cost would be less but the dividends would also potentially be less.
It's a tough call but I'd say the Bruins will explore a variety of options this season and decide whether or not it's worth it for them in the long-run.