If anyone was worried about how the Boston Bruins would fare in the season opener without Patrice Bergeron, Adam McQuaid and Kevan Miller, they don't feel so glum about it anymore.
The Bruins were dominant in last night's 6-3 victory over the Columbus Blue Jackets. The top line sizzled with a 12-point performance as Brad Marchand, David Backes and David Pastrnak supplied all six goals for the Bruins offense. They combined for 18 shots on goal and a plus-16 rating. Marchand tied a personal best for points in a game, with five, while Pastrnak broke his record with a four-point performance. "Pasta" led the team with an impressive plus-six rating.
Related – Bruins Need Good Season Start
Tuukka Rask made 28 saves on 31 shots to give Boston a victorious debut to the 2016-17 season. He had to make some tough saves later on in the game as the pressure mounted. Forwards David Krejci, Ryan Spooner as well as defensemen Zdeno Chara and rookie Brandon Carlo got on the scoresheet with an assist each. Defenseman John-Michael Liles led the team in blocked shots with six, while Marchand fired the most shots on goal with seven.
The Bruins started four rookies last night, with Brandon Carlo paired up on defense with Zdeno Chara while Rob O'Gara skated with Torey Krug. Forward Danton Heinen played on the wing with David Krejci and Ryan Spooner while Austin Czarnik centered the third line with Matt Beleskey and Jimmy Hayes. Carlo finished the night with an assist and a plus-5 rating.
Early Struggles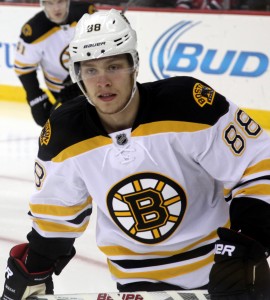 As lopsided as the score might seem, the Blue Jackets actually outplayed Boston in the early going, jumping ahead 3-1 halfway through the second period. An early goal by Alexander Wennberg got things started almost three minutes into the game. His shot came from a far distance and surprisingly handcuffed goaltender Tuukka Rask. A power-play goal by Cam Atkinson off a tic-tac-toe play gave Columbus the early 2-0 lead after the first period. The Blue Jackets broke down the B's penalty killing unit, allowing Atkinson to be wide open on the back door for his first of the season.
Hard work in the first three minutes of the second period gave Boston a one-goal deficit as Pastrnak slid a shot under the left pad of goaltender Sergei Bobrovsky. Marchand's strong forecheck and pass set up the first goal of the year for the Bruins. But that boost was short lived as Seth Jones sneaked a shot from the point past Rask, who was screened in front. The Bruins seemed to be making the same kind of mistakes they made numerous times last season.
Total Domination
All of a sudden, Brad Marchand became the go-to guy as he created chances from just about everywhere. His contribution to Backes' first goal as a Bruin at 13:36 of the second period got the team out of a slump. The diminutive forward continued his strong play with a pass to Pastrnak whose shot was deflected out in front by Backes, putting Boston and Columbus tied at two after forty minutes of play.
Beantown's dominance continued in the third period as Brad Marchand would pick up two goals of his own and David Pastrnak clinched the victory with an empty-netter. Backes' pass to Pastrnak helped create a scoring opportunity before Marchand picked up the rebound and gave Boston their first lead of the night. The highlight of the game had to be Marchand's second goal with less than five minutes left. He dangled rookie defenseman Markus Nutivaara and got Bobrovsky leaning as he shot the puck across the grain for the two-goal advantage.
CSN New England's Joe Haggerty summed it up in a humorous, but truthful comment directly after Marchand's second goal.
Brad Marchand just took away Markus Nutivaara's lunch money on that one. Just a totally dominant 40 minutes of elite hockey from No. 63

— Joe Haggerty (@HackswithHaggs) October 14, 2016
Positive Outlook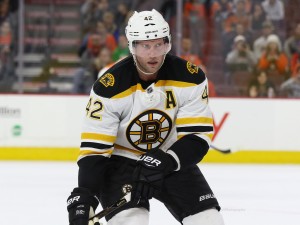 Chemistry doesn't always happen when you combine the best elements of your team together on one line. But with the absence of Bergeron, off-season acquisition Backes managed to slide into his place and provided the Bruins with a strong performance. He stuck to his guns, playing a tough, rugged style and earned his keep in front of the net. In doing so, he was rewarded with two goals in his favorite spot. He wasn't afraid to mix it up early on in the game, getting into it with Blue Jackets right wing Josh Anderson and earning a roughing call.
Pastrnak showed critics what he is capable of doing when given the opportunity to shine. Pastrnak's creativity allowed the Bruins to score four goals, including two from the "Pasta Man" himself. The more impressive thing had to be his willingness to go to the dirty areas and grind it out along the boards, something Pastrnak struggled with during his first two seasons in the NHL.
Marchand continued his dominance from the World Cup of Hockey, sparking the Bruins when they absolutely needed it the most. His five-point showing comes after an offseason where he won gold at the World Championships, led Team Canada to the World Cup title and earned an eight-year, $49 million contract extension. His determination, speed and quick hands have been key factors to his success and maturing process. His post-game comments reflect his change in attitude and role.
Brad Marchand = all business. pic.twitter.com/5mkTHwMnjR

— Boston Bruins (@NHLBruins) October 14, 2016
The Bruins can be thrilled about starting off on the right foot especially after the turmoil they've suffered through the last two seasons. Bruins fans have a lot to look forward to this year if the team can stay consistent enough and put together efforts like this on a regular basis.