It's fair to say that when the Toronto Maple Leafs were awarded the first overall pick in the NHL's most recent draft, that they knew they were getting a good player in Auston Matthews. But nobody could've predicted what the young American would do in his NHL debut.
After playing with the men in Zurich, some believed Matthews had an upper hand coming into the NHL. And while it won't be like this every night for the newest Maple Leaf, he certainly made it look easy in his first career game in blue and white.
While the Leafs weren't able to pull off the win – losing 5-4 in overtime to their rival Ottawa Senators – Matthews dazzled scoring all four of Toronto's goals in what was a historic night for the young man. That being said, here are five takeaways from Matthews' NHL debut.
Making History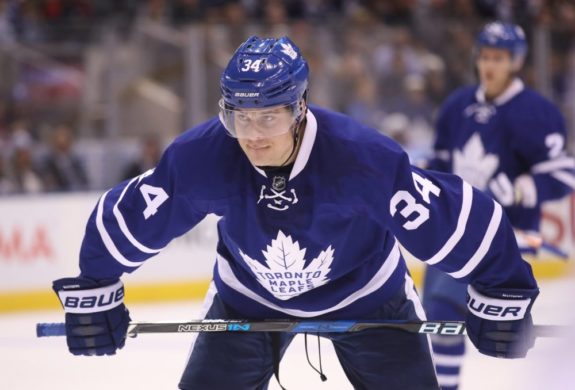 You've probably heard it a number of times already, but Matthews made history with his four-goal performance on Wednesday. In fact, the Leafs' forward became the first player in NHL history to score four goals in his debut.
While the Leafs and their fans certainly don't expect that kind of performance on a nightly basis, that's not a bad way to start your career in Toronto.
Hats Were Flying
On top of making history with his four goals, Matthews' third goal put him among select company. Scoring a hat trick in his first NHL game, he became the fifth player in NHL history to score a hat trick in their debut.
The others who were able to pot three goals in their debuts include Real Cloutier, Fabian Brunnstrom, Derek Stepan and Alex Smart. While he was the fifth in the NHL to reach the feat, he's the first in Leafs' franchise history.
Already a Leaf Legend?
With the Leafs unveiling three more statues on Legends Row, is it too early to pre-plan a day to honour Matthews? Likely. But he's well on his way to grabbing the hearts of Leafs Nation. Not only did his hat trick in his first game make him one of five players in NHL history to open their career with three goals, but he's the fifth Leaf to score a hat trick in the team's season opener.
Auston Matthews is 5th player in #Leafs franchise history with a Hat Trick in the team's season opener. (1st since Tom Fergus: Oct 9, 1986)

— Sportsnet Stats (@SNstats) October 13, 2016
1st Overall, 1st Game, 1st Goal
While first overall picks are so important to teams – for the most part – they don't always find success right off the bat. By scoring his first career goal in his first career game, however, Matthews set another mark.
He became just the 12th player in NHL history to be a first overall pick and score his first career goal in his first NHL game. Surprising, isn't it?
Don't Get Carried Away
Finally, while people are already tweeting about Wayne Gretzky's goal record, let's get a little less carried away (while still having fun with this situation). Recently listed in the top 10 all-time Leafs, Mats Sundin has the most goals in franchise history with 420. Current Leaf forward Tyler Bozak is the active franchise leader in goals with 104.
That means with his four goals in his first game, Matthews sits just 416 goals behind Sundin for the franchise record and only 100 back of current teammate, Bozak, for the active lead. Boy, it's fun to imagine.
While these are some incredible marks for the Leafs' rookie, he took full responsibility for the team's overtime loss in his debut and expressed how scoring four goals was great, but that he'd prefer to get the win. That's not bad for a 19-year-old.