Should the Tampa Bay Lightning start Ben Bishop or Andrei Vasilevskiy? It's a good problem to have.
There is no doubt Bishop is the starter, but as he enters the final year of his contract and with an eye toward the future, having both goaltenders stands to benefit the Lightning more now than it has in the past.
Vasilevskiy will get at least one start during the remaining three games of a four-game homestand, according to head coach Jon Cooper on Friday. Ensuring Vasilevskiy has at least one start during the homestand provides some insight into how these goaltenders will be used by the club, at least to start 2016-17.
Cooper said Vasilevskiy will get one start on this home stand, maybe two depending on how things go #TBLightning

— Lightning Insider (@Erik_Erlendsson) October 14, 2016
After a summer of uncertainty about Bishop, both goalies remain, but how might they be used and how does this stand to benefit the Lightning more than in their past two seasons together?
Uncertainty About Bishop's Future
The uncertainty of Bishop's future with the Lightning was directly related to the uncertainty surrounding the team's restricted free agents to open the summer.
Bishop was rumored as a potential trade candidate to the Calgary Flames at the NHL Entry Draft in June, but a deal never came together.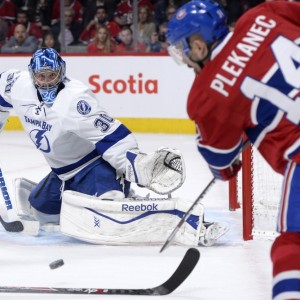 At the time, Yzerman's list of free agents to be included players like Steven Stamkos, Alex Killorn and Nikita Kucherov — three contracts which, depending on their costs, could have kept the Lightning from holding onto Bishop because of salary cap constraints.
Bishop was entering the last year of a deal carrying a $5.95 million cap hit — far more than the $925,000 Vasileskiy would make in 2016-17.
At the same time, if there was a way for Yzerman to keep both goaltenders to start the season, he almost certainly would.
In September, Bishop acknowledged that he thought a trade to the Flames was close at the draft.
"It looked like for a little bit it was going to happen," Bishop told the Tampa Bay Times' Joe Smith. "At kind of the last minute (the Flames) went out and got Elliott. It was close, but there was never… It wasn't that close, obviously."
Keeping Bishop and Vasilevskiy in Tampa Bay
When the Lightning signed Vaslevskiy to a three-year contract extension on July 1, rumors about Bishop's future with the club began to circulate again.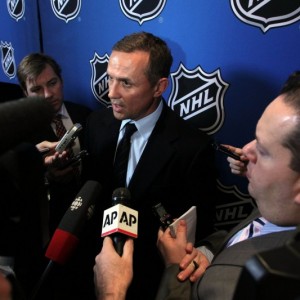 Trade talks often begin because of poor performance by a player or a club's decision to change direction, but Bishop became the subject of rumors because of timing and economics. Stamkos and Victor Hedman were signed to team-friendly deals after the draft, but with Killorn and Kucherov still pending, Yzerman may have faced having to trade Bishop or another piece in order to re-sign those other players.
It was this uncertainty that kept Bishop in trade discussions this summer.
Killorn re-signed with the Lightning on July 17, and with less than three months to go before the open of the regular season, Kucherov was the biggest contract left.
When more time passed and trade talks continued about Bishop and other players, it didn't mean Yzerman wanted to make a deal.
In September, Cooper talked about the importance of holding onto both goaltenders.
"The best case scenario for us is Ben Bishop and Andrei Vasilevskiy are our goaltenders going into this season," said Cooper, according to Smith. "They're both big parts of our team. You need two goalies to win and we think we got two gems. I know everybody on our team and management and ownership all the way down want these two to be our goalies."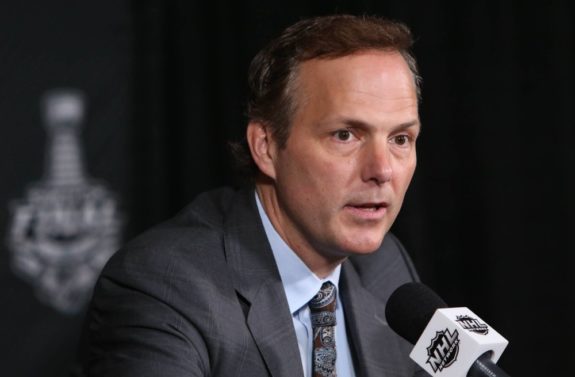 There were other Lightning players mentioned as trade candidates over the next four-to-six weeks as the thought of re-signing Kucherov seemed unlikely without one given the team's estimated $5.5 million in cap space.
However, Yzerman didn't make a move.
When Kucherov agreed to a three-year bridge deal that pays him an average of $4.766 million per year on Tuesday, it meant the Lightning roster remained substantially the same entering 2016-17, including both Bishop and Vasilevskiy.
It was what Yzerman wanted all along.
The Plan Moving Forward
When Vasilevskiy signed a contract extension before he reached restricted free agency next July, it was viewed as a sign the Russian netminder was set to take over the starting role in the future. While the perception is probably right, it's not right now.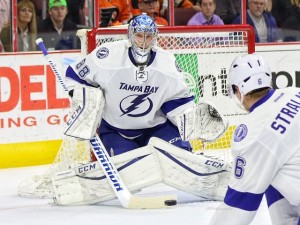 Yzerman knew that despite Vasilevskiy's performance in the 2016 Eastern Conference Final, he would enter 2016-17 with just 40 regular season games and only 34 starts in his NHL career. While the 22-year-old is a talented netminder, an NHL GM would have a hard time trading away a goalie that helped the team to the 2015 Stanley Cup Final and 2016 Eastern Conference Final unless he absolutely had to do it.
Having both goaltenders and with what lies ahead — NHL expansion in 2017-18 and the inability to protect both Bishop and Vasilevskiy — the Lightning will seemingly use both players to the team's advantage in 2016-17.
Bishop has seen action in an average of 62 games per season in each of the past three campaigns, while also backstopping the Lightning to deep playoffs runs the last two. The heavy workload has worn on Bishop as he has been injured in both playoff runs and kept the Lightning from firing on all cylinders when it counted most. It's not a knock on Bishop, but rather, evidence that the fatigue of being overworked has an effect on a player.
If Vasilevskiy can see action in at least 30 games during the regular season, it gives Bishop the chance to be fresh while also giving Vasilevskiy some experience he can use in a starting role later. Vasilevskiy will also continue to learn from one of the game's best all-around goaltenders in Bishop. It can make a world of difference for the Lightning in another potential deep playoff run and into the future.
With NHL expansion around the corner and another handful of important Lightning players set to hit free agency this offseason, Yzerman knows this is probably the last season to keep virtually the same roster together for the third straight year.
While Bishop and Vasilevskiy have been on this roster together each of those years, the way the goaltending combination is used this season may ultimately make the biggest difference of all for the Lightning.