When the Boston Bruins took on the Nashville Predators in their season opener, there was a noticeable difference in the way they performed compared to their play a season ago. The high-pace, up-tempo game was exciting to watch and was a result of Bruce Cassidy getting to implement his strategy from day one. Despite missing Patrice Bergeron, David Backes and Torey Krug due to injuries, it was clear that the team wasn't going to let up at any point in the game, thanks in large part to the trio of rookies in the Bruins' lineup in Charlie McAvoy, Anders Bjork and Jake DeBrusk who all made their NHL debuts Thursday.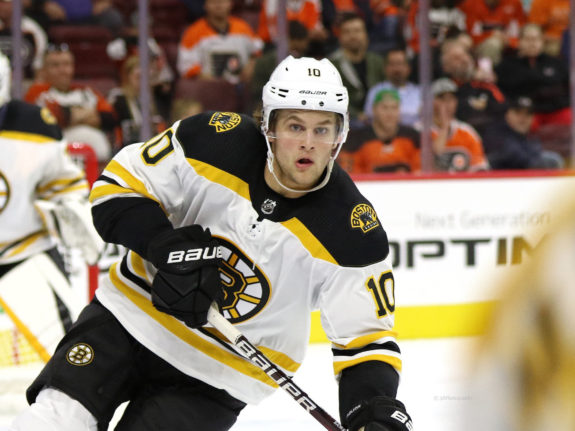 It isn't uncommon for NHL teams to start a few rookies in their lineup on opening day. Teams like to give training camp and preseason standouts their opportunity to compete and get their feet wet in the league. For the 2017-18 Bruins, however, that's far from the situation that the team is dealing with. Instead, the Bruins have a plethora of young talent that are ready to step into the lineup. Rather than just filling a hole on the roster, the Bruins want their rookies to make an impact. This is evidenced by the fact that Bjork is starting on the team's top line, DeBrusk on the team's second line and McAvoy on the Bruins' second pairing. While the expectations are high for all three rookies, it would be hard to predict that all three would have had such a huge impact just one game into their careers.
Rather than just filling a hole on the roster, the Bruins want their rookies to make an impact. This is evidenced by the fact that Bjork is starting on the team's top line, DeBrusk on the team's second line and McAvoy on the Bruins' second pairing. While the expectations are high for all three rookies, it would be hard to predict that all three would have had such a huge impact just one game into their careers.
In what has now become a tradition here on The Hockey Writers, a group of Bruins' writers got together to discuss the rookies and even look at picking out which one had the best debut of the three. Joining in the discussion was Drew Johnson, Joe Ochs, Chris Gere and Brandon Share-Cohen.
Drew Johnson:
The Boston Bruins kicked off the season on Thursday by kicking down the doors of the 2017 Campbell Bowl-winning Nashville Predators. Making their NHL regular season debuts were Notre Dame alumn Bjork, Boston University alumn McAvoy, and DeBrusk who tallied 49 points in 74 games with the Providence Bruins last season.
Taking a Closer Look at the Trio
McAvoy had the most impressive debut out of the three rookies, scoring the first goal of his NHL career as well as assisting David Pastrnak's power-play goal. In a 4-3 win, McAvoy made a direct contribution to 50% of Boston's goals against Nashville. Beyond that, McAvoy showed that he is capable of filling Krug's skates while he is injured with a fractured jaw. He captained the Bruins' power play and showed the tenacity of a top-two defenseman.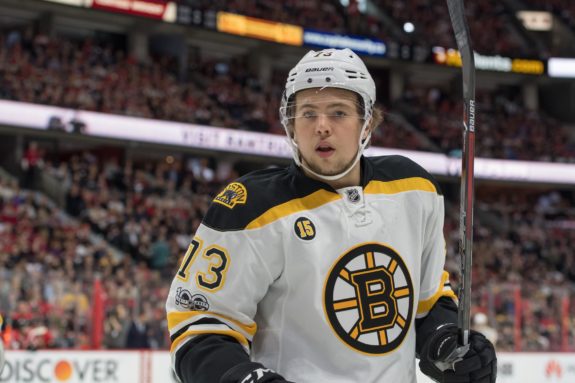 DeBrusk had the most gut-wrenching performance of the night. He also contributed to 50% of Boston's production, notching a goal and an assist in front of his family who were in attendance. His father, Louie DeBrusk, who accumulated 1,161 penalty minutes through 401 NHL games, was seen shedding tears of joy after Jake's first NHL goal.
Bjork assisted DeBrusk's goal en route to a plus-two rating in his first NHL game. It wasn't a bad night for the rookie seeing as though his designated center throughout the preseason, Bergeron, was out with an injury. He took the spotlight and displayed his speed and agility, making swift cuts. Though he didn't score his first NHL goal like the two above, Bjork did a nice job making opposing defensemen look like pylons, and that isn't a bad first step.
In the end, McAvoy impressed me the most, simply because the expectations have been so high all offseason and for him to deliver on night one is fantastic. In all three zones, McAvoy seemed almost a step ahead on every shift, especially when he hammered home David Krejci's pass to the high slot. You might as well call the Power play his bread and butter as he excelled there as well.
Joe Ochs:
In a night full of great debuts from Boston's young guns, DeBrusk's, in particular, stood out to me the most. In 14 minutes of ice time, he played precisely the kind of simple, mistake-free hockey the Bruins envisioned when penciling him into the top-six.
His first NHL goal was the culmination of exemplary hustle to beat a backchecking Kevin Fiala to the net prior to a deft and nifty finish. In picking up the secondary assist on McAvoy's first career goal it was his net drive (get used to that) which pulled both Roman Josi and Matt Irwin to the net with him, leaving both McAvoy and Bjork wide open at the top of the slot. Moreover, following two goaltender interference penalties in the preseason, DeBrusk had the presence of mind to stop just outside the blue point, showcasing his awareness and coachability.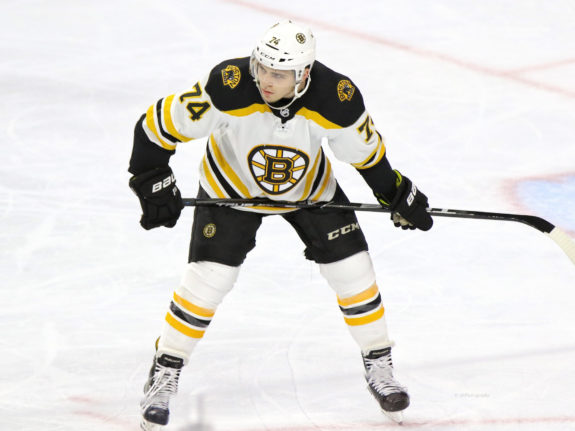 This kid's compete level is through the roof.
McAvoy looked dynamic with the puck and scored the first two regular-season points of his career. But he had a somewhat uneven contest, which is probably going to get lost in the shuffle of his box score. He was caught flat-footed on several occasions, taking three separate minor penalties on the evening. Mistakes like these are to be expected, and by no means would I suggest this somehow negates the "good" from his game. But considering the expectations heaped on him, the glimpses into his game during last season's playoffs and the flawless performance from DeBrusk I would have to say that it was DeBrusk, not McAvoy who had the most impressive debut.
Chris Gere:
While Bjork really stood out in the preseason, DeBrusk was the one who stood out to me in his debut. He showed his ability to use his speed and strength to gain position on multiple occasions. He wasn't afraid to go to the front of the net, and it paid off in the form of a highlight-worthy goal.
At the risk of judging on a minuscule sample size, DeBrusk looks to be everything the Bruins could have hoped for in a rookie on the second-line. I'm sure he'll have his fair share of struggles (almost all rookies do), but he looked right at home flanking Krejci.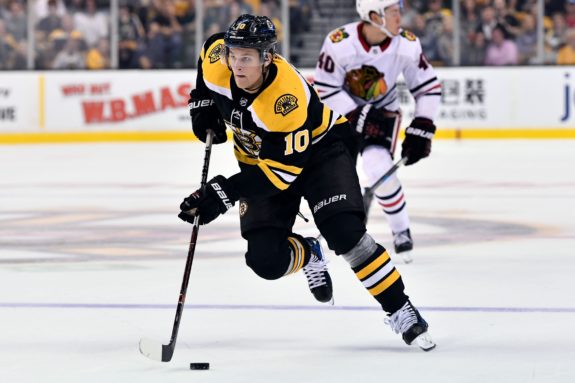 As for Bjork, his night was fairly quiet. Nothing particular about his debut stood out, but that's okay. He looked solid and limited his mistakes, which is all you can really ask for from an inexperienced player. Expect his productivity to increase drastically upon Bergeron's return.
McAvoy Proving He'll Be a Star
McAvoy's NHL regular season debut was somewhat rocky. Just looking at the stat sheet might have you believe that he played a great game. It was great on the offensive end, but as a defenseman, that's not the entirety of his job description. He looked bad at times in his own zone. Nashville forwards exploited him with regularity, blowing past him and drawing penalties. It's a part of his game that he'll really need to iron out if he wants to develop into a number one blue-liner.
That said, McAvoy looked electric in the offensive zone and on the power play. His goal showed uncommon offensive skill for a defenseman. His assist showed creativity and improvisation on a broken cycle with Pastrnak at the top of the zone. He's every bit the exciting player we've been expecting, just with a couple errors, he'll look to correct.
Brandon Share-Cohen
As Joe Mentioned, McAvoy looked really good throughout most of his 22 minutes of ice time. Still, he made a few mistakes and when trying to make up for them, took a few minor penalties that put his team in a tough position. It's going to happen to the best players on every team throughout the year and it's to be expected from rookies, so it's safe to say McAvoy's potential to win the Calder Trophy this season wasn't hurt by his debut game. Scoring his first goal and recording his first multi-point game in his NHL regular season debut help in that regard as well. Still, McAvoy didn't have the best debut of the three.
Out of the two rookie forwards on the team, Bjork and DeBrusk both did a lot of good in their debuts. Bjork showed the strong vision, smooth skating and nifty stickwork that made him such a force at Notre Dame while recording his first career point and coming close to his first career goal – a one-timer that was stolen by McAvoy, which led to the blueliners first career goal. If those two are going to compete and both be in position to score goals throughout their careers, they'll both be more than okay.
DeBrusk Making His Mark
As for DeBrusk, however, his game translated exceptionally well in his first game. A combination of his strong work on the puck and ability to get to the net as well as a rejuvenated Krejci with a newly-signed Pastrnak on his line, DeBrusk looked like a legitimate NHL player throughout the entire game. The result? A beautiful goal and an assist for his first multi-point game coming in his debut as well.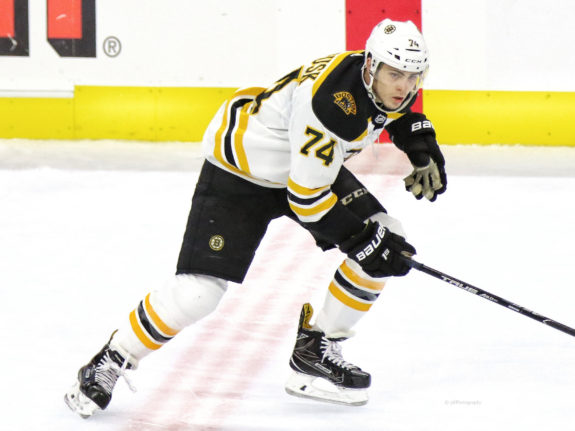 DeBrusk was probably the best of the three Bruins' rookies in their debut, but the fact that they all played so well is reason enough to be happy regardless of who's game was better. It won't always be this pretty, and the three will likely struggle at various points throughout the season, but as long as Cassidy gives them the chance to recover and redeem themselves, things will undoubtedly sort themselves out.
After the discussion, the two biggest standouts on the night of the three players were DeBrusk and McAvoy with two writers siding with the forward and two with the blueliner. It's a good debate from the Bruins' perspective as it means both players left a lasting impact (as did Bjork). All three will get a chance to impress in the Bruins' second game of the season and their home opener against the Colorado Avalanche,
Brandon Share-Cohen has covered the NHL and various professional sports for seven years. Working with The Hockey Writers, Brandon works extensively on covering the Boston Bruins in addition to his role as the News Team Lead.