Caught up in the first quarter of a Buffalo Sabres season that is headlined by the new faces; Josh Gorges is having a quiet bounce back season.  Gorges struggled in his first season with Buffalo, but so far this year he's showing the type of player he can be.  The veteran is back to playing big minutes effectively and is continuing to be an important leader for a young team.
Disappointing Debut Season
The Sabres acquired Gorges on July 1st, 2014 from Montreal for a 2nd round pick in the 2016 draft.  The blue liner came to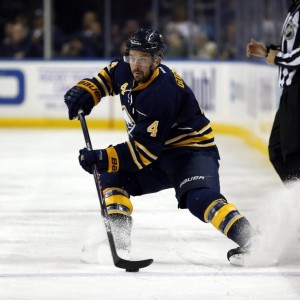 Buffalo after some trade drama, as Gorges refused a trade to Toronto before accepting the trade to the Sabres.  General Manager Tim Murray thought he was acquiring a solid stay at home defender who would bring leadership to his locker room.  However, the first season in blue and gold was tough for the 12-year-veteran.  Coming from one of the best teams in the league to the worst was a difficult transition.  To go along with that, Gorges suffered from a lower body injury for most of the season that eventually ended up costing him to miss the final 36 games of the season.  He was never fully healthy last season and it showed on the ice.  Gorges was a career low -28 in just 46 games when his previous career low was a -3.
Bouncing Back
Now that Gorges is healthy, it seems right to chalk most of last seasons woes up to the injury.  It also didn't help that the Sabres defense was very unorganized last season under the guidance of Ted Noaln.  Combine the lack of a structured defensive zone system with the poor talent around Gorges; it's easy to see why he struggled.
Through 23 games this season Gorges has shown that last season was not an accurate display of his play.  The 31-year-old has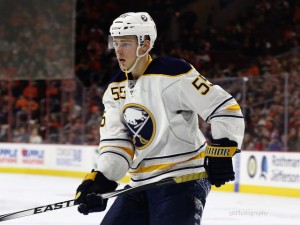 returned to being the type of player the Sabres expected when they acquired him.  Gorges is no longer being counted on to play the bulk of the minutes and has found a great chemistry with fellow defenseman Rasmus Ristolainen.  Gorges is making better and quicker decisions with the puck this season.  He looks like a great fit in new coach Dan Bylsma's system and it shows in his statistics.  Last season Gorges had a 34.09 corsi and this season he's improved to a 46.80 at even strength.  The biggest indication of improvement is in differential in the plus-minus.  So far he has an even plus-minus, which is a big improvement over the previously mentioned -28 of last season.
Gorges continues to provider leadership to his young defense group and is not only leading by example in the locker room, but now on the ice as well.  His experience will help guide young players like Ristolainen, Jake McCabe and Mark Pysyk through the ups and downs of the season.  Bylsma now has the luxury to go the experienced defender, Gorges, in difficult situations and allows him to use his younger players in areas that will allow them to succeed.  Gorges is a very important part of the Sabres blue line being successful as the season continues to unfold.