Coming off another successful season and an interesting offseason, the Chicago Blackhawks appear set for another deep playoff run. Here are the top five Blackhawks under pressure coming into this season:
5. Ben Smith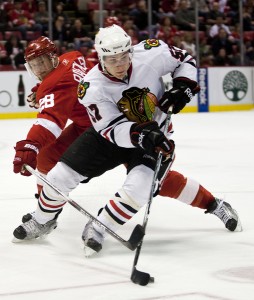 Smith finally had the chance to enjoy his first full season with the 'Hawks last year and pretty much stayed right in line with what the 'Hawks expected of him as a bottom six forward. He posted 14 goals and 26 points in what I considered a fairly successful season. The guy seems to bring success everywhere he goes (x2 NCAA champion, Stanley Cup champion). I see Smith taking another step up this year in a more elevated offensive role and should reach 20 goals and 35 points. Smith must also continue to be selective with his shots, one of his best qualities. He led the team among players that played at least 40 games last season with a shot percentage of 15.6 percent.
4. Bryan Bickell
In one of my more recent articles (https://thehockeywriters.com/bryan-bickell-unnecessary-hero/), I was chastised for saying the 'Hawks needed to get rid of "dead weight" in Bickell amidst all the cap trouble. I'm still standing by my opinion. Coming off his big-time payday last offseason, Bickell absolutely floundered last season. Just 11 goals and 15 points over an injury-plagued 59-game season. Then, Bickell did his usual thing, flipping a switch in the playoffs and netting seven goals and 10 points. Personally, I can't advocate for paying a guy $4 million per season to perform in the playoffs. If Bickell continues his regular season mediocrity, he needs to go. Hopefully, he proves me wrong.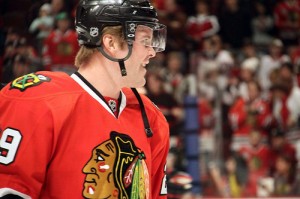 3. Brandon Saad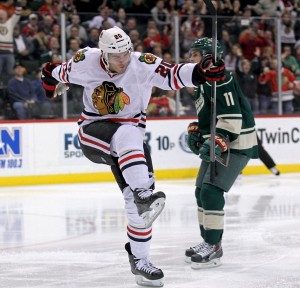 Saad is due for a big payday, and will likely earn it too. In his first full season with the 'Hawks last season, he put up impressive numbers with 19 goals and 47 points. My guess is that he improves further on those numbers this season and should reach 25 goals and 60 points. He should have no problem doing so on a line with Toews and Hossa. In a contract year, Saad is going to need to reach these totals to earn a $3-4 million paycheck. Currently, Saad comes with a miniscule cap hit of $764,167
2. Nick Leddy
Right now, Leddy isn't on the best terms with 'Hawks fans after he redirected Alec Martinez's game-winning goal in game seven of the Western Conference Finals. Ignoring that, though, Leddy has been pretty impressive since coming over in a trade with Minnesota in 2010. He posted seven goals and 31 points last season, good for third most among Blackhawks defensemen. Personally, I like Leddy, a lot. He's a great offensive-minded defenseman and an underrated player. However, if he isn't on pace for 35+ points by the trade deadline and the 'Hawks find the right trade partner, getting rid of Leddy and his $2.7 million cap hit might be the best move while he still has some significant value.
1. Brad Richards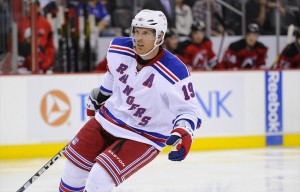 With fans clamoring for Teuvo Teravainen to make the jump to the NHL, the 'Hawks made the right move in signing veteran Brad Richards to a cheap one-year deal. This will allow Teravainen to develop for a full year down in Rockford before coming to Chicago. The 19-year-old played just five games for the IceHogs and three games for the Blackhawks when he came over from Finland last year. General manager Stan Bowman has already explained that Teravainen is a major part of their future plans, not necessarily this year. Based on his superb skill and playmaking alone, the Blackhawks can't be tricked into thinking that he is NHL-ready right now. Even in the short time we saw him last season, there were definitely some flaws in his game, mostly physically. Not only that, but Teravainen is also not all too familiar with the North American game having spent just those eight games between Rockford and Chicago. However, if Richards falls flat and just isn't performing the way the 'Hawks so badly need a second-line center to perform, you can bet that there's going to be discussion about Teravainen coming up.
Blackhawks writer for THW | Intern with Chicago Steel (USHL) | Intern with Mizzou hockey | Covered Chicago Wolves (AHL) and 2014 Coors Light Stadium Series game between Blackhawks and Penguins for Inside Hockey Magazine | Cover Mizzou football for The Maneater | 2013 graduate of Medill-Northwestern Journalism Institute