From 2010 through 2013, Brad Thiessen was a mainstay in the Wilkes-Barre/Scranton Penguins' goal. He came up from the Wheeling Nailers as a rookie in the 2009-10 season and showed he was capable of making clutch saves and guiding the Penguins to big wins. His work paid off in 2011 when he won the AHL's Baz Bastien Award given to the league's most outstanding goalie, and to boot, he helped lead the Penguins to the AHL's best record that year.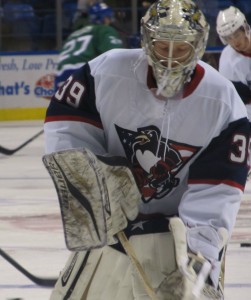 But at the end of the 2012-13 season, Thiessen decided to seek a new adventure and headed to Finland to play for HIFK Helsinki. When that wasn't working out due to limited playing time, he decided to return to North America, where he signed with the Norfolk Admirals, one of the Pens' East Division rivals.
On Thursday, the 27-year-old goalie agreed to an interview with The Hockey Writers to discuss his time in Europe and his desire to get a fresh start with another American Hockey League team.
Thiesen was presented with the opportunity to sign in Finland in the first few days of free agency in July. "I decided to jump on it and take a chance on going over to Europe for the first time."
One of the differences between North American and European hockey culture was apparent immediately, as Thiessen said, "They definitely start things a lot earlier there." He remembered how he flew over around July 29, and within a week, he was in training camp with two-a-day practices. This is an obvious change from the AHL and NHL training camps that start in September.
Besides adjusting to the European style of play, which involves more controlled hockey on a larger ice surface, there were some obstacles in training camp. His coach didn't speak English, so he said it was a little harder to understand what was going on when orders were being shouted in another language.
HIFK drew roughly 6,000-7,000 fans per game. Although the crowds were quieter during game play, Thiessen praised their dedication, especially pointing out that "when we'd score, it would get pretty loud."
"The team has a lot of history there," he said. "When we were on the road, there were always big crowds watching us."
Away from the ice, Thiessen and his wife Ashlee lived about five to 10 minutes by bus from the Helsinki city center. It was a walkable area with access to the bus and train system.
He said one of the biggest adjustments came in grocery shopping, where he had to understand what everything meant, and getting around the city was also something new. However, he added, "Most of the people there speak pretty good English. They realize you have no clue what's going on, so that definitely made things easier when you're trying to get around and get things done."
Thiessen said that Ashlee also was able to feel comfortable in Finland, as she picked up a job babysitting for a Finnish child and teaching him English.
He asked to be released when his playing time was limited due to competition between two other goalies. HIFK was gracious enough to let him move on, and he said he came back to North America "without anything set in stone." A few days after his return, the Admirals called and offered him a contract.
"It's a city we've always going to on the road when we're playing in Wilkes-Barre," he said. "I was excited to get a call from them."
http://www.youtube.com/watch?v=kyMbI5v-tIs
One of the things Thiessen is most excited about is working with first-year goalie John Gibson, one of the Anaheim Ducks' most highly-touted prospects. He spoke briefly of Gibson, saying, "He has a lot of expectations on him. He's playing great hockey for the team." Thiessen hopes to guide the young goalie by giving him advice and stepping up so both of them can have a role in helping the Admirals win games.
Thiessen is also looking forward to getting playing time again and proving his worth as an AHL netminder.
"We have a young group here and a lot of rookies," he explained. "It's fun to be around the guys here. I'm just trying to get myself established again in the American League and give the team a chance whenever I'm in net."
On December 27, Thiessen will return to his old home when the Admirals travel to Wilkes-Barre to face the Penguins. "It's definitely something I'm looking forward to," he said, nothing that the Pens were good to him during his time there.
Although he's not sure if he'll be playing in the game, he still looked on the bright side.
"Hopefully I'll be able to be there and see a lot of people I've made friends with. That'll definitely be fun and hopefully I'll get a chance to play there again."
The biggest things Thiessen learned in Wilkes-Barre were being patient about getting his chance to play and learning how to be professional. He credited Penguins head coach John Hynes for helping with that as well as making sure the team was ready to play every game.
For now, he is eager to get back to being the dependable goalie he was with the Penguins organization, and he is also anticipating seeing the WBS fans when he comes into town in two weeks.
Alison is currently covering the Wilkes-Barre/Scranton Penguins of the AHL for The Hockey Writers after writing about the NHL's New Jersey Devils from 2011-2012. She is currently employed for the fast growing sports website Bleacher Report as a quality editor and hopes to one day have a media relations career with a professional hockey team. Follow her on Twitter @AlisonM_110.