The Edmonton Oilers got back on track Tuesday, beating the Arizona Coyotes 5-2. They're still comfortably in third place in the Pacific Division, with a chance to place higher in the standings. But they're also in an interesting position heading into the trade deadline.
They're good but not great. They're a playoff team but probably not a Cup contender. Considering the past 10 years, qualifying for the postseason is important for the team's development. But just how far does their general manager expect them to go, and how much is he willing to improve the roster?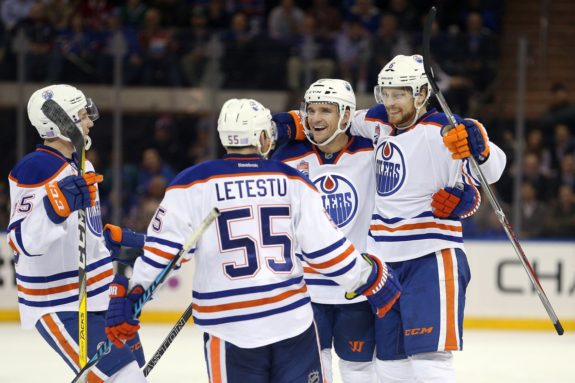 Will the Oilers be Buyers?
When Peter Chiarelli met with the media on Tuesday morning, he was very candid about his thoughts on the team.
"I don't think we're ready to contend for the Cup. I really don't want to delve into [the rental] market. I think there are areas we can tinker with; I think the team deserves it. We wanted to be in the conversation. We are." [Sportsnet]
It's important to keep in mind that GMs don't like to show their cards too early. That's not to say we can't take his comments at face value, but things can change in an instant if it makes the team better.
"I don't see us being heavily involved in that market. I don't think it's the right time for this team, but having said that once you get into the playoffs, you never know."
We all know that Chiarelli isn't afraid to make big trades. He moved Tyler Seguin while a member of the Boston Bruins and we all remember the Taylor Hall deal. But those were for the long-term, they weren't rental-type moves. There are a lot of names out there that can help the Oilers this season, but the majority of them are free agents and Chiarelli isn't about to mortgage the future for a quick fix.
"I'm satisfied with where we are. I haven't liked the last little bit, but it's a long season. If we make the playoffs I'd be ecstatic, because it really helps the development of these players. The fact that they are competing and feeling the pressure, that's very positive for their development. But of course I'd like to make the playoffs."
The Oilers are in a playoff spot thanks to contributions from young players. They could be better without making any moves at all if their high-priced forwards can step up.
"I'll talk about secondary scoring. We need to be better at it. We put pucks on net. We don't really get those garbage goals off rebounds. I think we're shooting well. We overpass at times. It goes in cycles. It'll come."
Does Chiarelli sincerely believe that his guys can come through, or is there no choice but to pump their tires? Jordan Eberle, Ryan Nugent-Hopkins, Milan Lucic and Benoit Pouliot have been disappointing from an offensive standpoint. He can't trade all of them. For the most part, he's stuck with what he's got.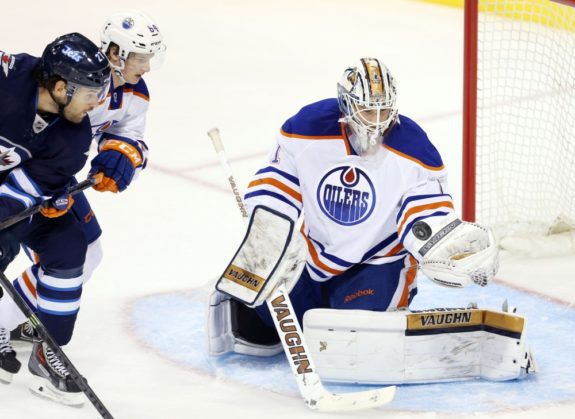 What are the Oilers Needs?
Chiarelli was asked about adding both a back-up goalie and/or another defenseman at the trade deadline, to which he responded:
"I haven't given up on Laurent Brossoit. He's going to get a chance. I'm happy with our D, when everyone is playing. And we're going to be getting a pretty good D-man back. Darnell (Nurse) will be back shortly. It would be nice to have a pure power play D-man. It's certainly not on my shopping list at this trading deadline."
The defense corp has improved, and the return of Nurse will help. Does this mean Chiarelli won't be adding any defensive depth? In terms of who is available, there are a few interesting names but they're pending free agents. Michael Stone, Brendan Smith and Dmitry Kulikov are all good fits, however, they would be rentals unless the Oilers feel like they would be worth re-signing.
The price tag is also a factor because Chiarelli doesn't want to compromise cap space, or mortgage the future for a guy they'll only have during the playoff run.
"You saw what it took to get a Top 4 right-handed D (Adam Larsson for Taylor Hall). You can extrapolate from there. I'm not going to mortgage (the cap) heavily this year. From a planning perspective it doesn't make sense."
Secondary scoring appears to be the biggest problem on the team at the moment. The question is, how crucial is making the playoffs? And does Chiarelli believe the roster as currently constructed is good enough to stay in their playoff position? Do you take a chance on a guy like Thomas Vanek or Brian Boyle to shore up some of that depth scoring?
"We're in the dog days now. The real grind. I think they're feeling the pressure a bit, that's part of why you're seeing the scoring dry up a little bit."
Is it really pressure, or are they not good enough? Chiarelli knows his answer to that question, but he won't share it with the media. Perhaps the moves he makes, or doesn't make, will speak volumes.
"If you were to have asked me at the beginning of the year if we (would be happy to be in contention) at this point, I'd be happy. We're in a decent spot. We've got some work to do."
The Oilers have been bottom feeders for the past 10 years, so it's hard not to be happy with where they are right now. Chiarelli isn't about to speed up the process foolishly, especially considering how good a lot of these pieces look. The Oilers might not be big players come the deadline, so don't be disappointed. But they're proving to be a playoff team, and that's what everyone should want.
Trade candidates courtesy of The Hockey News.